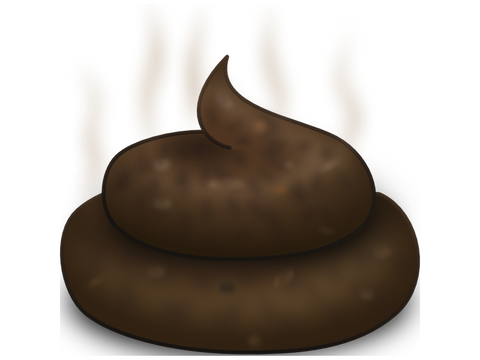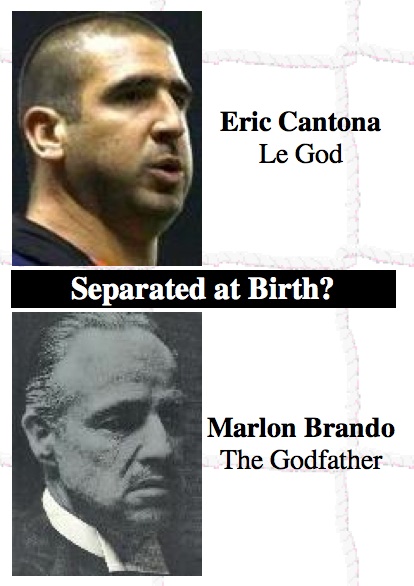 Keep me away from weapons: Does it irritate anyone else to no end that some morons insist on using the phrase "the MLS"? The MLS what? The letters M, L and S collectively are a noun. Using the word "the" implies some sort of posession. Or something like that. It just sounds stupid. And while I am at it, what else is the freaking deal with pluralizing names? "The Luis Hernandez's and Clint Mathis's of the league …" Last I checked there's only one of each. Not even Major Laughing Stock is so depraved as to clone el Mierdador. Inevitably it is the same oatmeal mouth that also uses the present tense when referring to events that have already occured: "If United fires Rongen in the middle of the season, they get in the playoffs." Or should have occured. Use the correct tense, or I'm going to shove it up your ass and twist it sideways! The next knob that says "the MLS", I'm going postal.
Goats of the Week: Eintracht Frankfurt and 1.FC Köln. Neither side have exactly set the Bundesliga on fire of late, but they still are top level teams, so to lose a German Cup match to a team that is sixth in the southern half of the third division (Frankfurt 1:6 to VfB Stuttgart's amateurs) or a team that is fourth in the northeast sliver of the fourth division (Köln 2:5 to 1.FC Magdeburg) is a gack-job several magnitudes greater than Major Laughing Stock's Colorado Rapids losing 0:3 to the A-League's Richmond Kickers in the US Open Cup. It is no wonder 300 Frankfurt supporters staged a post-match sit down strike to prevent the team bus from departing the scene of the crime, a display of passion unknown to the casual fan so beloved of the American soccer oligarchy.
Fun Fact of the Week: The Major Laughing Stock minimum salary ($24,000) is less then the WNBA women's basketball minimum salary ($32,500).
Prominent activist certifiably paranoid: Vittorio Pavoncello, the chairman of Maccabi Jewish Federation, accused Italy and Parma goalkeeper Gianluigi Buffon of being a skinhead because Buffon chose 88 as his new number this year. "The figure 88 is what neo-nazis use to say Heil Hitler," explained Pavoncello, because H is the 8th letter of the alphabet, so 88 signifies HH, or "Heil Hitler". Yeah, and 13 = 6+2+5, and F is the 6th letter of the alphabet, and Y the 25th, and that stands for "Fuck You". M is also the 13th letter of the alphabet, so it could be advocating drug use because M is the first letter in marijuana. Either way, ban 13! Wee-dee dee-dee, you have entered the Farrakhan Zone. Well, except Louis is an anti-semite. It was only after the Italian league turned down 00 and 01, Buffon's initial requests, for not being a proper numbers, that he chose 88. ("I liked 01 because it was the number on the General Lee car in the TV series the Dukes of Hazzard," said Buffon.) Buffon chose 88 because it is made of four circles, or balls, as in the Italian expression "The strong man has four balls". Indeed, a man would have to be strong to tote around the weight of four nuts, not to mention keeping a lid on the hydraulic pressure of a four-nut orgasm to avoid blowing the head of his cock off.
Kennedy arrested: Mark Kennedy was charged with public drunkenness, creating a disturbance and vehicular damage. Kennedy is not one of those drunken Kennedys, instead he is a Republic of Ireland international, and so no coeds were drowned or molested.
Weekly Blotter
Bolivar (Ecuador): A truck carrying an amateur soccer team collided with a car after a match in Los Rios. 2 casualties, 10 fatalities.
Huddersfield (England): Huddersfield Town center-forward Clive Wijnhard crashed his car, causing it to burst into flames. Huddersfled is currently 19th in England's 1st Division. At least Wijnhard is on fire, even if his team isn't. 2 casualties.
Moscow (Russia): Speaking of fires, with their TVs blacked out due to Russia's Disaster of the Week — the Ostankino Tower-ing Inferno — 10,000 supporters gathered in Dynamo's stadium to watch a World Cup qualifier against Switzerland. Russia treated the Swiss like a nuclear sub, sinking them 1:0. Apparently that was not good enough for some supporters, resulting in the de rigueur brawl. 6 arrests, 17 casualties.
Moscow (Russia): Spartak. Dynamo. Derby. Et cetera, et cetera. Apparently the Russians can't kick Chechen ass, so they kick their own. 14 casualties.
Chisinau (Moldova): UEFA banned Constructorul-93 from European club competitions for one year, which also had player Iurii Mirza banned for two years. The one year club ban will remain active for five years, whatever the hell that means. Anyway, it is all due to the club's violent behavior during two UEFA Cup qualifiers last month. In the first match, Constructorul-93 had four players cautioned, and two others sent off, before losing 2:3. In addition, the club president's wife insulted a UEFA delegate after a penalty had been awarded to CSKA. Big whoop. No crime there. On the other hand there was the Constructorul-93 staffer who threatened an assistant referee with a gun after the match. The club's behavior did not improve in the return leg, which they lost 0:8. Two more Constructorul-93 players were sent off, including Mirza, for assaulting the referee.
Bolivia: Contrast the punishment UEFA handed out to Mirza with the wet noodle CONMEBOL slapped on the wrist of Bolivia midfielder Erwin Sanchez: one match for head butting the referee in a qualifier against Colombia. One! FIFA then stepped in, laying down the seven-match ban law. Whoa.
FC Porto (Portugal): UEFA fined the club $29,000 after its supporters threw stones, coins and cigarette lighters at match officials at the end of a Champions League qualifier against Anderlecht.
Rotterdam (Netherlands): UEFA fined Feyenoord $23,000 Champions after its supporters threw lighters, plastic bottles and even a mobile phone at match officials during a Champions League qualifier against Strum Graz. Lighters. Stones. Coins. All unacceptable, though par for the course. But a mobile phone? Was the match refereed by an Italian tired of accepting exercise machines and Rolex watches as "gifts"?
Aberdeen (Scotland): Last month Aberdeen continued the fine Scottish tradition of bombing out of Europe to roe. ('Minnows' would be dignifying the typical victor with an excess of size.) UEFA fined the club $6,000 after its supporters … yadda, yadda, yadda … during the first leg against Bohemians.
Dublin (Ireland): Of course the circle would not be complete had Bohemians supporters not also misbehaved on the return leg, earning the club a matching $6,000 fine. Maybe TotW should just add a "UEFA Penalty of the Week" category and be done with it? Actually, this isn't even the half of it — check out www.uefa.com to see their extensive, and frequently updated, penalty list.
Nyon (Switzerland): Finally, UEFA apparently also fined itself, imposing a $17,000 penalty on the Euro 2000 Foundation for inadequate on-pitch security during the Yugoslavia-Spain, Spain-France and France-Portugal matches. The press release was unclear if this act means Lennart Johansen is simply switching the money from his left pocket to his right pocket.
Glasgow (Scotland): Amazingly, this incident did not happen during the Old Firm derby, but rather after Celtic stomped Rangers 6:2. It seems Rangers midfielder Barry Ferguson — twice booked in the match — did not take kindly to some post-match pub-side reminders of his selfless contribution to the mauling, deciding to have a ref-free go at his tormenters. 2 casualties.
Istanbul (Turkey): Galatasaray won the Super Cup, defeating Real Madrid 2:1 in Monaco. You do know what happened next, don't you? Naturally, Turks celebrated by shooting each other. Surprisingly, UEFA did not threaten to ban England from Europe as a result, no doubt because they relished the prospect of reigning world and European champions France handing it to a side of hobbled, doddering pensioners in last weekend's friendly. (England drew.) 6 casualties.
Saint-Denis (France): Martin Keown showed more fight than the rest of England's squad put together, punching out Marcel Desailly, Lilian Thuram and a cameraman after the France match.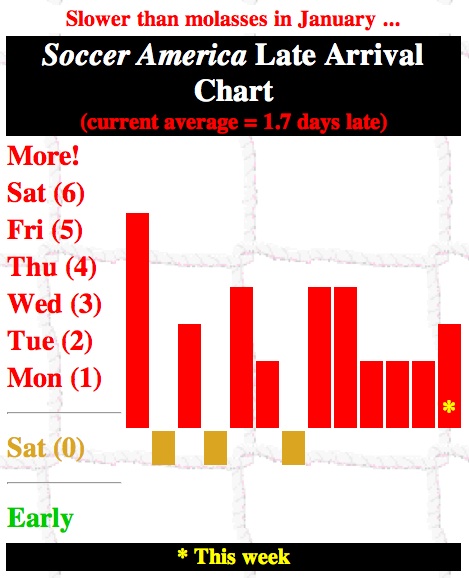 Well, this little graphic has about run its course. When I set out to track Soccer America's delivery record, I knew it was bad, but I had no idea how bad it really is. "How bad is it!?" It's on-time rate is worse than Northworst Airlines.It does no good for previews of matches to arrive after the matches have already concluded, which happens with 75% of Soccer America's issues. Maybe sloth is just part of the corporate culture at Soccer America like it is at the Department of Motor Vehicles: It's web site is slow as hell, also. Its international news is a rehash of wire reports that were available on the web a week or two prior.

Although no issues arrived early during the survey period, this phenomenon has been known to coincide with other rare occurences like major England international victories. Yes, miracles do happen.
Slam of the Week: "Though Arsenal seized the initiative in the second half, Chelsea grabbed a second, Zola's shot passing Seaman as he made his arthritic way to the ground, moving as gingerly as someone protecting a particularly nasty incident inside his incontinence underwear." (Dave Bowler, MatchDayUSA.com)
---
England's International Incompetence Explained
Daniel Lombard
8/30/00
onetouchfootball

One of English football's training strongholds were consigned to history recently as ball games were ordered off the streets of Bradford. City council chiefs have drawn up a byelaw which outlaws football in residential areas, branding it an 'anti-social' activity, following complaints from tenants about broken windows and 'footballs flying into gardens'. The Mail quotes 1940s Newcastle legend Len Shackleton, who is clearly upset by the news. Regarding the council's action, and sounding a little like Ron Manager, he said, "When I came home from school I would play football next to the corner shop, using each other's caps for goalposts. We used to run around until we were out of breath." Once such laments have passed, and critics of the lack of opportunities for children to nurture their talent and of the abandonment of the game at grass-roots level have become silent, what next? How about more government funding, perhaps from Bradford City Council also, for better training facilities and youth academies?
The Bradford City Council no doubt angered the god's as the city's supposedly professional squad were subsequently thrashed 0:6 by Manchester United. For being Fun Nazis and damning yet another generation of English football:
Bradford City Council
Turd of the Week