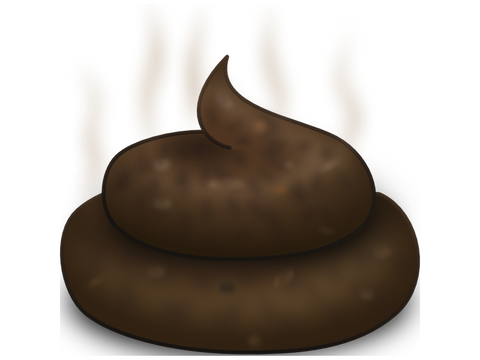 Top 10 Things That Take Less Time Than A Baseball Game
Drive the Illinois tollway from Indiana to Wisconsin … during rush hour.
Evolve primordial goop into intelligent, space-faring lifeform.
1000 typing monkeys randomly write "Romeo & Juliet".
Read the Bible … in Aramaic.
Perform Wagner's Ring Cycle.
National Football League 'instant' replay review.
120-year old man getting boner … without Viagra.
Create new galaxy; wait until it collapses into blackhole.
MLS convincing aging, foreign prima donna that he really ought to play 10 matches in the US for exorbitant wages.And the number one thing that takes less time than a baseball game …
SPIT!
Gotterdammerung: The Twilight of the Gods, occured this week as DC United were eliminated from Major Laughing Stock playoff contention by losing 0:1 to the SJ EarthClash, the only team in MLS with a history worse than the MetroStars. A team so bad, even they could not find a way to make use of Eric Whinealda. In the case of the LA Galaxy, MLS just kidnapped half its roster in return for Luis 'el Mierdador' Hernandez; their destruction of United was much more subtle: It used the salary cap to rob United of its offense and its depth. Of course, coach Thomas Rongen still wouldn't have been able to swim in a deeper player pool. Does it get worse? Of course, as always: Rongen just might be back in 2001. In DC. Just like all the other idiots returning to town after the election.
Thank you, Ivan? Supporters of the Dallas Burn fell all over themselves thanking MLS personnel Czar Ivan 'the Terrible' Gazidis for not selling off star forward Ariel Graziani. In light of United's demise, Burn supporters' relief is understandable, if not forgiveable. Never mind that in Europe a million dollars wouldn't purchase Gascoigne's jock, that's like a slave thanking the massa for not selling his wife. You do realize that if Dallas had its freedom, as a team, it could sell Graziani without fear, in fact to its benefit, and use the profits reaped for buying other players? But thanx to the evil that is single-entity, and the crushing presence of its main overseer — Ivan the Terrible — Dallas doesn't have that option. "Thank you", indeed.
Headline of the Week: "Hamburg hopes to complete signing of Fukal." .. *snort* … *giggle* … *wipe tears from eyes* … Apparently Hamburg hope to sign Sparta Prague defender Milan Fukal for $3.2 million and four years, terms under which a team usually can't get fuck-all.
Slam of the Week: "I guess $24,000 a year doesn't leave much left over for a television. Or the quarter to buy a newspaper and have your mom read it to you." Garth Lagerwey, Miami reserve keeper, after MLS player guessed the sub that sank last week was from Croatia.
Double-Speak of the Week: "I believe in freedom of speech." Rhinos president Frank DuRoss after shutting down the Rhinos discussion board. Hey, Frank, get a job at BigSoccer.com. You'd fit right in.
Lazy Sod of the Week: Mark Viduka, former Celtic striker and pain in the arse, said he only played at "70%" while starring in Scotland's Premier League. Thanx for nothing, bastard: Last season Celtic finished further adrift of Rangers than Bligh did of the Bounty.
Weekly Blotter
Sao Paulo (Brazil): National team coach Wanderley Luxembourgo's daughter's fiance was robbed at gun point after his car ran out of gas. Military police caught up with the robbers soon thereafter. 1 arrest, 1 fatality. There is no truth to the rumor Brazil was robbed when its team ran out of gas against Chile.
Rio de Janiero (Brazil): Flamengo supporters clashed with, well, Flamengo supporters. It seems two rival groups did not take kindly to another Brazil flop after their club lost 1:2 at home to Argentina's River Plate. 'several' injuries, 'several' arrests.
Rotterdam (Netherlands): Feyenoord fans did not take kindly either to their team being eliminated from Champions League qualifying. Down 1:2 from the first leg at Sturm Graz, they took down Sturm midfielder Mehrdad Minavand with a cigarette lighter at the end of the first half. In the 82nd minute, now trailing trailing 0:1 in the match, and 1:3 on aggregate, the Feyenoord supporters threw more objects on the pitch. It did little good, as a late Feyenoord goal was small consolation.
Munich (Germany): While drinking in the Hofbrãuhaus*, some Leeds United supporters in Munich for a Champions League qualifier against 1860 decided there was no time and place like the present to whip out a few Nazi salutes and "Heil Hitlers". Besides violating decency, such actions also violate German law. It's a good thing the Germans are a more peace loving people than the Turks. 13 arrests.
| | |
| --- | --- |
| * | If you have never been to the Hofbrãuhaus, you owe yourself a visit if you are ever in Munich. It is a classic German beer hall — complete with oompah band — with the best beer the city has to offer. |
UEFA draw blind: UEFA drew the groups for the 2001 Champions League in Monaco this week. (Ever notice how UEFA and FIFA and their ilk always have their to-dos in exotic cities like Paris, Rome and Monaco and never in grimey, industrial, port cities with teeming masses of poor, unkempt immigrant types?) In its finite wisdom, UEFA managed to draw Leeds into the same group as Besiktas. Your heart will warm at the news that not only is Besiktas a Turkish club, but is also located in Istanbul, where two Leeds supporters were murdered, and dozens of others seriously injured, last spring prior to a Champions League match against Galatasaray. UEFA: The kind of people that give matches to arsonists and razor blades to manic-depressives.
Quote of the Week: "Despite holding possession for long periods, the closest Ukraine came to creating an opening in the first half came when Andrii Shevchenko played Serguei Skachenko in after 38 minutes, but he fell seeking a penalty when he would have been better advised to shoot himself." (UEFA technical report)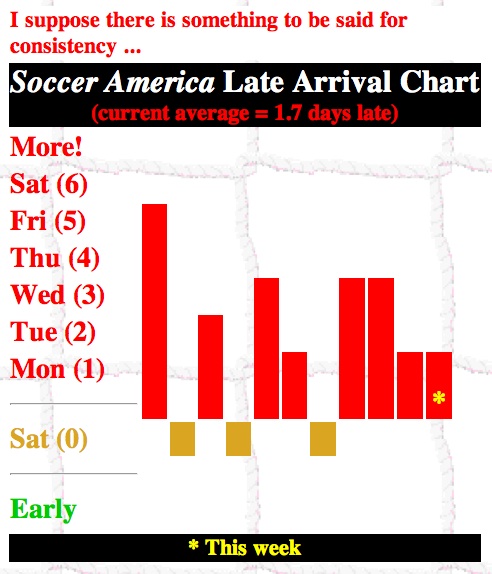 ---
Rhinos reopen fan Web site
By Jeff DiVeronica
August 24, 2000
Rochester Democrat and Chronicle

The Rochester Rhinos removed the fan interactive part of their Web site on Tuesday, saying the forum that encouraged discussion on the team had been "abused" by fans, but restored it yesterday."We would never stifle negative comments because we know fans in Rochester are passionate. But when someone incites a movement to fire our coach we don't think it's an appropriate forum for that," Rhinos president Frank DuRoss said."When the discussions go beyond cyberspace and incite actions (at Frontier Field), we need to evaulate how the forum is used. We decided to pull the boards so we could discuss it."

Some of the hundreds of postings over the past month were negative toward coach Pat Ercoli, questioning his style of play and lineup choices. The posting DuRoss is referring to was by a fan who urged others to bring signs to this weekend's matches at Frontier calling for Ercoli's dismissal.

Another posting referred fans to a different Web site that was conducting a poll: "Is it time for the Rhinos to pursue new coaching possibilities?"

The Rhinos do have the right to edit any comments, but "I believe in freedom of speech," DuRoss said.

While much of the sentiment is anti-Ercoli, he has supporters. One says a coaching change just for the sake of change was foolish.

Others said fans who want a coach who guided Rochester to five title games and two championships in four seasons to be fired are "nuts" and "spoiled." Rochester, which has the A-League's highest payroll, has a 14-9-2 record (3-8-2 road).

That's far worse than 24-4 in 1998 and 22-6 last year but the Rhinos have qualified for the playoffs for the fifth straight year and still could win their third consecutive division title.

Ercoli, who said he had no say in the temporary removal of the boards, said he wasn't concerned with the site, and that people would find other places to post comments if there wasn't a Rhinos forum.

"If myself or any of our players are wasting time looking at that, then we're never going to be successful," he said.
As with all things Rhino, we turn to TotW's reserve goalkeeper and East European correspondent, renowned baseball journalist, Shurik:
The story of the temporary demise of the Rhinos discussion board at www.rhinossoccer.com is complicated and multifold … No, wait, it's not. It's quite simple, actually.
I invite you to go and check out this little creation the club's management has put on the Web, using the expertise of an ingenious HTML programmer. Just go and check it out. See the guy on the extreme left of the top banner? That's the board's creator and moderator. It's also the board's target public. Most of the people invited to offer their "constructive, positive feedback" are supposed to be from this demographic. Here is what I think the Rhinos thought the discussions would be like on this board (any resemblance to actual Login Names is purely accidental):
RhInOsRuLe: hey guys the rhino's are number 1. we gonna kick asss andracki rulezzzz!RHINOGRRRRLLL: yeah!!!!!! i just love tommy tanner i think he's hot and what not. tommy i love you

RHINOFANSTAN: i like totally agree! rhino's are the best. hey guys you think rex is like a real rhino? my dad says he like some guy in a suit.

RhInOsRuLe: tommy tanner is the greatest soccer player in like the whole world!

RHINOGRRRRLLL: I agree with rhinosrule! rhinosrule who do you think is hotter: tommy tanner or andy restrepo. i have this friend, her name is tracy, she totally thinks andy is hotter, but i love tommy.

RhInOsRuLe: gorss! i am not like gay or anything. GO RHINO'S!!!!!!
This was the goal of the management. To get some cheerleadering from the 4-year-olds who make up the majority of those 13,000 Frontier Field crowds. Of course, what they didn't see coming is that them crazy kids can be as uncompromising in their criticism as in their praise. If you have been following the A-League somewhat closely, you know that the Rhinos are having a disappointing season. Disappointing by their standards. Of course, for the spoiled brats who aren't even old enough to remember the Rhinos' original season in 1996, let alone the 12 football-less years that preceded it, there is only one way to describe the club's preformance: "It like sucks dude". The consensus among the blue-ribbon panel of snotty-nosed experts was that head coach Pat Ercoli was to blame for all the club's problems (as well as for the earthquakes in Taiwan, the sinking of the Kursk and the sharp devaluation of the Moldovan currency). Why the coach? Because they are already in love with the players, especially the ones who are like totally hot. It's not the players' fault, of course. It's all the evil head coach, who probably keeps them without food and women in his secret undergorund dungeons. This was, in a nutshell, the topic of about 60% of all threads on the board.
"Misreading the mood of the ordinary supporter is a common trait in coaches who are struggling to survive. So, too, is closing ranks and surrounding yourself with trusted lieutenants — even those who have proved unworthy of that faith." (Ian McGarry, SoccerNet.com)
Of course, the management could have none of that! The site was created just for the "constructive, positive feedback" (see the example above), not for uncalled-for vicious criticism. How can one call himself a fan when he criticizes the team or the coach? Why, this is unprecedented! Acting with the same kind of vigor as is required for tossing out a fan who dares to chant and cheer loudly in a "family section", the Rhinos' management closed the board, stating that some fans have "abused their priviliges". However, they had a very quick change of minds. It probably occured in the period of time required for them to get home and see their 6-year-olds crying in front of their computers.
But the 24 hours that the Billy Andracki Fan Club went without its favorite place to express its love for Billy Andracki, were apparently horrifying enough for the Rochester Democrat and Chronicle to dedicate some front-page space in the sports section to the plight and resurrection of the Rhinos website.
Well then, what have we learned from this whole ordeal? The Rhinos wanted their cheerleaders and they have them. Wanna see? Go to the discussion board and say that Billy Andracki (or Rhett Thompson) isn't a very good goalkeeper. Then bring your injured arse back here and heal. But the Rhinos /management also has very particular ideas on what a "real fan" should be like, what kind of things they must say, and what opinions they should have on their club. And God help you if you step outside those lines …
Frank DuRoss
Turd of the Week