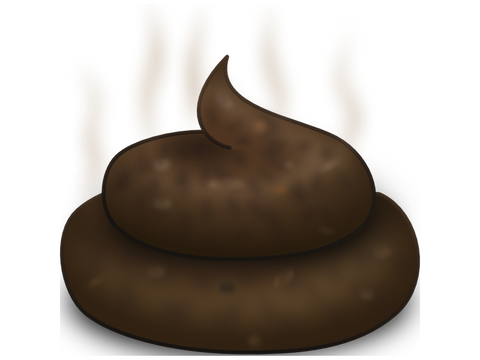 Top 20 Things That Happen in Baseball Between Pitches
Catch a nap
Scratch
Bullpen catcher flirts with teenage ball girl
Scratch
Call bookie on dugout phone
Scratch
Mingle at pitchers' mound to discuss what strip club to visit after the game
Scratch
4,238 throws to first base
Scratch
Argue with people fatter than first basemen: the umps
Scratch
Hey! Beer! Man!
Scratch
Barf over railing onto lower grandstand
Scratch
Pick up after Schotzie
Scratch
Flip off George SteinbrennerAnd the number one thing to do between pitches …
SPIT!
Strange Name of the Week: "Kuntz Stadium" — TotW will let you make your own joke — is home to the A-League Indiana Blast.
Goats of the Week: Brazil, which lost 0:3 to Chile in Santiago. Until this year, Brazil had only lost one World Cup qualifier in history; it has now lost two of it's last three. Brazil are in fourth place in South America; the fifth place qualifier faces a playoff with the top team in Oceania, which means mighty Vanuatu might just squeek into the finals should Brazil drop another notch. Brazil, by the way, is still ranked #1 in the world despite a French butt-kicking at WC'98, and despite France winning Euro 2000. What must happen for France to assume its rightful place atop the official heap, the Foreign Legion take out FIFA House like it did Greenpeace's Save-A-Nuked Whale ship?
Wile E. Coyote Memorial Acme Award: While the entirety of Brazil is calling for Wanderley Luxemburgo's head, a Danish fan took it one step further, quite literally losing his. The fan was standing in a supporters' bus, with his head outside the emergency roof exit, when the bus passed under a bridge. His headless corpse fell back into the bus, ruining the boxed lunches of the other 40 passengers. UEFA is blaming English hooligans for moving the bridge.
Weekly Blotter
Arnhem (Netherlands): Tottenham supporters, apparently jealous at Dutch hooligans' success in smashing up Belgium over the last few weeks, made a nostalgic return to the site of Euro 2000, where they tore up a bar before a friendly against Vitesse. 3 casualties, 11 arrests.
Aviero (Portugal): Pedro Lavoura, Sporting Braga's Venezuelan midfielder, was killed when his Porsche smashed into a roadside wall. Lavoura and his two passengers, as well as the engine, were ejected from the car. The flaming engine landed 50 meters away. No word on where Lavoura ended up. 3 fatalities.
Lagos (Nigeria): Dominic Oneya, chairman of Nigeria's football association, was attacked by three robbers with machetes. 1 casualty.
South Ceredigion (Wales): Nick Taylor, a 15-year old keeper for Aberaeron, was banned for life by the Central Wales Football Association for punching out the referee after a match. If the ban isn't overturned, and FIFA does its job, then Darling Nicky won't be able to play anywhere ever. Good. Serves the little punk right.
St. Petersburg (Russia): Torpedo Moscow supporters clashed with police before a match against local side Zenit. 49 arrests.
Turn the other cheek, Brother: Former Conference darlings Darlington are set to be fined $1,500 (or roughly what Roy Keane makes per amputation) for having six players booked in the side's first 3rd Division match. Darlington's nickname? Incongruously, "Quakers".
Quote of the Week: "He's an alcoholic. He insulted me first, after River Plate scored their second goal, and when I went for him he scooted off like a rat up a drain." Jose Luis Chilavert, Velez Sarsfield keeper about a verbal altercation with River Plate coach Americo Gallego.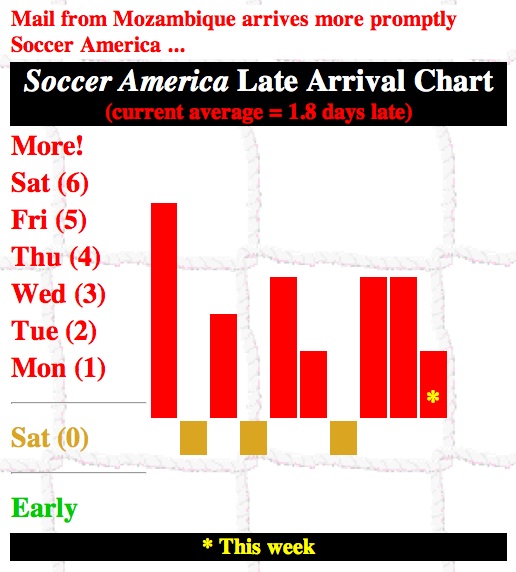 An ice-cube in Hell: Excellent news! Words, both oral and written, have been shown through history to really make a difference, and put the fear of God into tyrants. And so all 20 clubs in the Premiership have signed a Fan's Charter, claiming that it will stop them from exploiting their supporters. Apparently this lack of exploitation will take the form keeping 5% of tickets available for non-season ticket holders, and wearing the same kit for two straight years so replicas have a lifespan greater than a fruit fly. Now, let's see a show of hands. How many of you think that will last longer than an election promise after the swearing in ceremony?
Satan claims another soul: "Due to an all-engrossing Baseball assignment for ESPN The Magazine this week, and my ongoing quest to provide items on ExtraTime that are less-than-total-crap, I'm taking a week off from the Boot Room this week," Jeff Bradley told his adoring minions this week on BigSoccer.com. Okay, it's a nice column, mainly because he isn't a total wanker like Jamie Trecker or Grahame Jones, but please. Can you picture Peter Gammons telling Fat Boy Berman, "Heck no, I'm not doing the Diamond Report this week! I have to write an expose on MLS's shady player deals"?
---

Unintended Consequence of the Week: Oh what a tangled web we weave, when first we practice to kidnap half the Galaxy. The Major Laughing Stock trade deadline passed this week with nary a peep regarding teams taking it upon themselves to improve their lot for the playoffs. (A concept in itself alien to the world of league football.) Not a single player was allocated, drafted, dispersed or traded. "No last-minute trades are expected among teams this season unlike the past two years where there was a buzz of activity leading up to the halt in trading," wrote Major Laughing Stock on its web wite. And why is that? Because MLS teams know they don't need to make trades because the league will force the trades on them anyway. MLS is a living, breathing example of sports communism, how guaranteeing rewards regardless of quantity or quality of work removes all incentive to do so. So, Czar Ivan, have a seat on the 12-foot, needle-sharp pole:
Ivan Gazidis
Turd of the Week