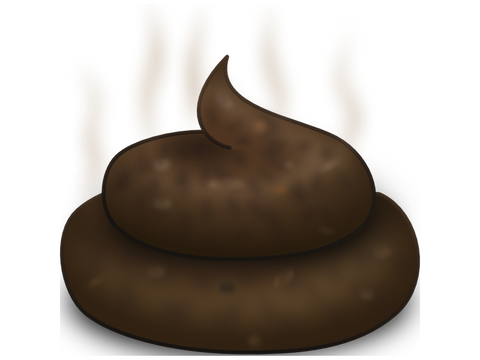 Close-ups: Just say "No!": You! Yes, you, ESPN. Especially you! What is up with this sick American sports broadcasting fetish with anything and everything but the actual goddamn contest notionally being broadcast!? Mark my words, the Olympics in a month — or whenever it is, I sure won't fucking watch 200 billion hours of pre-pubescent girls in leotards prancing about like beauty queens without boobs — will be 95% sappy, syrupy "human interest" stories. During the USA-Costa Rica match, I saw beautiful mountain vistas, countless coach ups so close I could count noise hairs, more replays than the Zapruder film, and everything but the friggin' match! Show the goddamn game! Okay? It's not that freakin' difficult.
ESPN: No close-ups while the ball is in play!!!
Appendix of the Week: Eddie Lewis, because he was worthless in the Costa Rica match, being a non-factor until he started hurting the US effort. Just like your appendix serves no known purpose, and you don't notice it until gives you a pain in the gut. Eddie Lewis wouldn't shoot if a terrorist had a gun to his momma's head. If he was Mel Gibson in "Road Warrior", he would have let the nomads kill Wolf Boy, rape the viking chick, steal all the fuel, and then drive back into the desert, before he dropped his gun, pissed himself, and looked around, bewildered, for someone else to take a shot at the settling dust.
ESPN: No close-ups while the ball is in play!!!
TotW Reader Q&A

Edward K. Simpson:
After reading Mr. Calabrese's harrowing experience at an ESPNZone in DC, I can't help but think about how much the fine folks at ESPN love our great sport. After all, they are the braintrust that came up with Pro Beach Hokey and the Great Outdoor Games. If you, for whatever reason, miss ESPN/espn2 on Saturdays and Mondays, only a few ads and a rare highlight on SportsCenter, you'd hardly know that ESPN had any soccer content. Meanwhile, tuning into either channel has caused a near-immediate gag reflex. While a medical expert I am not, I can tell you that said gag reflex is from ESPN shoving their bastard child, the Great Outdoor Games, down my throat. Yes, the briantrust at ESPN thinks it's better to show hours upon hours of men cutting triees, shooting, fishing, and dogs jumping into water than to dedicate any more effort to promoting the world's #1 sport.

---

TotW Answer:
You know why they are doing that? Because they own the "Outdoor Games" lock, stock & barrel … just like they own the "X-Games". They not only have the rights to televise the competitions, they own them, which means they save a huge amount of money on rights and the like, while making a huge amount of money on residuals and merchandise that would normally go to the IOC, FIFA, NFL or whatever. Expect the concept to become more & more common, not just on Mickey Rat's many nefarious tentacles, but on other media as well. (Let us not forget that the XFL is partly owned by NBC, through their purchase of WWFE stock.)
ESPN: No close-ups while the ball is in play!!!
Traitor of the Week: Luis Figo, who left Barcelona for Real Madrid in a $56 million transfer. Barca had no choice but to release their lynchpin, due to a buyout clause in his contract. So, despite Figo's protestations of Catalan loyalty, the only reason he left is because he wanted to. "This is just too much and won't be forgiven by God," said the head of the Barcelona Luis Figo supporters' club. Nevermind God, Figo best be on the lookout for jilted Barca supporters, and especially for irate former teammates steaming in for a studs up go when the archrivals next meet.
ESPN: No close-ups while the ball is in play!!!
Say again? "Most importantly, he's a winner and brings that to the MetroStars. His commitment to this organization is absolute, giving his absolute best to area fans." Charlie Stillitano, then Metros GM, speaking in November, 1999, about on-again, off-again signing Oldfart Matthäus.
ESPN: No close-ups while the ball is in play!!!
God help us all: CNN/SI's Grant Wahl tipped He Who Hath 9 Lives Too Many, Steve Sampson, Turd Emeritus and catastrophic World Cup failure, as the leading candidate for one of three likely coaching vacancies after Major Laughing Stock concludes its season with MetroStars' pre-ordained finals triumph. No, there will not be a vacancy in New York — despite TotW pointing out that MetroStars could theoretically be worse in 2000 than their rancid total of four regulation-time victories in 1999 — because MLS put the fix in. No, one of the vacancies will be in DC — and not just in the Lincoln Bedroom. Thomas Rongen continues to strive mightily in DC to prove the Barry Switzer Phenomenon* is an immutable law. And so, TotW is now going on record that even though Rongen has flushed DC down the WC with a league-worst 5-6-13 record, should Sampson become United's coach they will indeed be worse in 2001. Unless, of course, Major Laughing Stock sends United the other half of LA Galaxy's roster.
| | |
| --- | --- |
| * | A crappy new coach taking over a previous good coach's players and coasting to an undeserved title in his first year, only to eventually screw things up. |
ESPN: No close-ups while the ball is in play!!!
Whinealda Watch: As long as we are talking — unfortunately yet again — about shady MLS player dealings, TotW should mention that Eric Whinealda has continued on his impressive hot streak of non-apperances since being "acquired" by the swimming-with-the-fishes half of the RevoEarthClashLution in early July. Whinealda's last MLS appearance happened to be for his former team (Miami) against his current team, a stretch of 17 matches. Meanwhile, going the other way, Ivan McKinley has appeared in all three matches for Miami, even having the gall to score a goal. Not that it did Miami any good.
ESPN: No close-ups while the ball is in play!!!
And why is that? Because 1st Division Miami barely … barely … squeeked by 4th Division Mid-Michigan Bucks in the third round of the Open Cup. Despite playing the entire second half with a man advantage, the Fusion contrived to twice blow their lead, even conceding the 3:3 equalizer in the 88th minute! Of course it gets worse. The Fusion in turn had a player sent off in extratime, and wasted another chance to win the match by blowing a pk. That Miami actually won the match is small consolation considering they did so only 6:5 on kicks, with the deciding miss courtesy of the the Buck's keeper. Wow. We should also mention that the Chicago Fire beat the Chicago Sockers (another 4th Division team) 1:0, though at least the Fire treated the match with the importance it deserved, starting all their healthy first-choice players. Miami though … pathetic.
ESPN: No close-ups while the ball is in play!!!
Heroes of the Week: Mid-Michigan Bucks, of course.
I am an ignorant son of a bitch!
I was at the Milwaukee-Cincinnati match last week. I had a full array of noisemakers, beer, and a loud voice. Milwaukee having your typically quiet American soccer crowd, my voice could be heard. Normally, I sit behind the goal, the better to razz the visiting the keeper, but some friends were at the match, and wanted to sit on the side for a better view, and so that is where we sat. It turned out to most fortuitous, because Chickenhawks keeper didn't need any razzing. He already sucked. No, he was not Sutton; Sutton would have been an improvement, but Cincy cut him. But they kept his jersey, with Sutton's name and number, and gave it to the next guy. Didn't do any good. The number was 0 — a number Cincy keeper's are not familiar with. Anyway. We happen to be sitting behind the Cincy bench, and I am basically being the way I am. Giving Chickenhawks some nice, clean hell. For instance:
Coach points at his players with some ultimately fruitless tactical advice. Me: "Hey, it's not polite to point." Yes, I am just warning up.
Rampage score in the 2nd minute. Me: "The Bengals suck too!".
I think we get the idea, no?
By the 30th minute, Rampage were up 3:0 and Cincy was preparing to make an unheard of first half keeper substitution. I should note that Chickenhawks actually played better two weeks ago when they lost 5:2 to Rampage. Plus, Rampage were without numerous starters, even going so far as to start a forward at right back. I have literally never seen such a dominant soccer performance as Rampage put on in the first 30 minutes, not even when my rec team was blown out 17:1. It was like Chickenhawks weren't even on the field. Anyway. Some guy and his wife walks by me at halftime and offered the above mentioned, unsolicited opinion of my parents' mating habits. To which I wittily replied, "Go back to Cincinnati." To which he replied he was from Chicago and would put his umbrella (wimp-it only rained five minutes) in a place where umbrellas are not intended to go. Of course, the fat haus frau he was with bravely chimed in with her opinion as well. I generously offered to let him try to perform the unnatural act he had offered, but he just slinked off like the offended, sensitive, suburban coward he was.
As a result, I feel … violated.
No, wait.
Vindicated!
I have achieved Heckler Nirvana: I got under their skin.
ESPN: No close-ups while the ball is in play!!!
Weekly Blotter
Belgrade (Yugoslavia): Nobody waving a sign and chanting that the local dictator sucks horses is going to cause the downfall and subsequent execution of said dictator. But for some reason that just doesn't sink into dim totalitarian bulbs (be they in Chicago or Belgrade), so when Red Star supporters waved their signs and chanted their chants, the local riot police treated the stadium like it was Srebrenica. The fans rebuffed the first two police assaults by ripping out seats and using them as weapons, but then the police stormed back into the crowd 15 minutes after the interval "as reinforcements arrived to quell the violence." Oh? The police attacked the police? 151 arrests, 24 casualties.
ESPN: No close-ups while the ball is in play!!!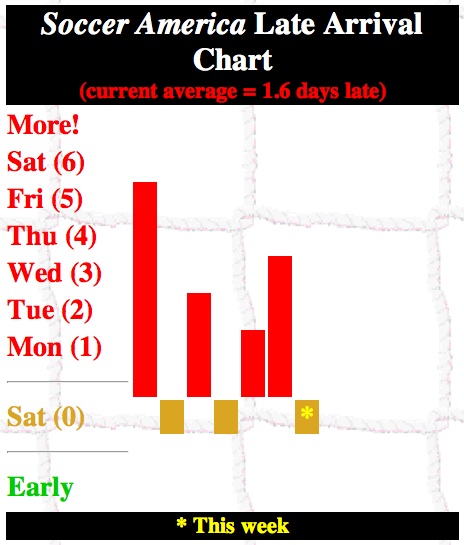 ESPN: No close-ups while the ball is in play!!!
Quote of the Week: "The $4 million flop." Rene Miramontes, Colorado Rapids assistant coach, describing LA Galaxy's Luis 'el Mierdador' Hernandez.
ESPN: No close-ups while the ball is in play!!!
---
This is not a joke: Oldfart Matthäus is an MLS "all-star". (The all-star boondoggle incongruously pits eastern teams versus western teams in a league with three divisions.) Yes, the same Oldfart who has been addition by subtraction to the league-leading MetroStars. The same Oldfart who was nearly booted off the MetroStars while spotted sunning on the topless beaches of the French Riviera with his teeny-bopper girlfriend when he was supposed to have been rehabbing a bad back. Oldfart Superstar. But wait, it gets worse. Even worse than the idiocy perpetrated by fans voting for players who've been missing most of the season (Oldfart), or more ineffective than a ventilated condom (Azzizi). At least Major Laughing Stock has not been around long to perpetrate a farce like baseball does every year, voting players as all-stars who've been retired for two years, or like the Grammys, giving awards for three-year old records. But wait, it does get worse. "What could be worse?" you say. Think about it. It shouldn't take long. What is the biggest farce in the long and sordid history of MLS player transaction farces? Yes, MLS looting LA Galaxy's roster in return for forcing Sigi Schmid to accept the dubious services of Luis 'el Mierdador' Hernandez. Naturally, el Mierdador is a MLS all-star. No, not even the fans are that stupid. It's not a matter of stupidity, but of duplicity. Of course, that means MLS itself — specifically Präsident Don Garber, using something called a "commissioner's pick" — put its biggest signing into its unwatched, ill-attended all-star showcase. Garber, by the way, used his other pick on Brian McBride, who has been injured most of the season. But it is Garber's selection of el Mierdador which earns Garber this week's dishonor. Despite the fact that the acquisition of Hernandez was indefensible from the beginning, and proven since to be worth nothing to the league at the gate or on the pitch — el Mierdador's total in 15 matches? 2 goals, 3 assists — Garber persists in in trying to prove the unprovable: That Hernandez is not a mistake. Oh, by the way, we should mention that Hernandez probably will move to Europe or back to Mexico in 2001. Was he really worth destroying Major Laughing Stock's last shred of credibility? No.
Don Garber
Turd of the Week