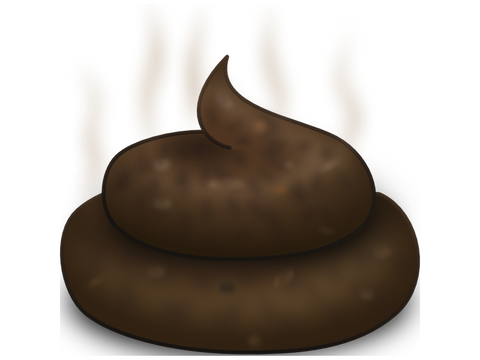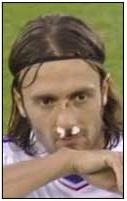 Which headline is true?
Lopez named Millionarios coach
Jewell named Sheffield Wednesday coach
Xuxa named Corinthians coach
Aguilera named UNAM Pumas coach
Spears named Bradford coach.
Morrisette named Olympic Marseilles coachAnswer below …
Quote of the Week:"We knew what he could do. We've seen him before. But we also know he likes to dive alot. A few times tonight he threw himself in the air like he had been shot by somebody." Marcelo Balboa, Colorado Rapids and US defender, describing the LA Galaxy's Luis Hernandez, following a 1:0 Rapids victory.
Who has more goals than El Mierdador? Record MLS-signing Luis Hernandez — take a bow Czar Ivan 'the Terrible' Gazidis — is 0-fer since his debut two months ago. At least he can spit accurately. So, who has more goals than El Mierdador since Czar Ivan's LA pogrom?
Josh Wolff, Forward, Chicago Fire. Wolff destroyed his knee practicing crapshoots last year.
Dema Kovalenko, Forward, Chicago Fire. Stoitchkov hurt and Razov on international duty and they still can't hope to contain him.
Chris Albright, Forward, DC United. Albright had previously not scored all season … Hmmm. Maybe there's a connection?
Tab Ramos, Midfielder, MetroStars. No lie! Seriously!
Jay Heaps, Defender, Miami Fusion. Can Hernandez sink any lower than scoring two fewer goals than a Miami defender? Yes, he can:
Ian Russell, Forward, SJ EarthClash. Who??? By the way, he was making his Major Laughing Stock debut.
Harut Karapetyan, Midfielder, SJ EarthClash. Karapetyan was out of MLS for a year and a half prior to joining the RevoEarthClashLution in mid-season.
A guy on my O-18 coed rec team. He never played a match in his entire life until last week.
Madame TotW peers into her crystal ball: www.RoundNotOval.com on Crystal Palace's dodgy financial situation: "Unfortunately, all these deals still leave the Football League with a major problem, Ron Noades is still allowed to [own] a club. If owning a club and owning the ground of two others isn't a violation of the Football League's rules, it should be. It should be enough that Noades owns a club and interferes with the financial viability of another. That in itself does far worse than any media company buying up the requisite 9.9% in every Premier League club. It undermines the future viability of clubs that Noades is still attempting to exert influence over. For the sake of the future of the game, people like Noades should be shown the door and told that their money is simply not good enough." But what would happen then? They'd become MLS investor-operators, owning three clubs, gouging the taxpayers for their stadia, and swapping players like swingers swapping wives at Plato's Retreat.
True Headline
#2, Bradford coach Paul Jewell resigned to take the Sheffield Wednesday spot. The others are chick singers, one-hit wonders with varying lack of talent.
Weekly Blotter
Phnom Penh (Cambodia): The throngs that descend every morning on bookies to lay bets on Euro 2000, nearly riotted when a Vietnamese bookie bilked over a hundred Cambodian bettors out of 75 million riel ($20,000 in … *ahem* … real money).
Sao Paolo (Brazil): 50 Corinthians supporters, protesting the club's recent form, surrounded players and staff in the club parking lot. Marcelinho's car was egged and Edilson narrowly escaped an attack.
Euro 2000 (Rotterdam): Turkey's players and supporters displayed all their usual grace and charm during their 0:2 loss to Portugal: Alpay Ozalan was sent off, and subsequently banned three matches, for striking a Portugese player; three other players were cautioned; and supporters thrice threw firecrackers on the pitch. All this resulted in a whopping $7,281 fine courtesy of the hardasses at UEFA. Lest one get the wrong idea about any sort of message being sent along the lines of the death penalty England was threatened with, keep in mind most of the fine was due to rules mandating fines for yellow cards, not anything so mundane as ethical consistency.
Slam of the Week: "Now we need the World Cup even more — because at least if we get it we won't have to qualify." (Franz Beckenbauer, who is heading Germany's bid for World Cup '06, after Germany bombed at Euro 2000.)
Speaking of which … Polish club Energetyk Gryfino found a World War II mortar shell sticking out of their pitch after heavy rain storms washed away surface dirt. Apparently, bombing is a German habit.
Press incompetence a universal problem: It's not only America's media that are incompetent, but also the French. This week's wire contained the following item from the Agence France-Presse (AFP): "Mozambican international striker Manuel 'Tico Tico' Bucuane has moved from South African club Jomo Cosmos to American Major League Soccer side Tampa Bay Rowdies." Think about that for a second … Tampa Bay Rowdies. The Rowdies haven't freaking played in 16 years! (They disappeared into a black hole with the rest of the North American Soccer League in 1984.) AFP, of course, then repeated the error later in the article, and also in subsequent articles.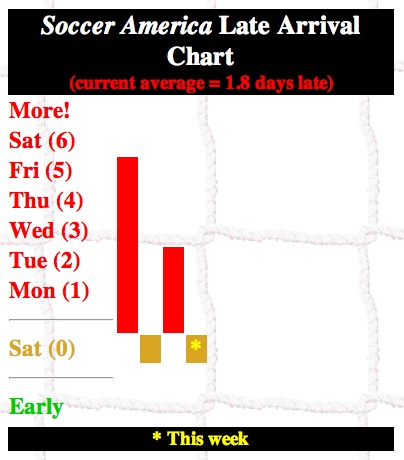 I am ashamed: I grew up in Fox Point, Wisconsin, a wealthy suburb of Milwaukee, during the 60's and 70's. I am glad I do not live there now as the oppressive yuppy safety Nazis have lost all sense of perspective. When I was a kid, we used to imitate Evel Knievel by jumping bikes over our friends. Without pads. Without helmets. Without a freaking rescue squad and fire truck on emergency standby. Without oppressive parental supervision. Just kids being kids, and we all managed to make it into our teens with our brain cells intact — where we immediately began destroying them with all the chemicals the 70's had to offer. Which might explain why my former contemporaries are now invoking the heavy hand of modern American "justice" by mandating that everyone's kids — not just their own snivelling, limp-wristed, pantywaist, crybaby crumb snatchers — must wear helmets while riding bikes. Not a Kawasaki crotch rocket weaving through rush hour traffic at 150 miles per hour, but pedaling bicycles along bucolic suburb sidewalks at 5 miles per hour. When a heart starts bleeding, there is little that can be done to stem the loss of blood, and so given the inch, the addled yuppy safety Nazis are going for the foot. (And eventually, I am sure, the yard, the mile and the light freaking year.) The Fox Point-Bayside Area School Board recently voted unanimously to require that all scholastic soccer players wear a "protective soccer headband", specifically a product called "Headers", which supposedly does not effect the velocity or direction of the ball. Jeff Carron said, "As a doctor and president of our school board, I felt it was my responsibility to be proactive with regard to protecting children." For the children. It takes a village. It makes me gag. Goddamn Hillary Clinton.
Jeff Carron
Turd of the Week