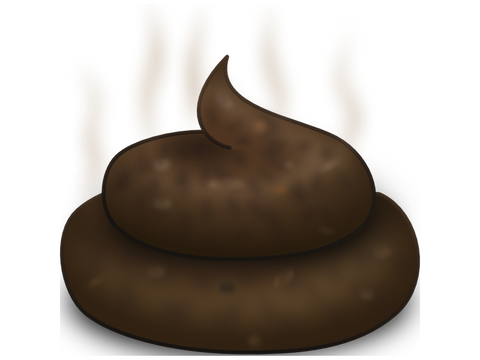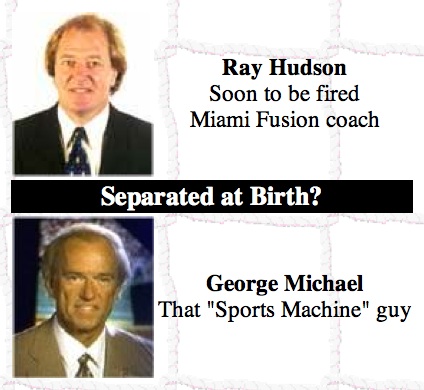 Heroes of the Week: 4th division amateurs Calais, who gave 1st division Nantes the scare of their lives in the French Cup final before succumbing 1:2. Calais led 1:0 until the 50th minute, and still clung to a 1:1 draw in the 90th minute, when cheating bastard Alain Caveglia dove in the area, earning Nantes a penalty, which they duly converted for the win. Nantes, like tyrants of old, is not unfamiliar with stealing from the poor, having robbed 2nd division Sedan 1:0 on a penalty in last year's French Cup final.
The unstoppable march of regress: Any player found with a football in the Middlesbrough training center gets an $800 fine! I suppose I should be thankful for playing at Uihlein Soccer Park, where the fry cooks only confiscate the ball.
Quote of the Week: "Better to have ten disorganized players than ten organized runners." (Roberto Baggio)
Dingleberries of the Week: The gas stations and fast food emporiums of Grafton, Wisconsin, for not staying open past their mid-afternoon siestas. Uihlein was out of hoagies after my O-30 game ended at 11:00 p.m. No big deal. I can stop at the PDQ gas station on the way home and pick something up. They're closed. Okay, that's not a good sign. But I drove on into Grafton, right up the main drag. (Actually, the only drag.) Kopps? Closed. Pizza Hut? Closed. Little Caesar's? Closed. Burger Queen? Closed. Mickey D's? Closed. Cousin's? Closed. Subway? Closed. The other gas stations? All closed! Hell, even Taco Hell, well known for staying open late for stoners in desperate need of a burrito supreme, or 12, was closed. I drove in one side of Grafton, out the other side, and down into Cedarburg wondering if I would have to continue 10 miles back into Milwaukee to find food. Luckily, there was *one* gas station left in Cedarburg which was still open. But only for five minutes. Praise the Lord! Microwaved frozen pizza never tasted so good, even though it was more yeasty than a crack whore after a gang bang.
It's a good week to be a Milwaukean: Not because our Bucks basketball team won a supposedly "moral victory" in bowing out of the first round of the NBA playoffs. (See "Calais" for definition of moral victory.) The Bucks have been mediocre for over a decade and the NBA playoffs include every team not sporting more than two short, slow white guys. Nor because of the Brewers, they of the sport beloved by belt-popping ectomorphic baseball geeks. The Brewers suck year in and year out, and will continue to do so as long as they waste $5 million buying a player they themselves gave up on years earlier. No, it's a good week to be a Milwaukean because of soccer! Friday night the Wave won their second indoor title in three years. A day later, with several Wave players kitted up, the outdoor Milwaukee Rampage avenged their embarassing 0:3 home loss, and resulting 1999 US Open Cup ouster, by hammering the Tennessee Rhythm 4:1.
Second Dumbest Dumbass of the Week: Wünderkind Landon Donovan, a regular in Leverkusen's reserves, stands zero chance of getting first team action in the near future, since the Bundesliga leaders are loaded at the attacking positions. (Just ask Frankie Hejduk, last seen getting more splinters from the bench than his surfboard.) As everyone with even a nanogram of soccer smarts knows, loans are win-win-win situations: The player gets first team minutes, the lender gets back an experienced player, and the lendee gets an quality player they would not otherwise be able to afford. MLS jumped at the deal, right? Of course not. MLS's own amateurish personnel Czar Ivan, Gazidis, is thus dishonored. If Don Garber ever wakes up and fires his dumbass, maybe Czar Ivan can get promoted past his level of incompetency to the vacant USSF secretary general spot vacated by the book cooking Hank Steinbrecher.
Dumbass of the Week: Deportivo Coruna midfielder Djalminha, for perhaps costing his team the Liga Primera title. With just 12 minutes to go in the match, Djalminha had scored the apparent winner, putting his team up 2:1 over Real Zaragoza. Djalminha, then suffered a massive cranial-rectal infarction, whipping off his shirt and carrying on like a spazz. Already on one caution, the ref showed Djalminha another, and he was off. Real Zaragoza scored the equalizer against outmanned Deportivo six minutes from time. Deprived of two points, Deportivo lead Barca 65:62, with two matches to play … one of which Djalminha will have to sit out.
You knew where their priorities lay: UEFA — which has failed to discipline Galatasaray for encouraging the club's rampant hooliganism — leapt into decisive action this week when it found out Gala had over-charged for UEFA Cup final tickets. It seems Gala had flogged its 12,000 ticket allotment of £20-45 tickets for £125-£300, a minimum £1 million markup that would embarass even the most zealous tout. UEFA — which is also ignoring Euro 2000 security concerns (particularly King Baudouin Stadium, the conveniently renamed Heysel) — will "investigate" the robbery.
Weekly Blotter
Antwerp, Beveren & Ghent (Belgium): What the hell, just lump 'em all together. Riots in all three cities this week, with some hooligans even trying to attack a hospital where the injured had been taken. Looks like Belium has a bit of a hooligan problem with just four weeks until they host Euro 2000. Local politicians, police chiefs and football authorities denied the problems could be a prelude to incidents during Euro 2000, which reminds TotW of that scene in Jaws: a few swimmers had already become bait, but it was the big holiday weekend, so the mayor let the blissfully ignorant tourists into his stretch of ocean. Oops. What's the music we hear? 6 casualties, 35 arrests, widespread vandalism.
Alemannia Aachen (Germany): Manager Eugen Hach was banned for three months (the toughest penalty ever imposed by the DFB) and fined DM 15,000 for attacking an Energie Cottbus player. Standard Coach Bullshit Reasoning: He was only trying to "protect" his players. Hey, Eugen! They're adults. They can take care of themselves.
Aris Salonika (Greece): Supporters of Aris Salonika and Olympiakos Piraeus clashed on the ship taking them to the island of Mytilini, then on the dock. (The match was played on Mytilini due to a ban on play at Aris' home stadium.) 8 arrests, 3 damaged cars.
Barcelona (Spain): A group of disgruntled supporters, upset over their club's decidedly lackluster perforance under autocratic manager Louis Van Gaal, tried to storm the Nou Camp director's box after Barca crashed out of the Champions League to unfancied Valencia. They were repelled by baton-wielding police.
Cali (Colombia): Carlos Fajardo, president of the Vella del Cauca state league referees' committee was murdered. It is unknown if Fajardo's death had anything to do with football. 1 fatality.
Dynamo (South Africa): Chairman Peter Rabali was banned for life for attempted bribery. Apparently the attempt had nothing to do with getting FIFA to overlook a South African crime rate that makes Cali look safe by comparison, but rather the more prosaic business of winning matches.
Lazio (Italy): Lazio supporters protested in front of Italian soccer federation headquarters over a call that left their side two points adrift of Juventus with one match left in the season. Riot police teargassed then charged the Lazio supporters. Apparently the boys in blue (the police, not Lazio) were quite literally egged on. 2 casualties.
Makhachkala (Russsia): Anzhi assistant manager Alexander Markarov almost joined Fajardo at the Great Pitch in the Sky, narrowly escaping death when a bullet grazed his cheek. Anzhi, an unfancied, freshly-promoted provicincial outfit, are 6th in the Russian top flight. You might think it's a possibility that someone with "financial interests" in the outcome of football matches would be slightly perturbed that Anzhi have upset the Natural Order of Things and decided to send a message? It's not like it would be the first time the Russian mafia has pulled such a stunt. But TotW's Russian Correspondent, Shurik, assures us it is nothing so dramatic as match fixing, to which ends the mafia would off a striker or two. Instead, he reports, it is much more likely Markarov forgot pay off a mafia debt. See? Mundane. 1 casualty.
Rotherham (England): Rotherham and Swansea supporters clashed with bricks and stones, but it was left to the police to produce the only fatality, when an innocent bystander had his skull crushed by a police horse. There is no truth to the rumor Rotherham had taken New York's Finest on loan. 20 arrests, 1 fatality.
Zagreb (Croatia): Apparently, yearning for the days of yore when they had a go at the Serbs and Muslims, Hadjuk Split and Dinamo Zagreb supporters clashed in the stands during the Croatian Cup final. Riot police teargassed the stands, causing the fun-loving Croats to take the party outside. 98 arrests, 100 casualties.
When pigs fly: England manager Kevin Keegan, under contract through World Cup '02, though unlikely to last that long, or indeed longer than a 15-year old virgin on a week-long Viagra jag, says "I'd like the job for the next 10 years." What is more likely than a doddering Keegan, managing England, Robbie Robson-like into his dotage?
Galatasaray winning the Nobel peace prize.
Oldfart Matthäus boning someone his own age.
Maradona drinking Coke, instead of snorting it.
Eduardo Hurtado appearing on a SlimFast infomercial.
MLS player deals being more honest than a Chicago election.
Brad Friedel moving ahead of Gerard Houllier's granny on the Liverpool keeper pecking order.
Vanuatu winning the World Cup.
England winning the World Cup.
---
Two issues ago (TotW, 000422) TotW dishonored BMAPs for ruining youth soccer matches by being, well, Big Mouth Asshole Parents. If you've never been to a U-11 match, trust me, it can get downright ugly. Which makes the behavior of thse same cretins at professional matches all the more puzzling. God forbid you tell the Godforsaken mascot to shove his water gun where the sun don't shine, or question the interspecies mating habits of opposing players, at a professional match in America, because those same BMAPs hypocritically get religion and become paragons of virtue. It's so bad a real supporter has to sit and clap politely only when told to do so by the Big Brother PA announcer. Which brings us to this week's dishonoree, courtesy of TotW correspondent, Shurik:
---
I went to the Rochester-Toronto match with my wife and my friend to support my favorite club, to satisfy my hunger for football, to be a fan again. Now, two days after the match I still have a feeling like something dirty and disgusting is all over me.
No, I am not talking about the Rhinos' poor defense, lackadaisical attack or incompetent goalkeeping. I rarely get this excited about my club's losses, especially early in the season.
I guess, my first mistake was buying tickets right behind the corner flag, the "home plate" seats for baseball. They are on a cheaper side and you can see the pitch reasonably well from there. Of course, these seats are also the ant hill of soccer-moms and golf buddies, but I overlooked that fact somehow. I was to pay dearly for that.
My wife was attending her first match in America. I knew that after the fever pitch of the fan culture at Dinamo Stadium in Moscow during the CSKA–Spartak derby, this would seem strange and foreign to her. She took it quite hard indeed. Even before the match started she said that this just didn't feel like football. The fat, disgusting suburbanite white trash, devouring their fried onions, the ugly spoiled brats running around, the deafening music blaring from the loudspeakers, the terrible-looking pitch, all the things I came to despise, but eventually got used to, where all strikingly new and unbearable to her. She must've spent most of the first half with her hands pressed against her ears so she wouldn't be able to get the maddening doses of Ricky Martin pumped into our heads every second.
But then, of course, things had to get worse. You are always at risk of being stuck among the non-football element when you are sitting in the "good baseball seats". You are always at risk of being told to sit down and shut up, of your accent being mocked, of you being looked at like you don't belong (a football fan not belonging at a football stadium!). The country-club atmosphere at Frontier Field induces this. It allows the pretender "fans" to rule.
Andracki went for a high cross with all the ability and grace of an injured porcupine, and Toronto made it 0-1. I never liked Andracki. He is the kind of guy who makes me feel like I could still compete at the professional level. I got up and called him the only word he deserved: asshole.
A family of four hippos grumbled disapprovingly from behind us. A deeply insulted soccer-dad in front turned around and allowed himself a comment that this kind of language doesn't belong at a family event. I looked at his kid and thought that his psyche must already be as badly injured by other kids' insults as his body was by potato chips. I felt no sympathy for these people. What do they know about what belongs at a football match? I strongly wanted to suggest him to think of a different kind of family entertainment, but restrained myself. My friend asked him to shut up and watch the match.
The Rhinos equalized on a Jimmy Glenn header. My friend and I jumped up and roared in approval. I can swear, we were the only ones in our section. The casual fans were too busy with their conversations about the stock market and baseball. We got more ugly looks.
And then came the catharsis …
The Lynx pulled ahead just before halftime on yet another dumb mistake by Andracki. Too much to bear. I jumped up and call him an asshole three times, not hiding my frustration (but when do football fans do that?).
And there begins the Good American vs. Evil Immigrant action scene, the climax of our story. The Good American sitting in a vicinity (surrounded by other Good Americans, who knew as much about football as the rest of Good Americans in the stadium, throughout the countryside and anywhere in the world) turns around and yells at me, citing the fact that there are kids here, man. I turn to him and say that if he doesn't like it he can get the hell out and come back when his precious baseball is playing. Then he'd have none of the Evil Immigrant passion or vocality. The Good American, obviously assuming that the kids he loves so much are completely immune to what he says, calls me a faggot.
One only has to wonder why it is that with such tender love and care Americans bestow on their kids, those kids get sudden urges to shoot all their classmates once they get to high school.
"You are ugly", he adds. I reply by noting that this was not what his wife said. The Good American, obviously seeking inspiration in his memories of Rocky movies, gets up to fight me in an uneven battle for the future of human race. I get up and tell him to sit his ass down. I am 6'5″ tall. He sits down, calls me more bad names, and then one of the other Good Americans gets up and goes to fetch a cop. How American of him! Now this wasn't something to be surprised about. Let's get the Gestapo and throw a fan out of the stadium for being a fan! The home of the brave, indeed.
The uniform full of lard arrives on the scene of the crime shortly thereafter and threatens to throw me out of there if it (the uniform) hears one more complaint. I ask why. The uniform says that this is a family event and bad language isn't tolerated. I reply by noting that this is not a family event, this is a football match (how silly of me, of course the cop was right! This was anything but a football match), that I've been going to football all my life and I know what is a football match and what is not, and how people are supposed to behave at football matches. The uniform says that it has no idea what the hell I am talking about. One of the Good Americans, feeling all mighty and brave in the presence of the uniform, turns and calls me and my friend punks. The uniform reacts in an interesting fashion. "That's it", it says, "you are out of here".
"Why?", I ask, "Did we just do something bad?"
"I can see this is gonna be a problem", is the uniform's reply
"But I didn't say anything", I cry out, "Why don't you throw him out?! He just called me a punk and you heard it!"
"Because he is not the problem. You are the problem", it answers.
"Am I the problem, perhaps, because of the accent?", I inquire
The uniform gets out his radio and calls another uniform.
I say that I am not going anywhere without my wife (she was in the bathroom at the time). He agrees to wait, but only because he is awaiting the arrival of the other uniform. My wife gets back just in time, because the other uniform is even less inclined to debate the legality of their actions.
I say that I am a football fan, that I paid my money for the ticket and that I want to sit elsewhere, as far away from the family circus as possible. I point at the bleachers where a group of guys from the Stampede fan club is assembled. They at least remind me of the real fans, as they've tried to outscream Ricky Martin during the entire first half. The second uniform is probably too lazy to engage me in the battle of wits. He really doesn't want to use force either, taking into account that the two large and intimidating men are accompanied by a rather slight woman. The second uniform tells me that if there is one more complaint about me, I am going to jail. "On the charges of being a fan?", I ask. "No, these are the fans", he tells me, pointing to the suburbanite trash with their darling precious in the section. We spent the rest of the match in the bleachers, where the music isn't quite as loud, the view of the action is better and the few Stampede kids at least were willing to chant "Ole, ole, ole, ole" with me …
So, here we've come to the logical conclusion of the tale known as "Shurik trying to support football in America".
I ask you, A-League — and most of all you Frank DuRoss, Chris Economidis and Steve Donner (Rochester's owners – ed.) — is this how you want to build football in this country? Is this whom you consider fans? If this is what you want, then to hell with you. I am not coming to any more matches, and I am sure that with this kind of treatment whatever real fans keep showing up, they will be discouraged soon. Enjoy your soccer-moms and golf buddies. Good luck becoming a legitimate football club with them.
The problem is deeper than just a couple of immigrants being insulted by overzealous and hypocritical "casual fans". (Note that they swore at me a lot more than I swore at Andracki, with the same rug rats present.) The problem is that the Rhinos cater to those fans, cherish them, let them proliferate at the expense of the true supporters. The jock-rock, the promos, the whole shebang is meant for the family circus, not for football. The real fans are unwanted, they are phased out, they are thrown out, they are scuffed upon.
THIS IS MY GAME!!!
I own it, I have rights to it, at least to a far greater extent than a suburbanite slob who was dragged there by his brats. Why does he then feel at the stadium like it's his living room and I have to explain my right to be there to a dim-witted Keystone Kop?
I can say whatever the hell I want. My love for the game, my experience in being a fan, my damn ticket give me that right.
No sport in the world has ever succeeded by being a family sport!
This is against the very nature of competitive athletics. Do you ever see hockey or American football fans thrown out of the stadium for yelling "Bullshit!" and such? No, because these are "the real sports" in this country.
Association football, on the other hand, is a "family sport". Until it becomes real, you can forget about it ever catching on, or making more frequent appearences on ESPN.
I would be a lot more happy with 200 real fans, then with 13,000 fat idiots.
The Casual Fan
Govnyuk of the Week