Hurtado draws lots for World Cup '02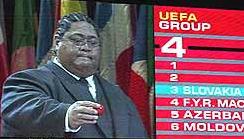 The news you've been dying to hear: In Lichtenstein, Vaduz lead their group with six wins, four draws and 35 goals from 10 games. In contrast, Eschen Mauren are bottom with only a single victory. (At this point you are probably expecting a cheap shot about Charlie Stillinajob signing the entire Eschen Mauren squad; sorry to disappoint.)
Women's College Cup: North Carolina fully deserved the 2:0 win over Notre Dame. Notre Dame rarely threatened after forward Anne Makkinen reinjured her knee midway through first half. UNC dominated play, especially in the second half. UNC keeper Jenni Branam (TotW's Woman of the Match) showed up Notre Dame national team part-timer LaKeysia Beene, whose towering kicks rarely made it to the center circle. Branam regularly cleared balls into the Notre Dame defensive third, and she smothered Notre Dame's most serious threat by cutting down Jenny Heft's angle at the edge of the UNC penalty area in the 80th minute, when UNC had just scored it's second goal. But what's the freakin deal with those two ugly ass Nazi College's Against Athlete's logos in middle of the otherwise beautiful pitch!? And the timeouts. And the multiple substitutions. If the girls didn't have boobs, TotW would have thought it was watching a U-8 game, for chrissakes! The NCAA — taking up where MLS left off.
Best Imitation of the RotMasters by a Team Not From New Jersey: This week's award goes to Real Madrid, who suffered their worst home loss in 25 years, going down 1:5 to Real Zaragoza. Real (Madrid) are simply real bad, sinking to 17th in the 20 team La Liga table, just one point above the relegation zone. If you have not yet had the dubious privilege of watching a Real Badrid offering on espn2's taped La Liga show, trust TotW when it says your grandmother is a better defender than Real Badrid's Ivan Campo.
(Note the lack of a Stillitano cheap shot implying Charlie might sign Campo under the mistaken impression he was a midget Mexican keeper. TotW must be filled with the spirit of Christmas …)
Muchas gracias, ocasional ventilador: Occasional? Obviously. Though in English it also means "casual", and to such fans MLS has spent much appeal to little effect. To whit, MLS Cup '99 television ratings: 1.0, down 17% from last year. The game was preempted on ABC's Charlotte affiliate WSOC, where an episode of "National Geographic" ("Let's hide behind this rock while Jim wrestles with the rhino!") drew a rating of 2.9 — a rating exceeded by MLS Cup '99 only in Washington DC (3.3). If we have anything to be thankful for, it is that our politicians were too busy watching soccer to rape our wallets.
Speaking of Spanish: Props to the referee in Rayo Vallecano's 2:3 loss to Deportivo La Coruna, because they don't get enough credit when they do well. The ref did an excellent job. He kept a lid on the game, but let the players play; he was in synch with his lines; and his signals were clear and prompt. Seemed very young too. American international Kasey Keller made up for an early gaffe with a series of spectacular saves, earning himself Man of the Match despite giving up the three goals.
Uhh … excuse me? USSF announced this week that the US Women's National Team will play in Australia Cup '00, next month, in preparation for a run at the Olympics©®™ being held there later in the year. However, USSF — more prone to dragging its feet than a landmine amputee — has yet to clear up the apparently less important matter of figuring out who will actually coach the team. Or was Dr. Bob going to add that to his portfolio?
Has anyone else noticed … That US soccer sites such as CNN/SI, the multitude of ESPN.com Part of the Go Network "partners" (a partnership woughly akin to that of Hungary to the Soviet Union in 1956), Soccer Times, Sporting News, ad nauseum, are paying even less attention to round football these days than the afterthoughts they otherwise normally do? To wit: CNN/SI's domestic site has not been updated in four days! It's not like just because there haven't been any domestic games since UNC beat Notre Dame there hasn't been any news. Drag your jelly-donut slamming fat urinalist asses away from the news wire and report, dammit.
Famous Dumb Chucks
Keating: Arizona S&L honcho. Got caught with hands in a $3.4 billion cookie jar, resulting in an extended vacation at Club Fed. Should of lived in Arkansas.
Sheen: Actor, john. Now more famous for being the Hollywood Madam's best customer than for being Martin Sheen's least talented offspring.
In Charge: Teenage nanny. What happens when youth are too stupid to flip Big Macs? They get career-killing acting gigs on really bad TV shows.
Brown: Bald fat kid. Let's neighbor girl trick him into kicking football every year, only to have her snatch it away at last second.
Barkley: Basketball player, Mr. Congeniality. More prone to using his fists than your average heavyweight champion; threw bar patron through window in front of police.
Manson: Serial-killer, all-time whack job. Took it up the ass in kiddie prison; took too much acid in California; then took it out on blonde American actress.
Prince of Wales: Skirt-whipped mama's boy. Ditched blonde British bombshell for frumpy American booze hag.
Stillitano: RotMasters general manager. The RotMasters finished 4-8-20 in 1999. What more can TotW say?
(Still no Stillitano cheap shot! Sometimes incompetence just speaks for itself …)
This is what happens when you lick dots from strangers:
Pokémon Cup '02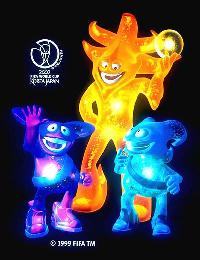 A wasted Japanese mind is a terrible thing.
---
This public service message brought to you by the TotW Temperance Union.
TotW had a very worthy nominee all lined up for this week's dishonors, but we're staying the execution until next week, because it's a short week at TotW World Headquarters. (We're taking off on vacation and after that finishing up the year-end review.) Our nominee for next week committed a singularly fecal act, and one that won't be corrected in five days, so he'll stay in the hopper like moldy coffee grounds. This week's actual dishonoree is also fully deserving of scorn, but for a series of small idiocies, committed over many moons, rather than a singularity of stunning idiocy. Our nominee is known, loved and respected not just in Europe, but indeed around the world. From the barrios of barefoot footballers, to the gleaming highrise condos of the filthy rich, and every pub in between. His humility, cheerfulness, self-sacrifice, effort and teamwork are an example to all vocations. A hero of the people: Nicolas Anelka.
You see, Nic is just misunderstood. We should all walk a mile in his (unused) boots before criticizing him.
Unfortunately, it seems that evil club brass have yet again conspired to do poor Nic wrong. The latest villain is Vicente del Bosque, Real Madrid's interim coach. Nic had not played in many, many weeks due to a life-threatening disease. A horror worse than the slow rot of than AIDS, a pain worse than having one's internal organs liquified by Ebola: the sniffles. So, when the evil del Bosque ordered poor Nic onto the pitch against Rosenborg Trondheim late in a 3:1 Champions League blowout, Nic slowly pulled his pain-wracked body onto the pitch to inspire his awe-struck teammates onto final victory. And for this the media jackals crucify the Christ-like Nic:
    Del Bosque is angry with the striker for the way he slowly peeled off 
    his track suit when preparing to come on as substitute for Dutch 
    midfielder Clarence Seedorf in the dying seconds of Madrid's win. 

    "I wasn't happy with the way he accepted the instruction to prepare to 
    play," said Del Bosque, who is temporarily in charge, on Wednesday. "He 
    needs to be sorted out, but we need to do it in a way that is in both 
    his and the club's best interests." 

    Asked if Anelka remained part of Real Madrid's plans, Del Bosque 
    shrugged his shoulders and declined to answer. 

    The controversial Frenchman has failed to score since leaving Arsenal in 
    a $35.7 million deal in the off-season. 

    Anelka's only contribution to Tuesday's game was giving away a free kick 
    just before the final whistle. 

To complete the eerie Biblical parallel, on Monday, as he was leaving training, Nic was pelted with stones by angry Real supporters.
Crucify him! Crucify him! Crucify him!
Nicolas Anelka
Turd of the Week