Stunned Matthãus,
prior to suicide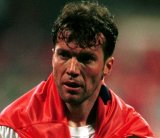 Bayern Name Zambrano Coach: In a constantly evolving rivalry, one sure to soon exceed Fenerbahce-Galatasaray, Ajax-Feyenoord, and even Rangers-Celtic, Bayern Munich once again beat MetroStars to the punch, inking deposed LA Galaxy coach Octavio Zambrano to a new contract just hours after Zambrano signed with MetroStars. Zambrano, who has encouraged attacking soccer throughout his career, despaired within minutes of shaking GM Charlie Stillinajob's hand, upon discovering that the MetroStars biggest threat, was also it's biggest player — 440 pound, former WWF superstar, Eduardo 'El Tankit' Hurtado. Zambrano quickly excused himself from his introductory press conference citing an urgent need to make "number #1". Stillinajob took that as his cue to assume the podium and blather on at length about how the RotMaster's many foreign superstars would indeed help the RotMaster's soar to number #1. Zambrano was last seen in Groucho Marx disguise boarding a Lufthansa flight to Frankfurt. RotMasters insiders speculate that Zambrano will return to New York on January 1, 2000, with Oldthar Matthãus in tow.
RotMasters snap up African international: Rooters – Secaucus, NJ November 29, 1999 – MetroStars President and General Manager Charlie Stillitano announced at 9:30 Monday morning that Major League Soccer has come to terms with Cameroonian international Roger Milla. Milla, who starred for the Indomitable Lions in the 1990 World Cup, will turn 46 years "young" this March. "With the addition of Milla and Lothar [Matthãus], we feel that we have in place all the elements for an MLS Cup contender come next November," said Stillitano. Terms of Milla's contract are undisclosed but believed to be for the maximum MLS contract. In other MetroStars news, the team has hired a full-time geriatrics unit to be on staff for all home games in the 2000 season at Giants Stadium. Also, Stillitano announced that the MetroStars have kicked off a new marketing campaign entitled "You are the Geezers" designed to promote field trips for the elderly to Giants Stadium. Stillitano commented, "We feel that this is the only segment of the metropolitan area that we have not alienated in the past four years. We hope that that will change." The campaign, set to kick off in January, will appropriately tie in with the MetroStars newest acquisitions. (Sweeper, BigSoccer.com)
This beats Brandi Chastain: Australia's women's soccer team agreed to change its calendar featuring full-frontal nude shots of some players following pressure from the Australian Olympic Committee. The AOC didn't object to the nudity, just the use of the word "Olympic" on the front of the calendar. It seems the word "Olympic" is copyrighted. There's some Greek gods that might have a word or two to say about that, and as anyone who has ever read the Illiad or Odyssey know, you don't want to piss those people off. When everyone got all in a tizzy over Brandi whipping off her shirt at WWC'99, revealing her sports bra, the only thought TotW had was "She has no tits!" Luckily, the Australians are more blessed. So now the prunes that run the increasingly irrelevant Olympics are happy because the sanctity of their quadrennial circle jerk is maintained, while we the horney bastards of the world are happy because we get more tits. Back to the solemn business of Olympic bribery.
John Lennon admits, "Man U bigger than God": The Manchester Wehrmacht knocked off another opponent in its quest for World Domination, defeating Palmeiras of Brazil 1:0 at the Intercontinental Cup in Tokyo. (The competition matches the European and South American champions.) The trophy is Man U's fourth major honor of 1999, following triumphs in the European Cup, the English league championship and the FA Cup. After the match, Lord Alex of Manchester announced that his club was now too important to play in any future Intercontinental Cups, and that he had accepted an invitation to play in the initial Pan-Galactic Cup against Baldar United of the planet Remulak, fifth satellite of the red giant Meepzorb.
"Ronaldo who?" Was the reaction of Inter Milan coach Marcello Lippi after being told that Brazil international Ronaldo faces a four to five month layoff after knee surgery. "Isn't he a San Siro pasta vendor?" Inter books revealed the club splashed out several trillion lira for the rumored striker just two short years ago. "We paid trillions of lira for a pasta vendor?" said Inter chairman Massimo Moratti. "Mama mia!" A subsequent audit of Serie A records reveal that a person who gave his name as "Ronaldo" has indeed occasionally been spotted in an Inter shirt. An unnamed Interpol source told TotW that the same "Ronaldo" has an outstanding warrant for impersonating a footballer at the World Cup in France last year. Situation developing …
Olympic.
Dumbass Treckerism of the Week: "What I'm talking about is MLS teaming up with other leagues around the world — the ones that don't play in summer months. Sell Tampa and Dallas to Manchester United, or Benfica, or Real Madrid or whomever. Tell them they can do whatever they want with the teams — park guys who aren't seeing games, do some rehab, whatever — as long as they keep a set number of Americans on the roster. They don't have to play very many of them, but they have to practice with them. If, in midseason, it becomes apparent that the guys aren't getting much time, other clubs can poach off their rosters, replacing them with other American talent. If you expand the league by two teams, have one of them be owned by an overseas club or league." Yes, ESPN.com part of the Go Network's Jamie really did say that. Honest. Cross my heart and hope to die, stick a needle in my eye. There's several possible reasons why Trecker II would propose such prima facie idiocy: 1) He's honing his lying and butt-kissing skills in preparation for entering politics. 2) He's on drugs. 3) He should be on drugs. (Thorazine comes to mind.)
Slam of the Week: Newcastle manager "Bobby Robson has reportedly been offered an extension to his contract as a reward for sorting out the mess that Ruud left. Robson is in negotiations to exchange the company car for a combined walking frame and commode before he'll put pen to paper." (Dave Bowler, Team Talk, Matchday USA)
Olympic. Olympic. Olympic.
Rumor Control: Everyone knows that Gazza is all set to lead the MetroStars to the promised land. Or was that the Fusion? Err … maybe Mutiny. No? Revolution? Anyway, that rumor has been hammered like Gazza on a bad night for the last several days. No, this rumor is fresh. MLS, which was all set to go to a 28 game schedule in 2000, changed it's plans at the last second, and will be sticking with 32 games. TotW doesn't mind the extra games — the more football the better — but it is an issue of particular concern here in America where various and sundry flavors of football share the same stadia. The obvious defects of which were on prominent display in MLS Cup '99: A narrow, rutted pitch which made the match seem more a slog through the trenches of Verdun than a 'beautiful game'. It was no less a wonder than 85 years ago there were any survivors. And there were more ugly lines on the pitch than on Maradona's mirror. But that's not the rumor. The rumor is that MLS has such a boner for playing MLS Cup '00 in Tampa Bay because they want to offload the league-owned Mutiny on the local billionaire, Malcolm Glazer, who also presides over Tampa's stadium. We'll scratch your back if you scratch ours. That's all American supporters need — another soccer-ignorant billionaire absentee-owner looking to fill 'event dates'. Worse yet, not just one pointy football team plays at Raymond James Stadium, but two. And there's a game the night before MLS Cup '00! For all the positive change Prãsident MLS Don Garber wrought last month, if this rumor proves true, 2000 will be the Year of Giant Leaps Backwards.
Better to die on your feet, than live on your knees: Sheffield's football fortunes have waned as quickly as the city's famous foundries. Wednesday are propping up the Premier League, and would look all set to join United in the 1st Division next year, except United are seeking to ruin the reunion by in turn being demoted to the 2nd Division. Wednesday are also $25 million in debt (which is about what Ronaldo makes per goal). But like evil provides good a necessary foil, failure provides success its sweetness. Without attendant lows, highs become a habit. Watch the derailing of the Man U Fan Train if they continue to win. People get bored and move onto other things. At least the casual 'supporters' do. But the true supporters stick with their team through thick and thin. It's called heart. Columnists have no such loyalty: as long as they fill column inches, they are happy. Dave Johnson, internetsoccer.com "Global Analyst" (besides having a title more gratuitously inflated than an entry-level government bureaucrat), cares nothing for either Sheffield club, but by golly, he knows how they should be run: "… the pressure to compete in English soccer is forcing [the] two arch-rivals to consider joining forces … The popular thinking among the fans is that it would be better for both clubs to fail than to put the two together. That's passion?" Uhm, yes. For one because passion makes it difficult to make intelligent decisions. (Or, as my dad's football coach once told him, "It's hard to think straight with a stiff dick in your hand.") Though a lot of yuppies might might cry in their cappuccino if Man U got demoted, it would be the end of the world no more so than if the Sheffield clubs dropped another level. It is only natural that even football clubs go through the cycle of birth, death and re-birth. But it is more so passion because some things are simply more important than survival. Independence. Freedom. Quislings like Dave Johnson advise people to collobrate with totalitarian regimes because it is in their "best interest".
Oly, Oly,
Oly, Oly,
Oly, Oly, Oly-y-y-MPIC.
---
Once the camel's nose is in the tent, the camel's ass soon follows
Lazio coach Sven-Goran Eriksson wants to see referees assisted by extra officials who would be positioned on the goal-line next to the goals. TotW will not rant further on the subject of multiple blind referees still being blind (see TotW, 990313). On the other hand, TotW would not have a dishonoree if Sven-Goran was merely content to put his foot in his mouth. No, he proceeds to shove it in so deep he's got toes wiggling out of his rectum.
Sven-Goran wants to adopt a timeouts like pointy football: "I think that sooner or later, we must have the time-out so that we can improve communications with the players during the game." Why not radio headsets for the whole freakin' side!?
Sven-Goran's ideas are all the more worrying because they were published in an official UEFA newsletter — and we all know UEFA is second only to FIFA in generating Really Bad Ideas.
As with any suggestion, one must ask, "What does he get out of it?" Glad you asked.
Control.
Because right now soccer coaches have blessedly little of it, save during training or halftime. And that's what makes soccer great: It is a player's sport. Not a broadcaster's sport. Not a referee's sport. Not a fan's sport (though we all love it). But most of all, not a coach's sport.
Of course a coach is going to believe that allowing timeouts will "improve" the game because coaches believe that anything that allows them to be more involved is "better" — the same way a striker would no doubt believe that eliminating slide tackling andr offside would make the game better. Soccer is the wonderful sport it is precisely because coaches have as little influence on the game as they do.
If Sven-Goran gets his way, someone will bitch that one timeout is insufficient. Eventually, there won't just be coach's timeouts, but timeouts for specifically for TV so they can show even more commercials. And then we'll get instant instant replay, so the media can sneak in a few more ads. ("Instant" is a misnomer if there ever was one, as all the multiple camera angles that must reviewed in eye-bleeding detail consume minute after endless minute.) And once those players start making so much money, they'll need to be protected, so they'll put some pads on them. And that star striker that every turns in to see, we especially can't have him getting hurt, so they'll stick in some rules just to protect him. And with all the new rules we'll need a few more refs to administer them. It all comes together. Yep, those aren't bad ideas at all!
And so we come to the real reason Sven-Goran wants timeouts:
His team got blown-out 4:1 by AS Roma.
"The truth is that we are not on top form," said Sven-Goran "And I've no difficulty admitting that."
But he does have trouble admitting he didn't prepare them as well as he should have and so in true coaching fashion blames someone else for his own failure.
Sven-Goran Eriksson
Turd of the Week