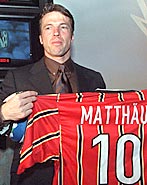 Headline of the Week: "Bebeto to quit Mexican club after being 'ordered' to play". Other headlines we can expect to see in the future:
Anelka to quit Real after being told to act like adult
Collymore to quit Villa after being called a "fookin' nutter"
Schmeichel: "I quit Man U after being told to 'Put a cork in it!'"
Ferguson to quit Man U after being told nobility can no longer behead serfs
Wynalda to quit Fusion after being asked if he would like some cheese with his whine
Basler to quit Bayern after being told Gazza drank Munich dry
Matthäus to quit Bayern after being told how wonderful he is by servile Stillitano
RotMasters quit en masse after being told to "Win one for Charlie!"
The things that really count in football: TSFKATWBP (The Striker Formerly Known As The World's Best Player) said he did not want to become involved in a dispute between his club & country. (Apparently Brazil and Inter Milan are trying to foist Ronaldo upon each other.) As a result, TSFKATWBP will play in just one friendly against Australia during Brazil's pre-Olympic tour … whereupon he will tweek his knee, go into "convulsions" and subject his club & country to another two years of poor form. "It will be a good end to the year. I'm recuperating physcially, I'm going to be a father and on December 3 I will be the first Brazilian to be named an ambassador for the United Nations Organization," said TSFKATWBP, adding, "I might even score a goal sometime during the next millenium."
FIFA pays PLO ransom
By Nidal I'Mugrabbis
GAZA – FIFA President Sepp Blatter promised Palestinian soccer a $1 million windfall Saturday."We are giving Palestine priority treatment … I will help football in Palestine," a battered Blatter stammered in a grainy videotape released to the international media in Gaza, a day after he was kidnapped by the PLO in the West Bank town of Ramallah.

He said the $1 million grant to the Palestinian Football Federation would be used to improve facilities in Gaza and West Bank over the next four years. Palestinian President Yasser Arafat emphasized the facilities would be used for training footballers, not suicide bombers.

Jubilant supporters took to the streets of Gaza and the West Bank in August, some of them firing shots (in the air), when Palestine put in an unexpectedly strong performance by reaching the semifinals of the Pan Arab Games in Jordan.

Football Federation chief Ahmed al-Falfa said Blatter's cooperation was vital to continuing the improvement of Palestinian football but added the sport needed even more funds. "Lennart Johannsen is next!" screamed al-Falfa in Arabic. "Death to the UEFA infidels!"
Striker stripped of strip: Scunthorpe boss Brian Laws ordered Nottingham Forest striker Steve Guinan from the club after Guinan refused to commit himself to a second month's loan with the Second Division club. Then, in the car park, Laws demanded Guinan's tracksuit. "I was left there without any clothes to wear," said Guinan. "I was half-naked. I borrowed some clothes from one of my teammates."
Polly wanna cracker? Lynn Berling-Manuel, President and Publisher of Soccer America must not have much pride, for all the blatent press releases she posts in her column. Regarding a new Dallas Cup sponsor, she "writes": "Hicks Muse specializes in leveraged acquisitions and strategic investments. Since its formation in 1989, Hicks Muse completed or currently has pending more than 300 trabsactions with a total capital value in excess of $37 billion. The firm also has offices in New York, London, Mexico City and Buenos Aires …" blah-blah, blah-blah, blah-blah-blah. Excuse me while I retch. *URK*
Quote of the Week: "I think it's about time everyone realized that soccer couldn't succeed in this country not because of soccer, but because of this country. It's not soccer who is supposed to be changed, it's Americans. And they are changing. In few short years, when all the baseball-drooling sports writers die of their nachos-induced heartattacks, you'll see how different the American minds will be." (Slava "Shurik" Malamud, TotW reserve goalkeeper and Chicago Cubs ballboy)
MLS picks corn out of crapshoot
By Jerry Langdon, Soccer Times
Los Angeles is upset at the timing sequence in the shootout loss to Dallas, saying Jorge Rodriguez took too long — 5.23 seconds by some estimates – in getting off his fifth-round tying shot. The time limit is 5 seconds.MLS vice president for game operations Joe Machnik has reviewed the play on videotape, and while conceding a mistake was made, said he does not know whether the five-second limit was exceeded. The clock showed .38 second left when the shot was taken.

Machnik said there was a delay in starting the clock, but how much of a delay is the question.

In addition, Machnik said there is a .18 second delay at the start of any shootout attempt, and a similar .18 second delay at the end. "The clock is supposed to start when the assistant referee (Robert Fereday), after the whistle, lowers his flag to the lowest point and the timekeeper (Greg Barkey) begins the clock. There's a built-in (average) .18 second delay. … Then there's the same (average) delay at the end of the sequence, between the shot, and the stopping of the clock."

Machnik, while admitting the timekeeper was slow in starting the clock, doesn't know how much time was lost. "I cannot determine it," he said.
Quick, get the smelling salts! Obviously someone is severely concussed. To whit, one Robert Wagman, soccer scribe about town. In a column this week Wagman actually dared suggest that Turd Emeritus Steve Sampson should be one of the top candidates for a vacant MLS coach position. Maybe for the RotMasters, but otherwise it is sheer lunacy. Why does Wagman believe that breathing feces would get an MLS job?(Other than most of the owners are idiots and wouldn't know a soccer person if he got the owner with a two-footed tackle to the shins.) Because an MLS coach candidate should be "American or someone who knows the American game and players intimately." Oh yeah, Sampson knows American soccer players intimately, since he screwed so many of them. "But at the same time he should also be familiar with the international game …" This Sampson does have, even though his experience with the international game is of the losing kind. "… and have a wide network of contacts, especially in Latin America. On top of this, it would be very nice for PR and marketing purposes if he spoke good Spanish … Doesn't that sound a awfully lot like Steve Sampson's resume? Steve Sampson — you remember him. Regardless of what you think of his World Cup debacle, he is a very talented coach who would seem to have almost every attribute that MLS's owners purport to want." Smelling salts may not be sufficient; critical neurosurgery may be in order. Steve Sampson!? First, he is not a talented coach; if he was, he would have actually won something. He didn't, and was fired. Tony DiCicco? Talented. Anson Dorrance? Talented. Bruce Arena? Talented. Jerry Yeagley? Talented. Sigi Schmid? Talented. Steve Sampson? Moron that makes the banjo kid from "Deliverance" look like Stephen freakin' Hawking! If Samspon is hired, it will be because he is a known name, not because he is any freakin' good. Bob, you're damn lucky I read the soccer news this morning, or you wouldbe Turd of the Week.
---
No, Robert, this week's dishonor goes to some Okies — the kind of people even Aggies can make fun of. The kind of people Steve Sampson would be at home with: Judges and monomaniacal soccer parents. In other words, idiots.
Judge David Russell of Oklahoma City forced the local youth soccer league to let Ryan Taylor play in their league, despite the fact that the plaintiff has cerebral palsy and needs a walker to get around. (No word on whether the judge also has brain damage.) Now, we all know that casts, jewelry and other dangerous objects are not allowed on the pitch.
"'It goes without saying this is a very difficult case,' Russell said. On one hand, he said, there was a child who wanted to play. On the other hand, there were officials trying to look out for the good of everyone." So, what he did was disengage his brain and come to the conclusion that the happiness of two people (Tim & JoAnne Taylor, the kid's parents) was more important than the safety of 22 people. Judge Russell was obviously much moved by the bizarre sight of Papa Taylor wheeling his pride & joy's padded walker, covered in red duct tape, into the solemn confines of local jurisprudence.
It wasn't the good judge's fault! He was backed into a corner by the evil soccer league! No, the judge tried to find a compromise. Was he not being reasonable when he suggested an onfield caretaker could be stationed near the poor kid? Just so people would think he was the essence of Solomonic wisdom, the good judge rejected Papa Taylor's request to carry the brave lad onto the field. That was "unreasonable".
"We're excited. I'm sure Ryan will be thrilled he will get to play tomorrow," said Mama Taylor. He might not know what sport he is playing, let alone what day it is or even his name, but he'll be "thrilled". Yeah, and he would probably be equally thrilled if you wheeled him up in front of the boob tube, turned on Serie A, and told him he was Ronaldo!
A 9-year old Vinnie Jones isn't the answer, because after he took out the Taylor's darling precious with a well-timed scissors tackle, Judge Russell would have the amputee out there the next day in his motorized wheelchair. A 9-year old Dennis Wise isn't the answer either, because after he flattened Ryan with one of his malevolent elbows, the good judge would have the veg out there the next day in his iron lung. And, you know if the kid was worm burgers — or, to use the politically correct term, in deference to the Taylor's wounded sensibilities, corporeally challenged — they would have his dead and decomposing butt out there in a freakin' coffin!
TotW can't really fault the kid, because he's just a pawn in an adult power play. So, instead we enshrine his evil manipulators:
David Russell, Tim Taylor & JoAnne Taylor
Co-Turds of the Week