Hero of the Week: Jorge Dely-Valdes for putting away a 90th minute game winner that prevented yet another crapshoot in the Colorado Rapids 1:0 win over the TB Mutiny.
Numbnuts of the Week: The RotMasters (who else?) Sasa Curcic, who has been his team's sole offense the last two weeks, got sent off in the 24th minute against the KC Wizards, after spotting the RotMasters a 1:0 lead in the 11th minute. With Mike Petke's idiocy of the pervious week, the RotMasters have now played 122 of their last 180 minutes a man short. In the RotMaster's case, it is addition by subtraction.
Clash win! Clash win! Clash win! Last week we discussed defender Mario Gori's inspired performance in the NE Revolution's 1:2 home loss to the SJ Clash. The amazing thing TotW forgot to mention was that the Clash actually managed to win without the 'benefit' of a crapshoot for only the third time this season. (In MLS's mangled sense of reality, the Clash have 12 wins and only 10 losses yet languish second from bottom in the western division with only 18 points, 16 behind third-placed Chicago — which has the exact same record!) So, how did the Revolution celebrate their loss to the Clash? By trading recently acquired Ecuadorian international, and the Revolution sole offensive spark in the loss, Ariel Graziani, to the Dallas Burn. Egads. (Addendum: Graziani scored the game winning goal in his first match for Dallas.)
TotW endorsed by FIFA?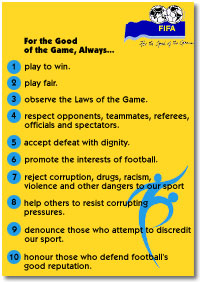 It has been reported that TotW is endorsed by FIFA because it fulfills many of the tenets of FIFA's Code of Conduct. For instance, TotW "promote[s] the interests of football" (#6). TotW also also "help[s] others resist corrupting pressures" (#8), an example being the assistance we attempted to render Doug 'the Centrifuge' Logan in regards to count down clocks, Jock Jams, cheerleaders (except cheerleaders stripping to Jock Jams), shady player deals, and above all the crapshoot. TotW also "denounce[s] those who attempt to discredit our sport" (#9), such as the whole RotMasters organization from John 'the Puppet Master' Kluge on down. TotW also "Honours those who defend football's good reputation" (#10), primarily ourselves.However, TotW is imperfect. While we've not violated the stricture that "Thou shalt not kill" (unless you count character assassination), we do admit to holding false idols (Marco Etcheverry), attending soccer matches on Sunday (rather than church), taking the Lord's name in vain (when the Milwaukee Rampage give up another soft goal), lusting after another man's wife (Mia Hamm), and generally leading the degenerate existences of wastrels and louts.Much like the 10 Commandments, TotW has also transgressed FIFA's tablet of wisdom. We do not play fair nor do we accept defeat with dignity, preferring to cry in our beer, or go down in flames. (Little known fact: David Koresh and the Branch Davidians were protesting the crapshoot.)

Therefore, TotW firmly disavows having any electronic contact with that federation, FIFA! *finger wag*

(You decide which finger.)
All things are relative: Only two games into the 1999/00 season, Lokeren coach Willy Reynders became the first managerial casualty in Belgium's top flight. Spot of luck there, only losing his job. Brima Kanu, a 21-year-old Lokeren player, died when his heart stopped following a knee operation. Repeat after me: My foot bone's connected to my shin bone; my shin bone's connected to my knee bone; my knee bone's connected to my thigh bone … My head might be up my ass, but my knee sure as hell ain't connected to my freakin' heart! Wait, it gets better: "Doctors said the operation was a success and they did not know why his heart stopped." I don't know about you, but my definition of success does not usually include death.
Female shotputter manhandles defenseless little balls: The headline alone makes TotW piss its pants for laughing so hard, but we should still elaborate. The third round of the German Cup draw was botched on live television last week. Astrid Kumbernuss, Germany's world champion female shotputter, was the celebrity guest making the draw. Eintracht Trier's plastic capsule broke open during the draw as the hairy-knuckled Kumbernuss clumsily swirled her hand through the pot. The half containing Trier's name was mistakenly laid to one side among the discarded balls. Only at the end, when it was found there was one too few teams to complete the draw, did the error become apparent. "As I looked at the two empty halves (of the ball) I thought, u-huh, the gentlemen here are going have a big problem on their hands," Kumbernuss commented. "I wasn't too concerned though and actually found it quite amusing." The shotbabe pummels the plastic balls, screws up her only chore in this whole charade and then thinks it's funny!? It is not surprising no one complained: Have you seen any female shotputters lately? Drug testing is working? Yeah right. (James Gregory, TotW Bribe Taker)
You knew this was coming … Nicolas Anelka, Real Madrid's newly acquired forward, is already on the out's with the team after flaunting Puma jewelry at training sessions of the adidas-sponsored side. Anelka also turned his training bib inside out, hiding the adidas logo. Coach John Toschak and captain Fernando Hierro got Anelka to turn the bib right side out, but just to make sure they know who's the boss, Anelka pointedly repeated his antics — on live TV — during a 0:3 defeat to Celta Vigo. David Dein, Anelka's previous employer at Arsenal, predicted at the time of his transfer that it would not be long before Anelka's self-centered attitude reappeared. Anelka disputed that claim saying his departure "… was not about money". Demonstrating all the intellectual capacity of a Marseille grape, Anelka then went on to contradict himself, saying, "Marseille could not afford me so I wanted to go to Spain." Anelka also said that "Real Madrid appealed to me a lot," but apparently not enough as his first act was to treat the club like a used condom. To be Turd of the Week one must first be potty trained and this brat is still in diapers, crapping all over himself. If he doesn't grow up quick, it won't be long before he is packing Ecuadorian happy dust up his nose and shooting at reporters, like a washed-up, cellulite-laden Maradona.
---
Only idiots bet on preseason games or MLS: Proving that shady player deals didn't go out the window with former MLS president Doug 'the Centrifuge' Logan, Robert 'All MY Teams Suck' Kraft, traded still effective 30-something midfielder Jeff Baicher from the SJ Clash to the NE Revolution for young, injury-prone and inconsistent midfielder Jair. You are all saying "Gee whiz, rebuilding teams trade an old guy to a team trying to make the playoffs for a young guy all the time. What's the big deal?" Ah, this is MLS we are talking about. There is always more slime beneath the surface than first meets the eye: Kraft owns both teams. That's the sort of incest that would make an Arkansas hillbilly cringe.
Apparently Kraft, one of Logan's prime executioners, wanted to get all the credit for the genius of his transfers. What is it about pro sports owners that makes them think they are qualified to do anything other than make another obscene pile of money? Just because you own the team doesn't mean you know anything about it, or the sport. Footballers are always trying to make the leap from faking dives to faking love scenes — or marrying grade Z entertainers with equally poor thespian skills — and sports owners are insistent about making the leap from ordering Fred in accounting from one god-forsaken malarial foreign office to another, to ordering forwards from god-forsaken malarial countries from one soot-encrusted megalopolis to another.
If it was only the case of egomaniacal billionaires and their coattail riding offspring swapping slaves with their cigar-puffing cronies, that would be one thing. Let the dilletantes play soccer Monopoly. When their idiocy shines through, and their team befouls the league, its debt-laden corpse will be relegated. Relegation is the football equivalent of metameucil — its gets the crap out of your system. At least in countries that do football right. Unfortunately there is no relegation in America. If there were, TotW would be facing the RotMasters tonight in its O-30 league as they would have been relegated every year since Romans laced 'em up against the Apostles.
MLS, in addition to eschewing relegation, also allows said billionaires to own more than one team. Sometimes the reeking system smells like roses: Phillip Anschutz owns three teams — the Chicago Fire, LA Galaxy and Colorado Rapids — each of which is a quality side. Sometimes the incompetent billionaires can't even handle one team: John 'the Puppet Master' Kluge and Stuart 'Step-N-Fetchit' Subotnick devote their full attention to the RotMasters, and they still suck eggs. Robert Kraft, or the the 'Kraft Sports Group', his nepotic little empire, own two soccer teams, both of which are MLS bottom-feeders: the SJ Clash and NE Revolution. (Not to mention their other perenially incompetent teams in other sports, such as the Patriots in the NFL.)
I was going to drone on endlessly, but late developments Friday night knocked Kraft from his pedestal as TotW nominee …
In my O-30 game Friday night (not against the RotMasters) we played against a team that was running an offside trap. One small problem: This league doesn't have referees. We have to call our own fouls. So naturally they called offside everytime we penetrated their defensive zone. At least a dozen offside calls. I've never seen so many offside calls since the last time Roy Lassiter was on TV. Normally I play keeper, but on this night we were trying out a new guy, so I played a variety of field positions. On the play in question I pushed up wide on the right. I was the last guy on the outside, looking straight down the line of defenders, a good foot or two onside. Our center forward took a shot, I got the rebound, and started working my way towards goal, only to be interrupted by the inevitable "Offsides!" [sic] Naturally, I say "No way!" So That Asshole I Played Against Friday tried to prove his penis is larger than mine: "I'm a referee!" Ooooh … and "You should read the rules!" [sic] Ouch! If he really was a referee, he would know that soccer does not have "rules" it has Laws. He would also know that there is no such foul in soccer as "offsides", it is offside. I expect that sort of ignorance from parents and coaches, not referees. Of course on Saturday and Sunday there was a big women's soccer tournament, one at which I refereed eleven games. Think That Asshole I Played Against Friday was anywhere to be found? Think the Baicher-Jair trade wasn't as tainted as Love Canal? I think justice prevailed and we won 2:1. Take that. And this:
That Asshole I Played Against Friday
Turd of the Week