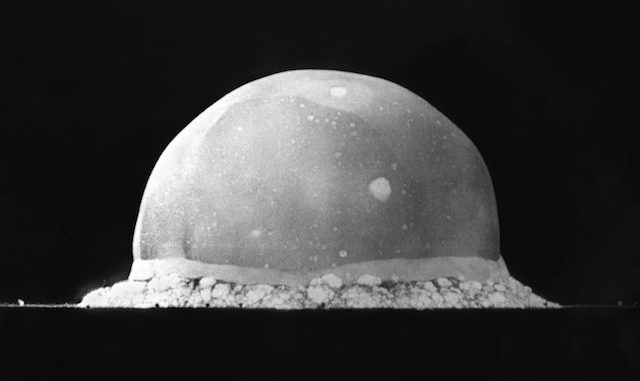 After my hike at Alkali Flat, we returned to the White Sands Motel, relaxing with a couple of beers, while looking at the mountains just a few miles east. Or trying to, as the still heavy winds stirred up so much dust the entire range from Sierra Blanca Peak south to Burleson Ridge was obscured.
White Sands Motel is a nice place, but I have a hard time sleeping in hotels. I didn't sleep much, and was up at 3:00 a.m., with 600 miles of driving home ahead of me. (With a visit to Trinity Site along the way.)
This was my second visit to New Mexico, and only the sixth time I have driven through it. I have never seen an emptier place, not even when I was in the first Gulf War. But all places have their own beauty, and my wife & I enjoyed our early morning drive north on US-54, through Tularosa, Three Rivers and Oscuro to Carrizozo. There actually is a small three plot cemetery in the right of way just north of Oscuro.
Our previous visit to New Mexico came during a cross country trip in 2008. Ostensibly, the purpose of the trip was a return home to visit Wisconsin and Road America, but really it was to have one of America's best burgers at the Meers Store in Oklahoma. On the way back, we spent a day visiting the alien museums in Roswell, before heading west on US-380, through Lincoln — where they were filming a Billy the Kid movie — and Carrizozo to San Antonio. Just east of San Antonio, I pulled over for a historic sign, discovering it marked the nearby Trinity Site, location of the world's first nuclear explosion.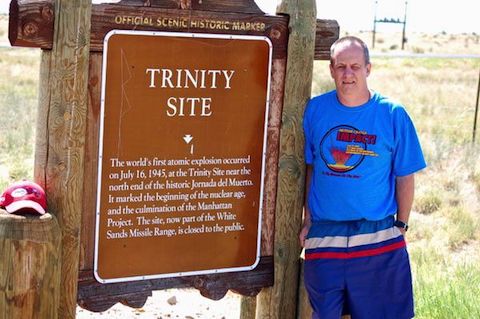 We arrived at the intersection of NM-525, near the historical marker, about 8:30 a.m. There were a couple of protesters there protesting Trinity Site … A 72-year old event whose background radiation is currently 1/4 that of a coast-to-coast plane flight. 🙄
Traffic was heavy turning onto NM-525, but I didn't think much of it until we came to a complete halt three miles from Stallion Gate. That's over three hundred vehicles, including several buses. Being retired Army, I understand security, and was grateful for the rare chance to visit a historic site on a still highly classified post, but it took 90 minutes until we got through Stallion Gate. Leaving just after 1:00 p.m., there were only a couple of cars in line. My recommendation would be to enter Stallion Gate about noon: Less traffic, plus still have time to partake of both Ground Zero and the McDonald Ranch House. Note that the Stallion Gate closes at 3:00 p.m., and it is 30 minutes from Trinity Site. If you leave late, you will instead have to route back out to US-54.
After passing through security, which consisted of an ID check, we headed southeast on WSMR-7. Note that between Stallion Gate and Trinity Site, filming and taking pictures is illegal. I turned off my dashcam. Also, you are not allowed on any other roads, and there was copious security presence to make sure no blue hairs wandered off in a dangerous direction. After a little over 13 miles, you turn left on WSMR-20 at the PHETS (Permanent High Explosive Test Site). You can see Trinity Site in the distance, another almost four miles east.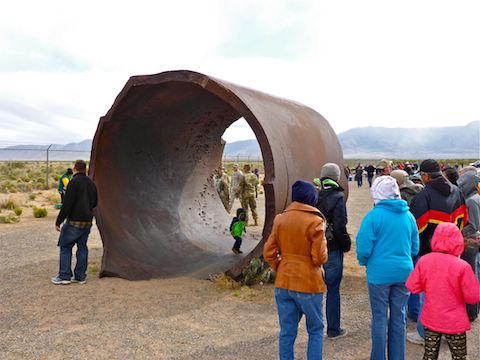 There is huge support for the Trinity Site open house from White Sands Missile Range tenants; Morale, Welfare, and Recreation (MWR); and the New Mexico Army National Guard. Your first encounter with them will be the MPs directing traffic into the parking area. The soldiers looked so young: It made me nostalgic. 😕
At the Trinity Site gate, by the parking lot, there was a table with several booklets of information about Trinity Site and White Sands Missile Range. Jumbo, the once 214-ton steel container built to contain any accidental plutonium spillage in event of a misfire, is between parking and the food vendor (hot dogs, breakfast burritos, sodas, etc.) Unfortunately, they were out of coffee by 10:30 a.m., which was a real issue because it was so cold & cloudy. (We had actually got snowed on driving the 6,400 ft. pass over Chupadera Mesa on US-380, west of Carrizozo.)
Ground Zero itself is fenced off, and a quarter mile also fenced off walk from the parking lot, but there is a 8-seat golf cart shuttle for elderly or handicapped folks. My wife & rode it both ways, due to her bad feet.
Just outside the Ground Zero fence are several souvenir kiosks. I bought a t-shirt (of course), fridge magnet, and postcard to send our grandaughter.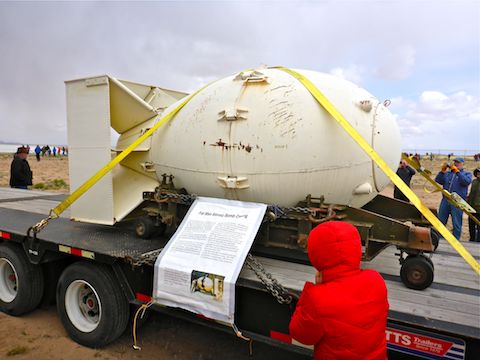 Trinitite is a green glassy mineral created by the nuclear explosion. Most of what was not cleaned up decades ago is housed under a low building to the left. Unfortunately, the window into the building was shuttered. 😕
A full size Fat Man bomb casing was on a flat bed truck. It was the same type of 'gadget' that was exploded during the Trinity Test. The thing I found most interesting were the contact fuzes, that were a fail-safe in case the altimeter fuse failed to detonate at 500 meters.
As with other displays, it was quite crowded around Fat Man. I asked one worker how many people they typically got, and he said abouf 800, but today was down a bit. Maybe he meant 800 at any given time, because it looked like a couple thousand to me.
From Fat Man, I went over to the obelisk at the exact Ground Zero, where the 100 ft. tower once stood. It was the most crowded of all. Everybody took pictures. Getting a closeup photo of the plaque, or even a chance to read it, was pointless.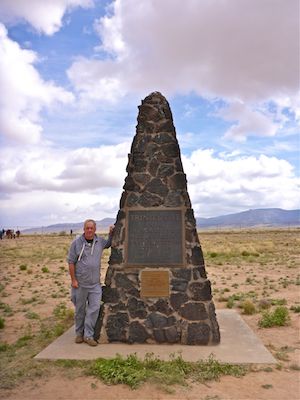 Finally, we checked out the information & photo signs along the far perimeter fence. One was actually amusing, the military police unit had put up a sign announcing their barn as "Lazy MP Ranch". (A play on words, since "lazy" is a ranching term for a brand letter on it's side.)
Then it was back to the parking area, where we picked up a bus to the McDonald Ranch house. The bus is required to visit the ranch, but they run frequently, so don't sweat it if one leaves without you. (As if we could sweat, it was so chilly.)
McDonald Ranch is where Fat Man was assembled. The adobe barn and windmill have collapsed, and were taped off as a "danger area". Thankfully old adobe buildings are not no-go zones on my hikes. The ranch building had a couple more historical signs, including one with photos of the McDonald family.
Then it was on the bus back to Trinity Site. We had spent about 2.5 hours touristing. I'm certain many people spent less, as some were exiting Stallion Gate before we'd even got through it that morning. To leave, we drove south five miles on WSMR-13, past the McDonald Ranch. At what looked like a gravel pit, we turned north on WSMR-7, driving another 18 miles back to Stallion Gate.
Thankfully, we made good time on the way back home, arriving 90 minutes earlier than planned.
---
Trinity Site Video