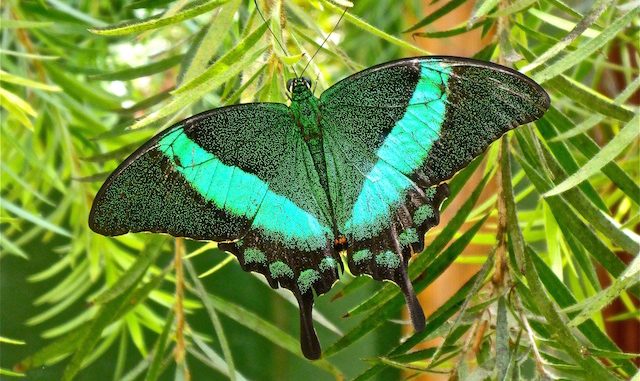 We had family in town this week. With one exception, they had never really experienced Arizona.
So, we did some Phoenix tourist things that even my wife & I had not done, despite having lived here for over a decade: The Goldfield Ghost Town in Apache Junction, the Butterfly Wonderland in Scottsdale, the Musical Instrument Museum in Phoenix and, of course, the Grand Canyon.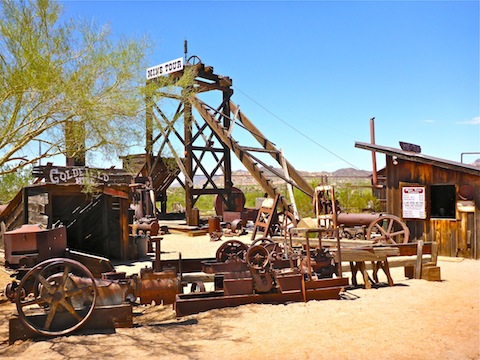 Goldfield Ghost Town was pretty much what I expected: Very touristy. It was not a ghost town like Swansea, in the Arizona Outback. First, we took the 1.5 mile, 20 minute train ride around the town, which gave a good over view of the history of the area, including that $1.5 million in gold was pulled out, which would be $800 million in today's dollars. Quite a strike! Some parts of the complex are still being actively worked, while others were flooded so thoroughly that pumping was ineffective and too costly.
Then we took the mine tour, which provided more interesting info, particularly regarding the dangers of working a hard rock mine, blast patterns, and the use of candle lamps. There's lots of interesting artifacts scattered about the area. It was starting to get hot, so we grabbed some souvenirs & booked.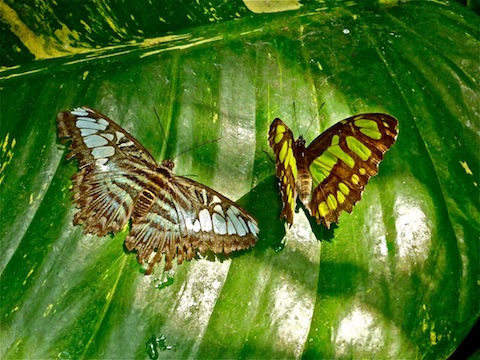 Butterfly Wonderland was amazing. It started out with a 3D movie describing the Monarch's migration patterns & mating habits. The most interesting point was that one annual cycle takes four generations, three north bound from Mexico to Canada in the Spring, and one south to Mexico in the Fall. The next item on the tour was the emergence gallery, where new butterflys are hatched (?) before being introduced to the main enclosure. Unfortunately, I did not see any emerge.
Then it was on to the main event: The pavilion has thousands and thousands of butterflies in dozens of different species in a sub-tropical green house. Concrete paths wind between the flowers and feed stations. Other than two species, the butterflies were more docile than in the wild, where I have a very hard time getting decent photos. Even the more active species would take extended breaks at the feed stations, low bowls filled with chunks of watermelon, honeydew, etc.
The most beautiful species was one with a blue back, but which never held still unless it was feeding, whereupon it closed up its wings, hiding the blue parts. Still, that species had a neat lizard head pattern on the under / closed side of its wings. One butterfly landed on my hand, whereupon I panicked as I tried to coax a photo from my recalcitrant camera before it flitted off. Finally, you need to watch your footing, so as not to crush one of the poor critters, which often land right at your feet. Highly recommended!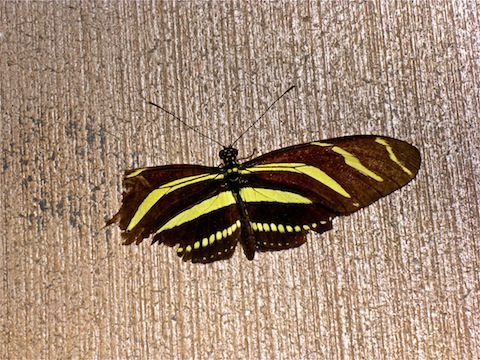 My wife and I had been to the Musical Instrument Museum on several previous occasions, but always to see a concert. We never actually toured the galleries. The MIM has 5,000 instruments on display, out of a collection of 16,000, from all over the world. There are sections devoted to different ethnicities, different instruments, and different musicians. Though I spent more time with her than one of her boyfriends, I skipped right by Taylor Swift.

The checkin desk gives you a headphone set that plays when you stand near / in front of one of the many flat screens. Each screen plays 2-6 videos of the musicians / instruments on display in that area. The "active area" in front of a screen varies, occasionally necessitating wierd body contortions.
Only open during mid-day, the MIM's Cafe Allegro has great chef-cooked eats. The cucumber gazpacho was to die for.
We were there about three hours, but only visited half the galleries, and did not spend nearly enough time in the ones we did visit. To thoroughly experience the Musical Instrument Museum, would take multiple visits. My favorite parts were the ones with roots music, bluegrass, etc. On the way out the door, I corrected my unforgivable lack of a Carter Family CD. (Though I did use their "Under the Weeping Willow" for my Mattie Earp video.) Highly recommended!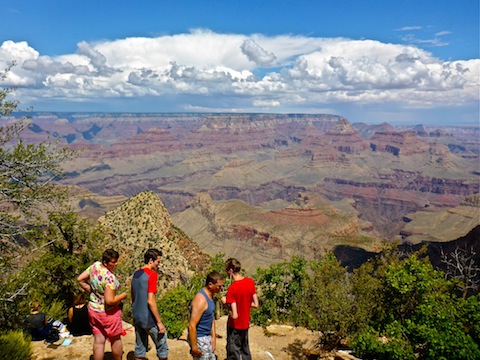 Presumably, you've all heard of the Grand Canyon?

I had briefly visited the Grand Canyon once or twice before: I believe in 1976, when we were moving across country from Milwaukee to L.A., and again around 1987 when my Mom visited me at N.A.U. and wanted to go up to Tusayan for the sole purpose of eating what she believed to be the world's most expensive Big Mac. Last year, I spent a few minutes at Desert View before hiking to Cedar Mountain.
We went on Monday, via the east entrance, to avoid weekend tourist crowds. Luckily, Desert View's Watchtower was open on all but the outside top level. (Last year only the ground floor was open.) It definitely improved the view. You hear a lot of foreign languages at the Canyon, so my wife was happy when she met some Dutch ladies.

After Desert View, we headed west on AZ-64, spending time at Navajo Point, Lipan Point and Grandview Point. Despite it being Monday, the visitor center parking lot was jammed, so we skipped Mather Point, heading straight to the Yavapai Lodge Restaurant, in the Village, for lunch.
While we took I-17 and US-89 up from Phoenix, and made it to Desert View in about three and a half hours, we took AZ-64, US-180, Lake Mary Rd. and AZ-87 back because there is nothing I would not rather do than take I-17 into Phoenix.
---
Butterfly Video