By Joseph Owen
Stars & Stripes
Thu, 5/30/91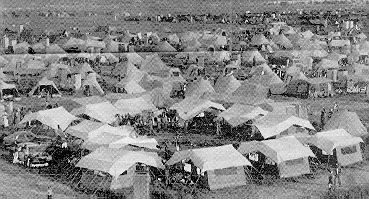 ZAKHO, Iraq – Coalition forces are closing one of three camps for Kurdish refugees and may convert another into a permanent settlement, officials said Wednesday.
Each of the temporary camps near Zakho was designed to hold 21,000, but two have lost many of their residents in recent days, as refugees have pulled up stakes and headed home.
The international Combined Task Force estimated that the Kurdish population of the camps was 51,900 on Monday. The end of the refugee influx last week prompted the cancellation of a fourth camp, and officials planned to close Camp 3 as well after moving its residents into vacant sites in the other two camps this week.
Col. Stephen A. Windsor, the commander of the Army's 18th Engr Brigade from Karlsruhe, Germany, said a local farmer already has tried to recalim some of the still-occupied land in Camp 3, laying irrigation hoses among the tents.
The brigade has been supervising several units doing construction work at the campsites. They include the brigade's 94th Engr Bn from Darmstadt, Germany; the Naval Mobile Construction Bn (Seabees) 133 of Gulfport, Miss.; the Dutch Forces' 11th Engr Relief Bn; and the 51st Field Relief Sq of Royal Engineers from Britain.
Those units still may have plenty of work to do in the area if the task force honors a request from refugee relief agancies to make Camp 2 suitable for year-round living. Required changes would include improvements in drainage, erecting fences and lighting around administration and supply centers, modifying the latrines and constructing roads to well sites.
The working climate has changed considerably since the first camp opened on April 30. The only refugees around then were male adults, visiting briefly to see if they wanted to bring their families. While they were there, they helped with the construction, but that was short-lived.
"Since the families have come down, the refugees have not participated in the building process," Windsor said.
His troops agree, but only in reference to the adults. The camps' inhabitants are mostly children, who are eager to pitch in, the soldiers said.
"They've done alot to make it more pleasant, because when we are all out here building, they are always trying to help," said Seamen Apprentice Marvin R. Burrage, 20, a Seabee from Philadelphia, Miss. "If you give a kid a hammer, he will be building something in no time."
The building crews have had to carry on their work despite the hazards of stray explosives, occasional firefights, camp riots and thefts of material.
Army Capt. Reginald Dones, and 18th Engr Brigade civil engineer living temporarily in Camp 2, said that the camp has posted security guards ever since a driver entered the camp and tried to run over some Kurdish women with a car.
He also cited the large-scale occurence of refugees recieving combat rations from the task force and then selling them on the black market. "I've seen them downtown with cases and cases of them," he said, adding that such abuses forced the military and relief agencies to release food only when refugees registered to live at a specific site.
Second Lt. Christopher S. Walton, of the 18th MP Brigade from Frankfurt, Germany, said he also knows of black market sales. Asked about refugees' thefts of materials, he said, "They have their thieves, just like everyone else."
Although the scale of the camps has been reduced, the task force is trying to keep all its construction personnel and materials on hand. Most of the 94th Engr Bn plans to move with its equipment to Zakho, said Capt. Anthony Dennis. The task force is concerned that unforeseen political events may still drive refugees back to Zakho from the provincial capital of Dohuk and other areas.
"If that happens, we're going to need every person we can lay our hands on," Dennis said. "That's why those people (engineers) are there."
---
McMurry's Notes
As of May there hadn't been a firefight in over a month. Soldiers articles are notoriously out of date.
---