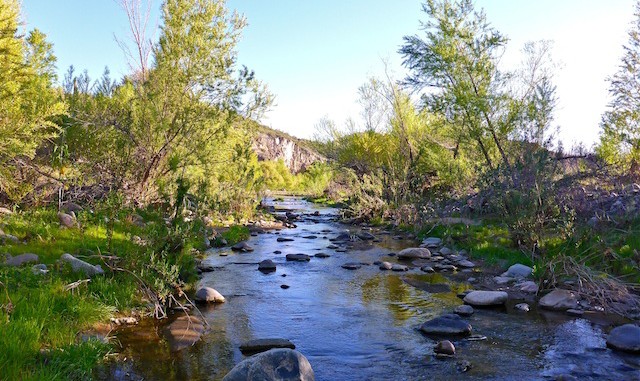 We needed to stay close to home today, to take care of some family business in the afternoon, so I came up with the idea idea of finishing off BCT #4 (five years later), combining it with BCT #5 to Black Canyon City, and finishing up with some lunch — and awesome pie!

— at Rock Springs Cafe.
The last time I attempted BCT #4 was in July, 2011, and I nearly heat stroked. Though temperatures have been nudging the high 80s the last week or two in central Arizona, I figured I would be done a couple hours before peak at ~1500, so well inside the safe temperature band.
I accidentally started at the semi-formal firing range a half mile east of the actual trailhead. Hard to tell what was what in the dark.

I started at 0640, and there was enough light to see at at that point, though the sun would not be up yet for 20 minutes. When I got to the actual TH, I waited for some mountain bikers to start their ride, as they would have passed me in a minute anyway. I encountered at least 11 mountain bikes, some doubling back and eventually catching up to me, throughout the day. Everyone one of them was cool. (Unlike Phoenix where you sometimes get power assholes who blow by you.) I did not encounter any other hikers until just after the rock art, 3.5 miles out from Black Canyon City. (1.6 miles as the crow flies! When another hiker said 3.5 miles still to go, I nearly fainted.

)
Instead of going up the west branch of Little Pan Loop, like I started to five years ago, I went up the east branch. Having now hiked that east branch, I made a good call to turn back on my previous attempt. If I had tried it, I probably wouldn't be typing this. Now, in better shape, with cooler weather — it was brisk when I started — I made it two whole segments. Barely. I was seriously dragging at the end. But NDCQ.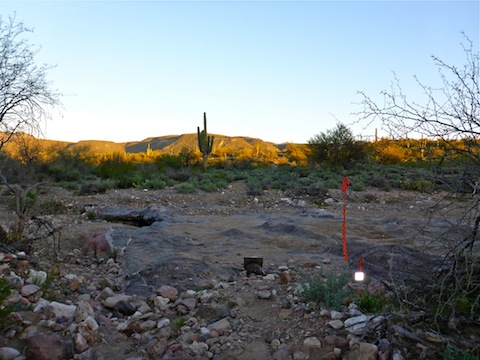 There's a few rocky sections along the way, and two creek crossings — the Agua Fria was flowing today — but otherwise the trail is smooth, fast, single track. (There's also a 3/4-mile section on dirt road, just before the "top" of the loop. Incredibly, despite my exhaustion, I ended up averaging 2.78 MPH!
To keep my time down, I only shot video twice. (Flowing water is hard to resist, especially in the desert.

) Otherwise, I only shot pix. So, my hike video, below, is a slideshow, which I have not done in awhile. I was worried I would not have enough material, but still ended up shooting 119 photos. Don't worry! I threw out most of them. 

Much of these two segments of the BCT is within a few hundred yards of jeep trail. You will hear shooting near the beginning, possibly at the Little Grand Canyon, and again near the end. Still, not nearly as bad for shooting trash as the first three segments between Carefree Highway and Table Mesa Rd.
Every kind of desert flower there is was blooming: Some small white things I don't know the name of. Some tiny purple flower with yellow anthers that I can never remember the name of. Mexican poppy, which like the warmer weather, began revealing themselves as it approached noon. Several ocotillo, but not a majority.  Some daisy-like flower. Only two globemallow, but at least I finally spotted them in the final couple of miles. Probably more that I've forgotten. And the brittlebush were going nuts!
At the high point of the hike, there was some rock art — including the obligatory dick pic

— that reminded me a bit of Sundad.
When I finally made it to the Black Canyon City trailhead at 1300, I discovered my wife had parked her car at the far end, 10 feet uphill. Thankfully, I made it.
Then it was off to Rock Springs Cafe … where there was a 35 minute wait for a table. Argh! I somehow made it, without passing out, assisted by an Arizona Green Ice Tea and Shock Top beer. Lunch was an Augie Dog — fried hot dog with cheddar cheese, bacon bits, onions, tomatoes, green chiles & spicy brown mustard — with cherry crumb pie for desert. (The cherries were to die for.)
GPS File: Black_Canyon_Trl_4_5
Distance: 14.36 mi.
AEG: 1,796 ft.
Time: 5h 10m
---
Hike Video