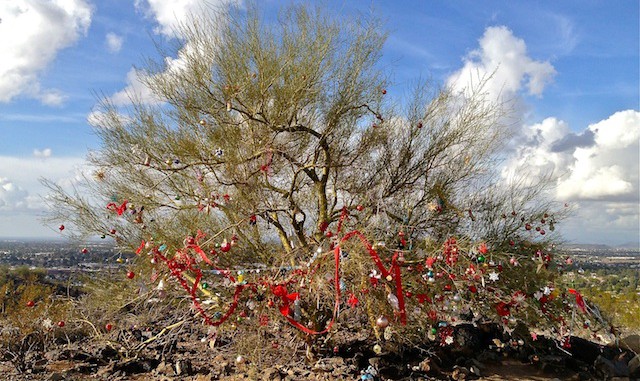 63°, partly cloudy, no breeze when I started at 1300. Perfect weather. 

Took Trail #100 to the NMVC, then started clockwise on #306. The little "pre-hill" southeast of Shaw Butte, has a trail around its north slope that is quite obvious as you hike south, but whose intersection with #306 is faint. I took that rather than #306 itself, not knowing if it would connect back up, or would hey diddle diddle straight up Shaw Butte. It reconnected. All the graffiti on the Cloud 9 Restaurant remains has been painted over since I was last here — was it really been 51 weeks? — but two new tags have been added.
A couple of people stopped me to ask for information. Then I realized it was because I was wearing my flourescent yellow "North Mountain Visitor Center" t-shirt. I must have looked like a guide, or something.

There has recently been a tracked vehicle on Shaw Butte grading both approaches: You can see the tracks in the paved parts, and some of the embedded rocks are even sheared off / crushed. (I say "recently" because the tracks are also visible in the dirt.)
65°, partly cloudy, very slight breeze when I finished.
My wife was happy with the Cuisinart Custom 14-Cup Food Processor she got for Christmas and the dozen roses she got for our Proposal Anniversary (which is Christmas Eve). 

I'm happy I made 600 miles for the year — with a week to spare (unlike last year) — despite not getting much done the last seven weeks due to dealing with family issues.
GPS File: Shaw_Butte_Trail_306
Distance: 7.07 mi.
AEG: 1,231 ft.
Time: 2h 22m