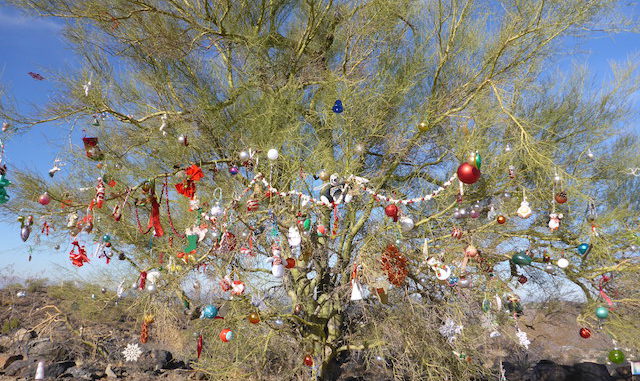 I was intending to do a hike in the Weaver Mountains today, but with overnight temps in the mid-30s in Phoenix, I knew it would be near or below freezing 2,500 ft. further up. Especially, early in the hike when I was deep in the Cellar Springs Creek canyon. Plus, I am just starting to get over a cold. Bummer, because I was really looking forward to a post-hike pizza at the T-Bird Cafe in Peeples Valley. 🚫🍕
Instead of hiking early morning at higher elevation, I hiked late morning in the Phoenix Mountains Preserve, both yesterday and today. With a hoodie, cinched tight.
Today, I headed up to Shaw Butte. There's a couple of short, steep climbs on the way up to the antenna farm, and they killed my back. Not my legs. Not my cardio. My back. Argh! It was misery. 😬
The highlight of my hike was the palo verde decorated, as it is every year, with Christmas ornaments.
Merry Christmas! 🎄
Distance: 5.68 mi.
AEG: 1,118 ft.
Time: 2h 02m
---
Christmas Video