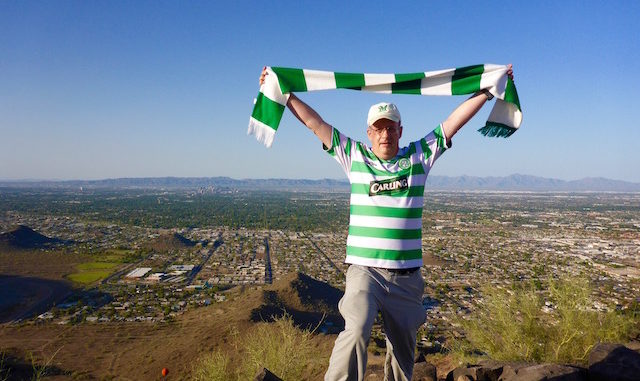 Are you a Tim in Phoenix? Check out the Bobby Murdoch Phoenix CSC site!
The Celtic FC Foundation — the charitable arm of the team I support in Scotland — hosted a hike up Ben Nevis last Saturday. Since I live 5,000 miles away in Phoenix, and couldn't just pop over for the day, I decided to hike Shaw Butte instead. (Complete with appropriate accoutrements, including a Guinness.) I took along a tripod so I could take "selfies" without duck-facing a handheld camera. When I started at 5:10 a.m. it was already 86 degrees. I figured two waters and a Gatorade, besides the aforementioned Guiness, ought to be sufficient liquid for a two hour hike. It wasn't. After I had spent a fair amount of time at the towers, and then at Cloud Nine, taking photos, I started down the north side of the butte. I had a bottle of water to get me home, the last 2.5 or so miles. But it quickly ran out, and by the time I hit the bench, .75 miles from the NMVC, I was not feeling it. I called my wife for a pickup. Good thing too, as I think I was beginning to experience heat exhaustion. I have no idea how people can get out mid-day. One time I rode my bike for about 4 miles — less than an hour — in 115 degree heat, and I went through 40 oz of water. Anyway, back to somewhat cooler climes …
GPS File: Shaw_Butte_Trail_306
Distance: 10.83 mi.
AEG: 1,488 ft.
Time: 4h 26m
---
Shaw Butte Hoops Video