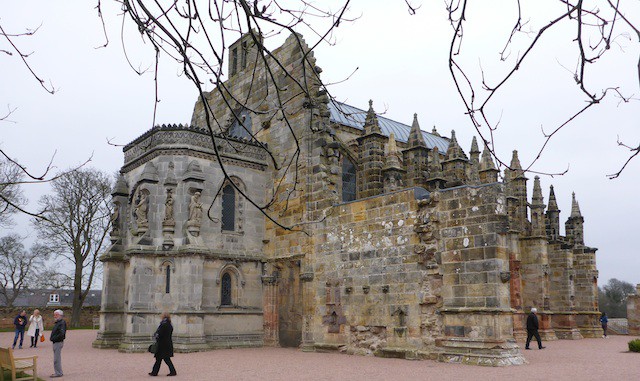 We trained from Glasgow Queen St. to Ediburgh Waverly (the central station). After checking in to our hotel, we walked north up Bridge St., then west on Princes St., to pick up the 15 bus — 15A would work too — to Roslin, home of the world famous Rosslyn Chapel. (The spelling of the town and chapel differ.) Though I've read "The Da Vinci Code" — it is a cracking yarn — I don't believe it.

 Instead, what attracted me is that is has been in the St. Clair / Sinclair family since it's construction in the 1440s, and that every five years the clan has a gathering (i.e. "family reunion") there. I am not a Sinclair, nor is my family a sept of that clan, but as a byproduct of each gathering the Canadian Sinclairs put out a CD of appropriate music, composed and performed by clan members. You have heard Sinclair music as the soundtrack on some of my previous hike videos. I love those CDs. 

 Plus, besides the legends, Rosslyn Chapel has a reputation was an incredibly beautiful building. As we found out, it is more than well-deserved.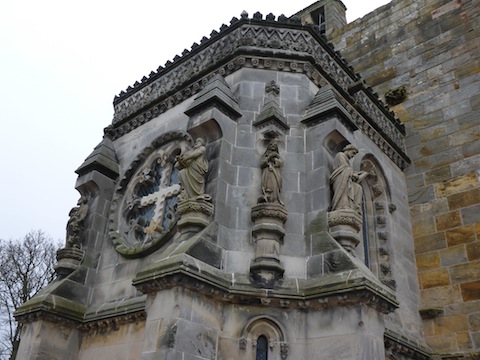 We arrived in Roslin 45 minutes later, walking down a lane to the Chapel grounds. There is an admin fee, but is well worth it. (They just finished a major restoration a few years ago.) There is a small museum / gift shop / snack bar, and you are free to wander the grounds. Access to the inside of the chapel is with a tour guide, and there is about a 30 minute presentation before you are allowed to wander around for a few minutes. Take all the pictures you want outside, but they request that you not take pictures on the inside. I wanted to, but out of respect, did not. (They say it is for safety — they don't want someone face-planting a pillar while gazing at the ceiling — but I suspect it is more to protect the artifacts as intense light, as in flashes, can damage old things.)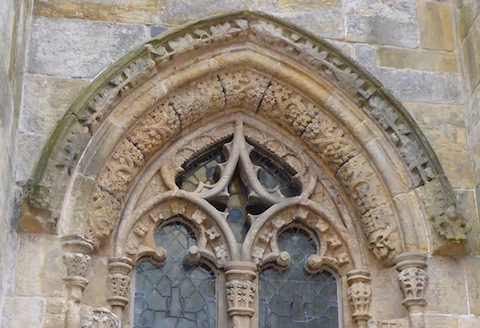 The chapel is constructed of sandstone, and the stones you see in my photos are naturally either blonde or red. The carvings are incredible outside, but breathtaking inside. Adjectives do not do it justice. I found it curious that there would be so many pagan symbols — e.g., the Green Man — and devils / imps in a Christian building, but then that is something I guess you see in many churches of the period. You certainly wouldn't see it in your modern Mega Church.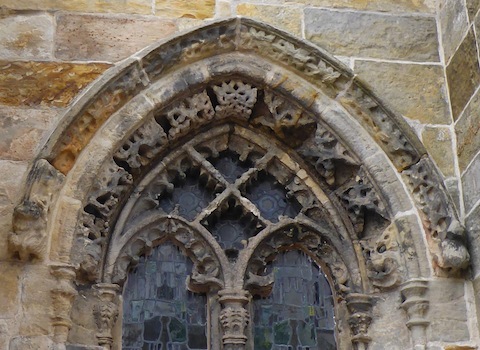 After a few hours, we walked back into Roslin, and hopped the return 15 bus to Edinburgh, walking back our hotel for a rest. That night we walked north up Bridge St. and Leith St., through the theatre district at the west foot of Calton Hill, to Khushi's, the top-rated Indian Restaurant in Edinburgh (since 1947!).
A fair amount of walking today, but tomorrow will be the only real hike of our trip: Arthur's Seat.
Distance: 1.00 mi.
AEG: 0 ft.
Time: 1h 00m
---
Rosslyn Chapel Video
The soundtrack to the video was recorded in Rosslyn Chapel, so it gives you a sense of its acoustics. I also included some interior shots that I found on the web.