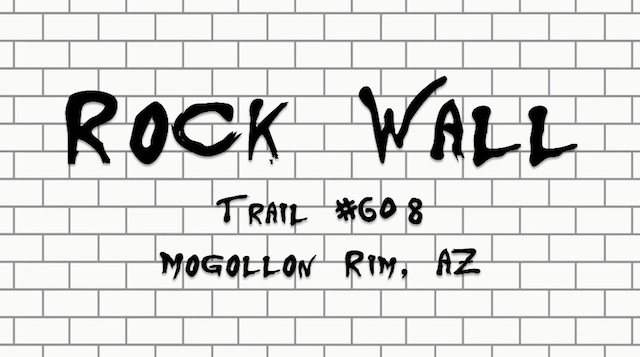 After last week's hike to Tonto Natural Bridge, this is the second week in a row where I would not have enough time to make a hike video, or an extended hike description, due to commitments the following week. Whereas last week I repeated a hike only three weeks later, today I repeated a hike a year later: Rock Wall Trail #608.
Parked in the same large lot on the west side of AZ-87. The barbwire gate between AZ-87 and Rock Wall Trail #608 was down. Trail surface and condition were no different than last year. I did notice that there were two or three sets of vehicle tires in the trail surface. A half mile up 608, near the first rock wall, I bumped into the two pickups, with some people camping. They had a campfire, but it was already extinguished. I thought that odd, since I was under the impression fire restrictions were in effect — the day's local fire status was "very high" — and I thought the trail was non-motorized. I said "good morning", then moved on.
At the three mile mark, where the road splits, last year I went left towards AZ-87 on FR 9367R, this time I continued straight on 608. (Other than a short side trip to the very steep edge of Pine Canyon.) I only took four photos during my hike: No sense wasting time if I'd photographed the hike before.
All the elevation gain occurs in the first three miles, so while I moseyed to the furthest limit of 608, avoiding two sets of Winnebago campers, I booked it back the way I came, only pausing when I got back to where the two pickups had been. They were gone, and thankfully the ashes were cool.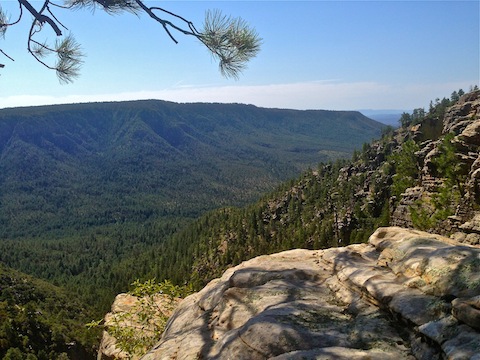 Since I finished just before noon, my wife & I stopped at the Old Country Inn, in Pine, for a wood-fired "Meat Pie" pizza and a couple of prickly pear beers.

---
When I can't get out for a hike, or don't have time to create a hike video, I make a withdrawal from my video "bank": My bank is where I stash videos of other things I am interested in, or like photographing: Graffiti, food, beer, my t-shirt collection, #cloudporn and #flowerporn are amongst the deposits. Unlike money banks, hopefully there is high interest.

So, this week's withdrawal from the Video Bank is "Graffiti 2", featuring throw-ups and pieces from the Netherlands, Houston and Maryland, plus Phoenix, Prescott, Ahwatukee, Copper Creek and Shaw Butte in Arizona. Not encouraging, just documenting.

Note: There was no graffiti on this hike. And please don't leave any.

Distance: 9.07 mi.
AEG: 1,327 ft.
Time: 3h 12m
---
Graffiti 2 Video