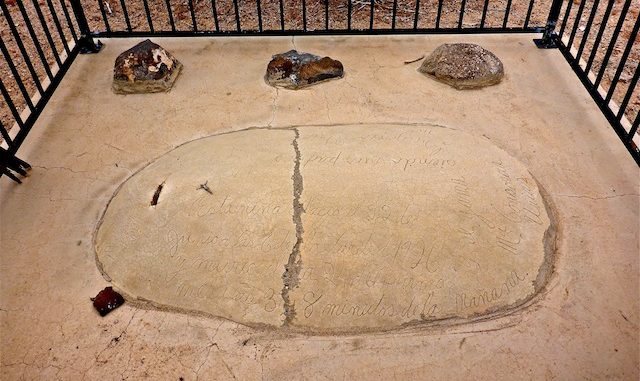 I got up early to get through Phoenix before rush hour, arriving in Laveen a little after 6:00 a.m., then sitting in a parking lot eating breakfast until the sun rose.
For the day, I guessed I walked about about 2.0 miles and 100 AEG, and was pretty close (see stats). I drove 180 miles on a 137 mile roundtrip from Laveen, down 51st Ave., Beltline Rd., Riggs Rd, Arizona 347 to Maricopa, then west on Arizona 238 through Estrella, Shawmut and Bosque to Gila Bend, and back. (Lots of backtracking after initially driving by a memorial.)
Some of the memorials I shot from inside my SUV, as I was not comfortable getting out, others I timed to avoid traffic. I was shocked how much traffic there was on 347. Maricopa only has 30,000 people, and it was worse than the 51 through central Phoenix. (And that was traffic headed towards Maricopa, not in to Phoenix to work!

 Thankfully, 238 was much less hectic. In fact, it was a surprisingly pleasant and scenic drive. Unfortunately, the sun was replaced by clouds which lasted until mid-afternoon.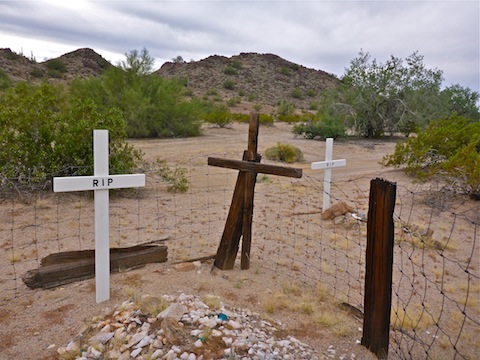 I stopped at the Estrella Siding for a few minutes. An east-bound train drove by as I was pulling back onto 238.

 I stopped at Shawmut, to check out the cemetery. I sat there for a good 45 minutes waiting for another train … no such luck. There were about six unmarked graves in the cemetery. Later, googling for information about Shawmut was fruitless. As was googling for information about the Bosque Cemetery, which only had one grave. My Spanish is very poor, but this is what appeared to be written on the cement cap in Bosque:
FRONT: Esta nina ??? acio 22 de Junio a las 6 de la tarde de 1926 y murio el ??? … 24 del mismo mesa las 3 y 8 minudos de la manana

RIGHT: y se yama ma Consorcia Urias

BACK: Siendo sus padres Gregorio Urias y ma Emiliana ? de Urias … esta ??? ocha/echa el dia 1 de Agostode 1926

LEFT: hija de G Urias major domo de la Sec de Bosque #18
Which I translate as "A baby girl, Consorcia Urias, born on 22 June 1926 at 6:00 a.m., died two days later at 3:08 a.m. Inscribed by her parents Emiliana and Gregorio Urias, who is the manager of Forest Section 18." Geez, that's rough.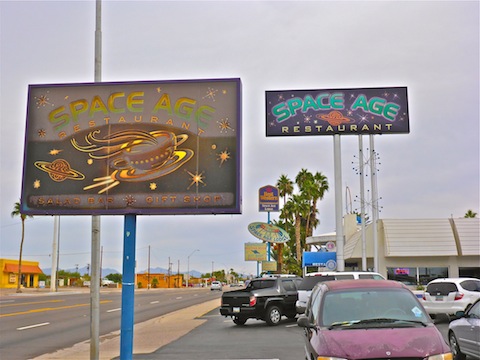 Driving back through the rez, I passed four cops — and an animal control officer! — in the space of two miles. A bit paranoid, I skipped a few memorials in favor of fighting my way through south side rush hour.
Oh, and watch out for Maricopa PD hiding behind the wall as you enter town on 238, where the speed limit drops from 55 to 35 …

Distance: 2.28 mi.
AEG: 105 ft.
Time: Who knows …
---
Roadside Memorial Video