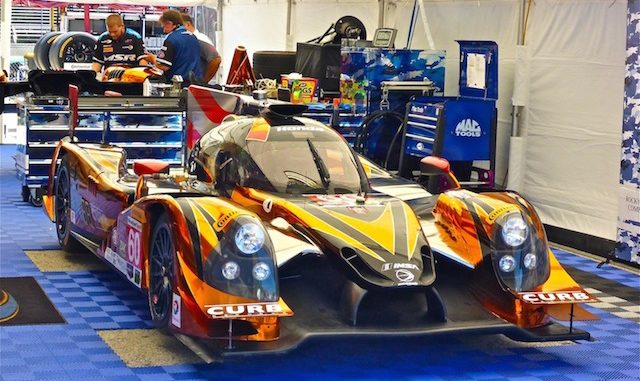 The IMSA WeatherTech SportsCar Championship was the main event of me & my wife's trip to Wisconsin. I can't just go somewhere: I have to have a purpose, a driving force, a reason for spending all that money on a plane, hotel & rental car. I wouldn't have gone just because there was racing at Road America, otherwise I'd be there all summer long. I'm not a snowbird. Yet.
Nor would I go to America's best road course just because IMSA prototypes are the highest tech racing series in America.
No, I went because I had family racing. In previous years, it was my brother Chris McMurry, who raced Star Mazda's and prototypes from 1997-2013 (including a LMP2 class win at Sebring in 2005). This year, it was Chris's son Matt, a Guinness Book of World Records holder for the youngest driver and youngest finisher at the 24 Hours of Le Mans, in 2014.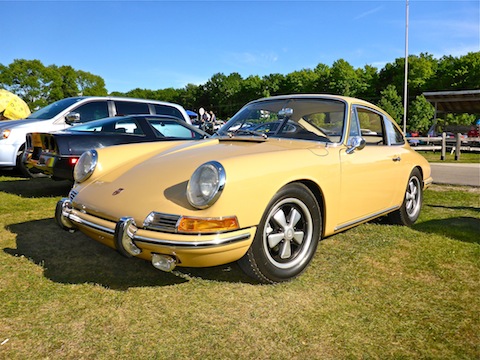 Unlike earlier in summer, when Matt raced both GT Daytona and Prototype Challenge in the same weekend at Watkins Glen, this weekend he was concentrating on PCs, racing for BAR1 Motorsports in the #20 Gas Monkey Energy Chevrolet-powered Oreca FLM09. Plus, Matt picked up a new sponsorship from Piloti. Even sweeter, and quite the surprise, was finding out that CART / IndyCar veteran Bruno Junquiera would be his co-driver. 

So, after my Ice Age Trail hike from Parnell Tower to Crooked Lake, on Thursday, we headed to Road America to scout the track. I've been there many times, but scouting ahead would allow me to navigate more efficiently when there was actual racing going on. Good thing I did, too, as there is a new paved path from the kart track inside the Carousel, that goes down Kettle Bottoms to Canada Corner, then up to the Road America Center, where the old Billy Mitchell Bridge used to be, over Turn 13.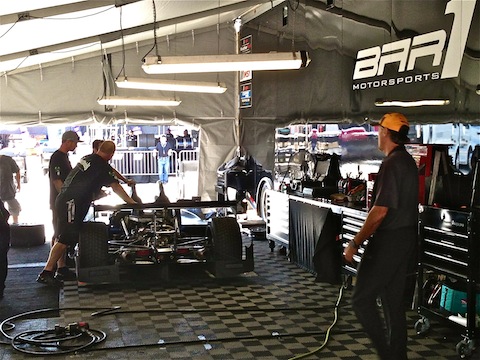 Another good thing we did was rent a golf cart for the weekend. Even at $440 for a "two person" cart, we got one of the last ones available. And there were hundreds. Can you imagine what the 4- and 6-person golf carts cost? Most people, including us, loaded extra passengers into the back of their carts, which made it slow getting the underpowered vehicles up Road America's many hills. Still, it was faster than walking!
My plan for the weekend, was to hit each of the corners, for each of the four series that would be racing: IMSA's WeatherTech Sports Car Championship, Continental Tire SportsCar Challenge, Porsche GT3 Cup Challenge USA by Yokohama, and Lamborghini Blancpain Super Trofeo North America. I could then splice together footage from the various days, at the various corners, into some sort of semi-coherent narrative whole, as if I was Fox Sports with a couple dozen cameras and a huge production team. (And equally huge budget.) Kind of like I did for the 24 Hours of America kart race in Charlotte, back in 2013, except much shorter and without YouTube dicking with my soundtrack.

Friday's highlight came early, during the Lamborghini practice, when the #11 car spun in turn six on three consecutive laps.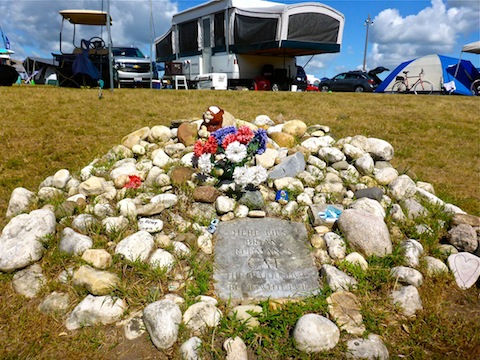 Despite typically low Friday crowds, it was difficult getting out at the end of the day, as traffic backed up heading out of Gate 6 due to a parade of bicycles headed onto the track for a charity "Tour de Road America". Eventually, other than our step-son Augie, who was having car troubles, we all ended up in Howards Grove for a fish fry.
Saturday, with Augie in tow, we did another tour around the corners: outside of 3, "turn" 4 (really a straight), inside of 5, outside of 6, inside of 7, outside of 8, inside the carousel, the Kink, then down the new cart path to the inside of Canada Corner. Between the Kink and Canada Corner, we stopped to do some karting at the Motorplex, inside the Carousel.
I did my first ever Endurance Karting race, an 8 hour event, at the Motorplex back in 2002. Today was 10 minute fun runs, against mostly dads & kids. In the #27, I got passed once, and maybe passed one person. I logged a consistent 47.5 seconds per lap. I figured it was because I was fat. But when I got in the #28 …

It was so much faster, I thought going into the first turn it was loose. No, it was just faster. I mowed people down. I actually had a kart that allowed me to be the half decent driver I am. Looking at the post-stint timing, the #28 logged a consistent 45.8, or 1.7 seconds per lap faster than the #27! That's a lot.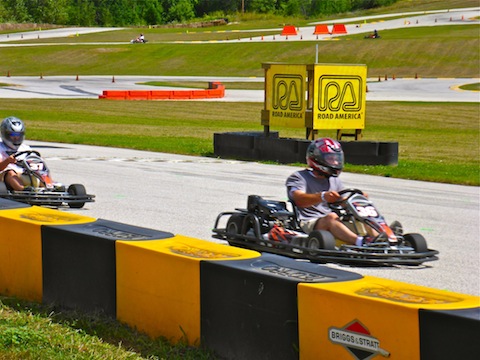 Equipment really is everything.
Luckily, Matt did not have to worry about that, as the PC class is spec chassis, spec engine, spec tires, spec everything. During qualifying, Matt briefly had the #20 in Q1, but Continental tires are not really designed for prototypes, and the tires went away, dropping him to Q3 at the end of the session.
Sunday, we started in Turn 1, because I had not yet had a Pocket Taco, and as far as I am aware, that's the only concession stand that has them. Since it was brunch time, I had two, each washed down with a Bloody Mary. While craft beers are available, I did not want to get sloshed. I would have preferred Miller Lite to fulfill my flavored water needs, but had to drink Bud Light because, unfortunately, Sludgeweiser has the beer concession at Road America, despite Miller being just an hour down I-43. (Not that it matters as all the major brewers are rapidly merging into a hops singularity.)
During the Porsche GT Cup and Lamborghini Trofeo races, we did another tour around the corners, this time ending up at turn #14, which I had not been to since the 1997 ChampCar weekend. We did the full tour in only two hours. Most Road America fans move around, but I doubt they move that much. Or that quick.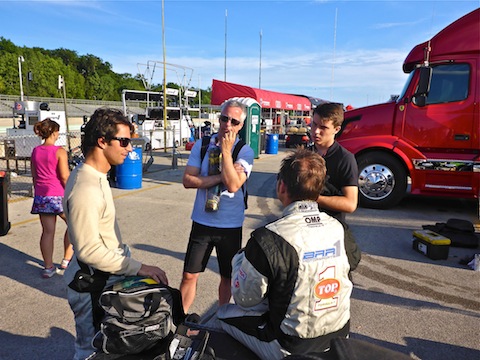 After a trip to the paddock to wish Matt luck, and to take a cruise down pit lane for the Open Grid Fan Walk, we headed back to turn 1 for the WeatherTech SportsCar Championship. We watched the start of the race there. Despite the lack of shade in turn 1, it was pleasantly overcast. Unfortunately, Matt had an off in turn 5, which hurt their chances of a podium finish. After the restart, the sun came out, so we headed down to turn 3, where table awnings at least provide some respite, for the rest of the day.
While four series makes for more racing action, it also made it harder to fairly represent them all, plus ancillary race activities, into a sub-five minute video. Despite not quite getting everything everywhere, I ended up with 336 video segments. Hopefully you enjoy the end result.

---
Racing Video