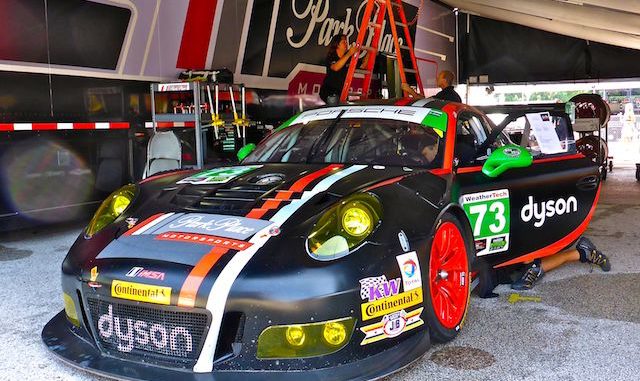 As in 2016, the IMSA WeatherTech SportsCar Championship was the main reason my wife & returned to Wisconsin. It's home, and I haven't been back enough in the decade since I left for the second time. (Being -13°F, in Arcadia, every morning for a week had nothing to do with my hasty exit, I swear!) ⛄️
Off hand, I've been to at least eight tracks in Wisconsin: Lake Geneva Raceway, Hales Corners Speedway, Slinger Super Speedway, Plymouth Dirt Track Raceway, Wisconsin International Raceway in Kaukauna, Great Lakes Dragaway, Eagle River Speedway and, of course, Road America.
My most memorable racing moments were at Eagle River and the sadly defunct Lake Geneva:
Lake Geneva had no wall in the corners, just along the straights. One night, a car got into the wall coming off turn 4. Probably because he lost his tire, which bounced down the straight ahead of him, then off the track, disappearing into darkness of the corn field beyond turn 1. Another time, at a truck race, the guy lost his forward gears on the back stretch of the final lap. He got the truck turned around, finishing the race in reverse. 😆
At Eagle River, one night a car punched a hole through the fence, ending up in the pond behind turn 4.
Local short tracks are fun times … especially when sprint cars are throwing dirt clods in your face.

Even though my nephew Matt is now driving for Portugese team Algarve Racing in the European Le Mans Series, I still enjoy the the racing at Road America.
On Thursday 8/3, my wife & I had planned to stop by Road America to catch a few hours of practice, but after finishing my Ice Age Trail hike in a downpour, we skipped it. Dinner was brats & potato salad with my cousins Philip & Eloise at the old family cabin on Cedar Lake.
On Friday 8/4, after another wonderful breakfast at our B&B, The Inn on Hillwind, we headed out to Road America, stopping at a gas station along the way to pick up a styrofoam cooler, with some ice & drinks. (Mostly beer.) Because the track is so large, getting around is hard, so our first stop was the golf cart rental at Gate 3, on County J. It wasn't even 8:30 a.m. when it started drizzling. We ended up huddling under the overhang at the Gear Box concession stand, on the hill over looking the front straight, along with a couple of dozen other folks. I had a second breakfast, because it just didn't feel right to be taking up those folks' space and not buy something from them. Who knew a brat & kraut cheese omelette could be so delicious?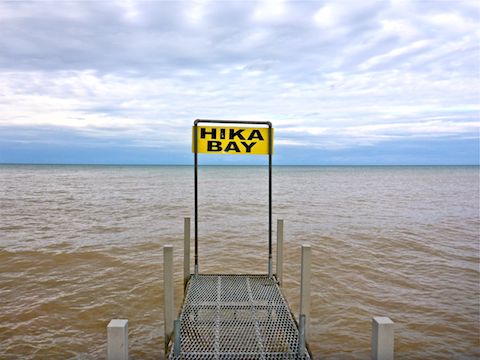 At some point IMSA had the makeup Porsche GT3 Cup race for the one that got cancelled at Watkins Glen due to a massive pileup. Since the only other scheduled racing activities were practice, we bailed, heading up to Cedar Lake to meet back up with Eloise & Philip.
Philip took us to downtown Kiel, where we did some urban exploring of my great-grandparents' old apartment. (Were they called "condos" in 1899?) No ghosts, but there was a skeleton in the closet. Literally. In the closet. The skeleton itself was a halloween decoration.
After some refreshments at the Busty Lush tavern, we hit the road, touring to family graves in Chilton and Wendel, and visiting Hika Bay, where my great-great grandfather Nicholas Knauf — fresh off the boat from Trier, Germany — landed, age 7, in 1846.
We ended the day with a Wisconsin tradition: A Friday Fish Fry, at the VFW in Sheboygan. I made the mistake of ordering a "double plate" — in Wisconsin! Thankfully, it was blue gill, which are small filets, and I was able to polish it off. 💪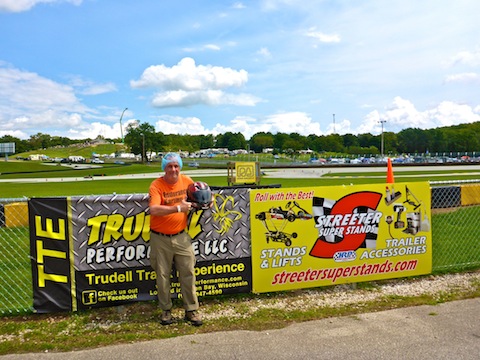 On Saturday 8/5, my second breakfast was at the Turn 1 Sports Bar, where I had two bloody mary's and a "walking taco" (a delicious combination of taco fixins mashed into a bag of Fritos). After catching the first regularly scheduled Porsche GT3 Cup race, we headed up to the Carousel so I could do some karting. It was my first time in a kart since Connecticut, back in May. The karts and drivers are both a mixed bag: The drivers mostly parents & kids, rather than hotshots while, depending on kart, my average speed varied from 46.1 to 47.5 seconds per lap. That's quite a variance! Regardless, I was only passed once, and then only because I saw the kid coming and, because I was not in full race mode, gave him space rather than shut him down. I got him back when he over-cooked it and spun on the second last corner.
For the Lamborghini Trofeo race, we sat in Turn 6, which is where were we saw the #11 spin three straight laps last year. Sure enough, a couple more Lambos had problems in the corner. 🙄
My wife wanted roasted corn, so we headed back to the paddock Gear Box for a mid-day snack. I think she had two ears and I had three. (When in Wisconsin, do as the natives do: Eat & drink. A lot.)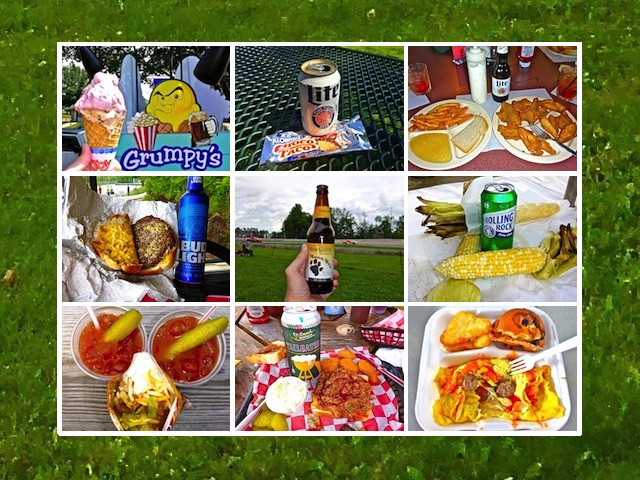 After that it was up to the inside of Turn 1 for the start of the Continental Tire SportsCar Challenge (CTSSC). First time I'd ever been to the inside of that corner. After a while, we headed over to the hill above the Hurry Downs to catch the second half of the race. The sky was getting very dark. When the temperature suddenly dropped, we bailed. Halfway back to our car the heavens opened up. The race was red flagged.
Dinner was leftover pizza & spaghetti we'd picked up at Firehouse Pizza — one of our regular stops — in Sheboygan Falls earlier in the week.
On Sunday 8/6, I realized that our regular breakfast companion at The Inn on Hillwind was Charlie Putman, who drives an Aston Martin for Automatic Racing in the CTSSC. I guess he does some music too, as the song I had enjoyed hearing during breakfast was off one of his CDs, which I picked up an autographed copy of. (That's Charlie singing in the race video, below.) 🎶
I drove our golf cart some more around Road America, both between & during the second Porsche GT3 Cup and Lamborghini Trofeo races, but not nearly as frequently, or obsessively, as last year. This year, I was just relaxing, not trying to get video. (Though I shot plenty anyway.)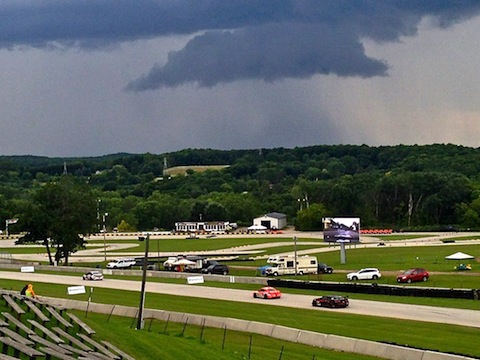 After the morning races, it was back out to the Carousel for another three kart sessions. I love how you come flying downhill into the tight left hander, before having to turn quickly back to the right. Get it right and you carry a lot of speed down the front stretch. Had fun with a couple of more capable young guys, one of whom almost passed me, but I was able to pick him off a slower family driver. 😇
Lunch at the Carousel Gear Box was a mortal sin: A Gear Box Melt, a hamburger inside a grilled cheese. It was as mouth-wateringly artery clogging as it sounds. 😍
The IMSA WeatherTech SportsCar Championship was a blast as always, and thankfully rain free for the full two hours and 40 minutes. We found that the old garage inside Turn 14 is a great place to spectate from, as very few people are there, it has great shade and good views from the turn all the way up the front stretch. It was pretty funny watching the BMW roll back down the steep hill when it ran out of fuel at the top of pit in. 😂
---
Racing Video