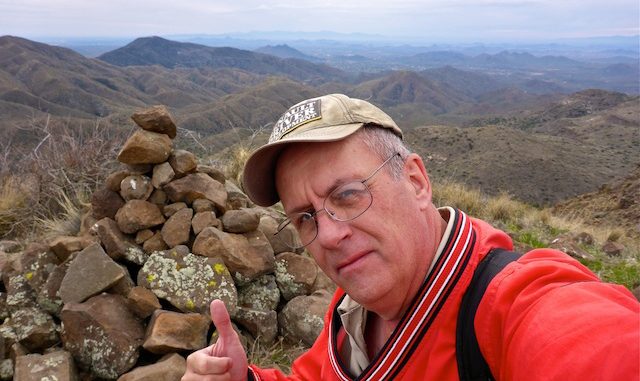 I first noticed Quien Sabe Peak's distinct formation while hiking Cottonwood Creek from the Bronco Trailhead to Cave Creek last April. I frequently plan hikes, then don't get around to doing them for years (e.g. next Friday I'll be hiking doing a hike near Telegraph Canyon that I've had on my list for three years.) Quien Sabe Peak has only been on the list for nine months, and with all the other things I wanted to do, and boiling summer temps in the Valley of the Sun — my peak backyard temp last June was 123.8! — this was the quickest I could get back.
At 8:30 a.m., it was a breezy 46° at the Cave Creek Trailhead in Seven Springs. I got a later start because the hike was closer to home, and I wanted to start after sunrise. As a result, I enjoyed surfing the crest of rush hour, including one Phoenix Asshole Driver, jumping a red light, who nearly t-boned another car.
The weather prediction was for clouds on Friday, and rain on Saturday, so I hiked on Friday. Naturally, 10 minutes into my hike, it started raining. I thought about bailing, but figured it would rain on Saturday anyway, and I didn't want to drive back all that way, and it might clear up, so I stuck at it.
After about 10 minutes, the rain stopped, but it remained cloudy and breezy all day. Given the poor weather, and thus cruddy lighting, and with complete lack of flowers to photograph, I decided to concetrate on film segments for my hike video.
Of course, it is sunny today. 🙄
From the Cave Creek Trailhead, Cave Creek Trail #4 travels south for .60 miles, crossing over FR 24B, a ladder gate, the confluence of Bronco Creek and Cave Creek, Cartwright Ranch, and a second gate, to the intersection of Skunk Tank Trail #246 and Bronco Trail #247. Water level in Cave Creek can vary quite a bit; rock hopping kept my feet dry. At the intersection, left goes to the Bronco Trailhead; go right.
Skunk Tank Trail #246, which has been fairly level, begins climbing, about 400 ft. in the next mile, past Quien Sabe Spring, to just below Quien Sabe Mine. If you look south, up canyon, past Quien Sabe Spring, that ridge at the top of the canyon is Quien Sabe Peak. Past the mine, the trail gets rockier, but not to ankle breaking level. Hill 4160, immediately opposite the mine, looks like it would have great views into the Ashdale area; I'll have to hike that during spring flowers or fall colors.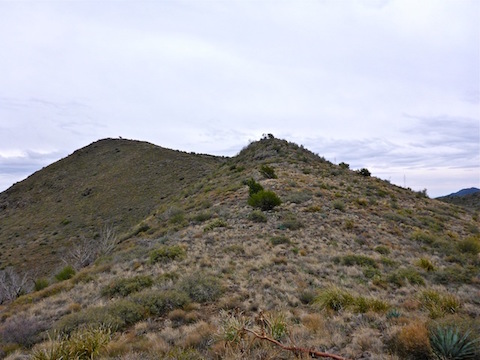 After some small up & downs over the next mile and change, you will have another short climb to a saddle where Skunk Tank Trail #246 intersects with Quien Sabe Trail #250. Right on Trail #246 eventually connects back to Cave Creek Trail #4, a loop I did the opposite direction in one of my very first serious Arizona hikes almost six years ago. Turn left.
Just over 4.0 miles into your hike, Trail #250 crosses a small wash. That is where I began off trailing up the Quien Sabe ridge. Generally speaking, the left (northeast) side of the ridge is steeper than the right (southwest) slope, so tend right.
You may be able to pick up an animal trail, but whether you do or not, it is a steep 300ft. climb the next .30 miles. From the wash to the summit cairn, regardless of angle, I negotiated tons of prickly pear cactus, agave, century plant, other grab & stabs, ball bearing and ankle breaker rocks.  Many of the rocks are pitted, as if ejected molten, with air bubbles that popped as the rock hardened. I wonder where the volcano is?
At the top of the first climb, just ahead, there is a small, rocky, knob, marked on the topo as Hill 4545. Just past the knob is another short climb, though not quite as steep as the first, to a plateau. It looks like Quien Sabe Peak is just ahead, but that is actually a false summit.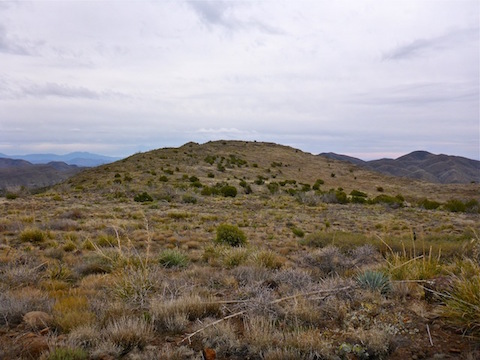 In addition to the previously mentioned flora, the plateau is dotted with juniper. There is plenty of deer sign, and even several sets of people tracks. (Easy to spot as there is enough soil on the plateau to retain water for quite some time after the last rain.) As you cross the plateau, the final small climb comes into view.
There is large cluster of boulders at the summit of Quien Sabe Peak, which is about 4900 ft. (There is no X on the topo, indicating an accurate survey.) But just beyond the summit, across a small saddle, at what appears to be a very similar elevation, is a summit cairn at which the which the elevation is supposedly 4884 ft.
Try as I might, without totally disassembling the cairn, I was unable to detect a summit log. (Unless you count "D. Peterson 11-94" scratched on a boulder.) Bummer, I was hoping to spot climbing legend Bob Packard in there. Luckily, I come equipped for such occasions, with a fresh flip notepad, pen and two quart baggies (for weather proofing). Quien Sabe Peak was the first summit log I created since I hiked Cedar Mountain at the Grand Canyon 13 months ago.
The views from the summit are fantastic. Despite still being 100% overcast, I could I identify Skull Mesa (easy enough since it is "next door"), Elephant Mountain, the city of Cave Creek, Cave Creek Rd., Black Mountain, Cottonwood Creek, Four Peaks and even Cartwright Ranch (only two miles away, as the crow flies, but five hiking miles).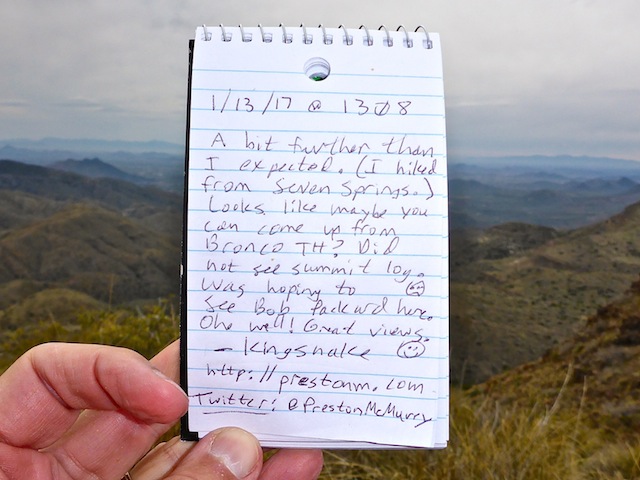 After signing the summit log, I sat down for a lunch of gorp, salt & vinegar chips — my fav! — and turkey breast sandwich, of which I ate about 2/3s. The wind was picking up, and it was getting cold enough to make my hands stiff, so at 1:30 P.M., I started back. (Despite wearing a jacket, the boogers flowed freely throughout the day.)
Whereas it took me 3h 15m hiking time to summit, it took me only 3h 00m total time to get back to the trailhead, including one break where I was so tired I simply fisted the trashed remains of my sandwich into my face, caveman fashion. (Then licked the crumbs from the container.)
I got back to the trailhead at 5:00 p.m., which was good timing as not only was my always patient wife starting to worry, but we had a perfect view of a great sunset heading downhill, back into Carefree. 🌇👍
GPS File: Quien_Sabe_Peak
Distance: 12.61 mi.
AEG: 2,685 ft.
Time: 6h 19m
---
Quien Sabe Peak Video