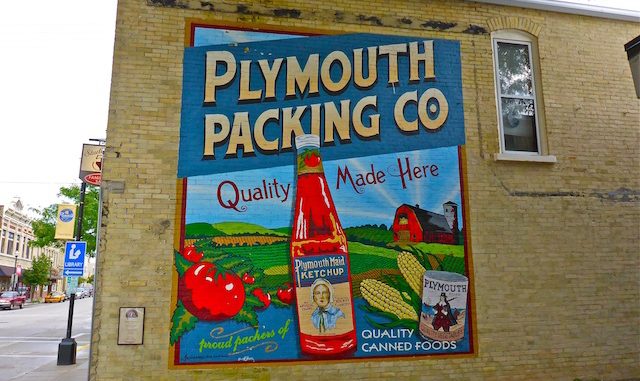 After walking around the east side of Plymouth yesterday, today I explored the west side.
After checking out some train graffiti at the old depot, I headed past the cow — of course! — statue on Milwaukee St., then up the hill, past the parochial school to the the Nutt Park ski hill. A couple of guys were doing wind sprints up the run. (Which while I am sure was not easy, sounds more impressive than it is when you realize the run only has a 105 ft. drop.) The bottom of the run is guarded by a row of houses, so it took me awhile to find a way through that would not constitute trespassing.

I walked past a quality baseball field, which had a memorial to Carl F. Loebe, a local resident who died in Italy during World War II. I crossed the railroad tracks again, passing through a very pleasant City Park, with a bandstand, pool and waterpark. Unlike Arizona, you see where your taxes go in Wisconsin.
I finished my loop walking along the Mullet River, past the youth center and not-yet-icy skate pond, back to the hotel.
One interesting thing I noticed, throughout Plymouth, was curb-side, mailbox-sized, "free library" book exchanges. Oh, and  number of wall murals dedicated to various historic businesses.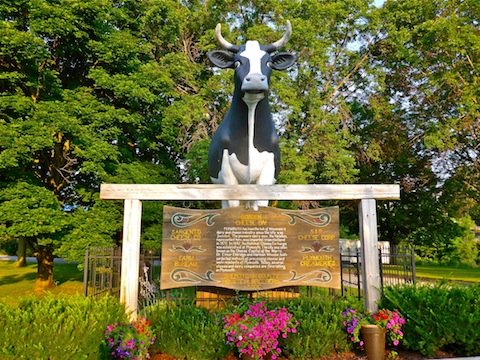 There's flowers everwhere, both wild and domestic, giving me hope for some good #flowerporn on tomorrow's Ice Age Trail hike. And, as always, Wisconsin people, especially in small towns, are just plain friendly: They even say hello to strangers.

After showering, I settled in, with 30 minutes to spare, to watch the Celtic Champions League match against Astana. Due to a non-functional hotel wi-fi network, I could not get logged in to Celtic TV until the 70th minute.

Maybe I should have logged in to the Donald Trump's Puckered Anus network instead?

Dinner was at Siebken's, in Elkhart Lake, with my brother Chris, a retired Sebring champion, and nephew Matt, who is racing a prototype at Road America this weekend.
Distance: 4.31 mi.
AEG: 294 ft.
Time: 1h 23m