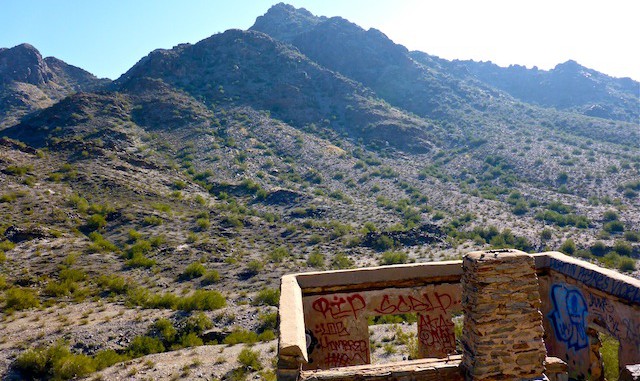 Most of my out of town hikes this month have been short, but I didn't want to invest 4+ hours round trip drive time either, as I need the time to work on converting this web site to WordPress. So, I decided to do a combo of Perl Charles Trail #1A, Piestewa Circumference Trail #302, and the Piestewa Summit Trail #300. And, by parking at the end of Myrtle St., on the west side of AZ 51, I could avoid the dense traffic in Piestewa's extensive parking lot. (A month ago, while driving by, I pulled in for a desperate pee, and ended up spending 10 minutes looking for a spot to park.

)
The graffiti in all the tunnels under 51 have been painted over with unattractive white & tan splotches some time in the last six months, but there was one new tag — a dripping eyeball — in the tunnel. #1A follows 51 north for half a mile, before turning east towards Piestewa, through some small hills, along the north side of a neighborhood. I found an old stone cabin that was well graffitied.
When #1A intersected with #302, I went counterclockwise. Thankfully, dogs are banned on #302 and the summit trail. (WTF is up with people bagging dog crap, but leaving the bag behind?) #302 climbs about 400 ft. in 0.4 miles to a saddle. If you continue on #302, you will begin descending 500 ft. in 0.5 miles to the parking area. (Later, going down, it seemed climbing from the parking to the saddle would be even steeper than the summit trail.)
Crappy Garmin 62S elevation profile still not showing changes like it did up until only a week ago. Do bits get tired?
While resting at the saddle, I saw someone who I had never met, but who looked familiar. It was "Teva Joe" Bartels, proprietor of HikeArizona.com. We had a short talk about me working on this site, and how he wished he didn't have to head back to work on his.

From the saddle, it is about 600 ft. in 0.6 miles to the end of trail summit post. From the saddle to the summit, and back down to the parking, it is extremely crowded. The trail is narrow in spots, and there is even a section with hand rail. You may need to wait your turn. (While someone runs by you with a weighted pack.

) The final 20 feet to the summit are a small scramble. From there it's maybe a 50 ft. scramble to the slightly less crowded true summit. The summit views are great, and not only of the Valley of the Sun.

Fellow hikers: I do not want to inhale your cloying perfume or "enjoy" your choice of crappy music.
I had developed a knot in my left quad. By the time I got to the parking area, I was spent. If my wife had been in town, I would have called for a pickup. But assistance was not at hand, and I had another five miles and 900 AEG to get back to my car. I took a short, shaded break at the Ranger Station, then got back on #302, which climbs 250 ft. in 0.5 miles to the intersection with Trail #304, before continuing another 350 ft. in 0.4 miles to the second saddle. I stopped probably every 50 AEG for a few seconds of leaning on my pole breather. It felt so good to make the saddle, that I laid down on a bench for a bit, before the breeze started getting chilly.
I'm not Ranger Rick, just a 53 year old guy who is 40 pounds overweight.
Luckily, it was mostly downhill back to the #1A intersection, where there was another bench. Climbing the 200 ft. or so back towards AZ 51 was a grind, with more breathers and, thankfully, yet another bench.
I started at 0930, and did not finish until 1630, basically blowing my day. I was so tired and sore, that the time I hoped to spend working on this site, I instead spent guzzling probably 100 oz. of mostly soda, plus a V-8 and a Newcastle Brown Ale. (Since I started drinking high sodium V-8 after hikes, I don't cramp nearly as often or severely; the beer was for psychological recovery.)
GPS File: Piestewa_Loop_Summit
Distance: 9.28 miles
AEG: 2,598 ft.
Time: 4h 30m
---
Hike Video