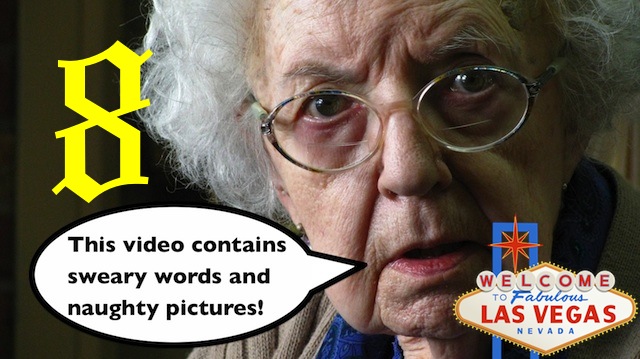 Every December my wife and I take a trip to Las Vegas, partly to visit family, partly for a romantic getaway. If we gamble at all, my wife may play the slots, and me the horses. This year, we did neither. Just a show, a really great steak — and service! — at Sinatra in the Encore, and some bacon & bloodies at Bacon Bar, on Rancho Drive, in North Las Vegas. We don't camp on The Strip: We like to get around town, and even out into the "country". (This trip we visited the beautiful Valley of Fire State Park.)
So, we've driven all the major roads in Las Vegas: All the freeways, Flamingo Rd., Tropicana Ave., Charleston Blvd. (alot), Fort Apache Rd. / Rampart Blvd., Sahara Ave., the entire length of Las Vegas Blvd. (aka, "The Strip") nearly as far as Jean, Lake Mead Blvd., Boulder Highway, etc. I even got followed through the hood on Washington Ave., by a cop who was no doubt wondering what a white guy in a nice car was doing there. (Not buying meth!) We're not natives, but we've gotten around.
My crappy SpyTec A118C continued to commit multiple errors, prompting me to pick up two new non-SanDisk memory chips as a possible solution. Stand by for future updates.
So, here's some video, some of it crappy drivers, some of it amusing or interesting road/roadside incidents:
The aftermath of three accidents.
Homeless Claus
A possible burglary in progress.
A huge homeless camp.
Idiocy on I-15. (I expect stop & go in Riverside or Temecula, not in the middle of the Mojave.)
I just missed the multiple carjacking shootout on I-17 on our way back into Phoenix!

---
Phoenix Asshole Drivers #8 – Las Vegas