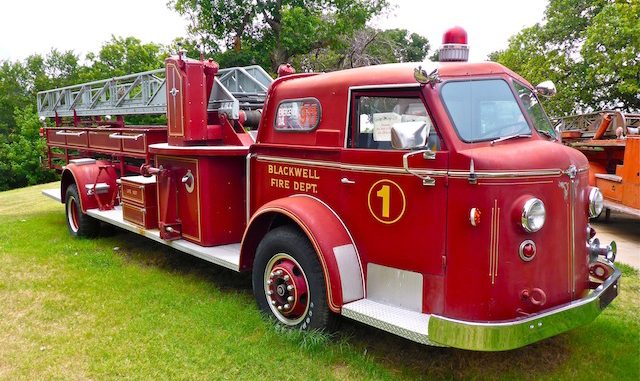 After flying into Oklahoma City, and checking in to our hotel, we immediately headed over to Miller Stadium to watch Rayo OKC take on the Puerto Rico Islanders. (Rayo snatched a late draw 2:2.) The match did not end until 10:00 p.m. and we did probably did not get to sleep until after 11.
I expected that late night, so planned my Wichita Mountains Wildlife Refuge hike for Friday. So, what to do on Thursday?
The Yukon Fairfield might be the only hotel in the U.S. that does not have a brochure rack, so I used a "business center" computer to search for things to do. A lot of stuff appears to be on OKC's northeast side, all clustered in a square mile between I-35 and I-44: Botanical Garden, Zoo, Remington Park horse track, Softball Hall of Fame, the Science Museum, the Cowboy Museum and the Oklahoma State Firefighters Museum. We chose the latter. We chose wisely.
I did not know what to expect. We spent two hours inside, and could have spent double that.
The Firefighters Museum is not big, but holy cow do they pack a lot of history into a small space! (While putting together the video, I read that just a week prior, an expansion had been approved.)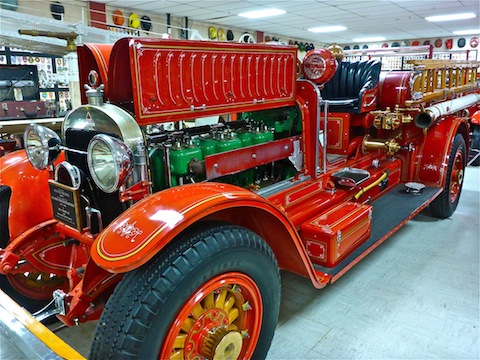 There are a couple of dozen lovingly restored rigs, dating from 1954 back, at least, to 1850:
1954 American LaFrance Ladder Truck
1948 American LaFrance 75 ft. Ladder Truck
1948 American LaFrance 100 ft. Tiller
1940 American LaFrance 85 ft. Ladder Truck
1939 Seagrave Triple Combination Pumper
1928 Ahrens-Fox Forward Pump
1928 Southern 750 Pumper
1928 Chevrolet Chemical & Hose Truck
1921 Stutz Fire Engine
1920 Stutz Fire Truck
1919 Seagrave Pumper
1917 American LaFrance Triple Combination Pumper
1913 White Chemical & Hose Truck
1900 Seagrave Ladder Truck
1890 Hand Drawn Chemical Cart
Appx. 1885 Steam Powered Pump
1870 Hunneman Hand Pumper & Hose Cart
1869 Braunert Tub Pumper
1850 Waterous Hose Cart
Those are just the ones I took photos of. There's more, some even older.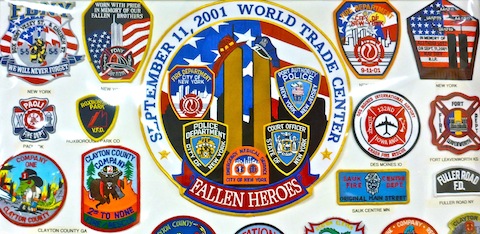 There are respirators, fire extinguishers, an alarm system, sprinklers, a wall of fire license plates, turnout gear (i.e. jackets & pants), and fire hats. The oldest fire hats were literally hats, not protective helmets. Yikes!
There are thousands of fire & police patches, from all over the world, in over 160 framed wall panels. I talked to a retired Yukon FD chief, there, who said there were thousands more in scattered, uncatalogued, storage. Some of the patches are the old wooly kind, like your great-grandfather might have worn. My favorite was from F.D.N.Y. Engine 54, Ladder 4: "Pride of Midtown: Never Missed a Performance".* Indeed.
I just got shivers typing that.
The Firefighters Museum has the Indian Territory's — as Oklahoma was then known — complete, original, first fire station from Ft. Supply in 1869.
One thing that really blew my mind was the old timers use of wooden ladders. I understand some of the early trucks being wood, as the trucks ought to be a bit further away from the flames than the guy's fighting the fire, but ladders would be right up in it. I guess you have to make do.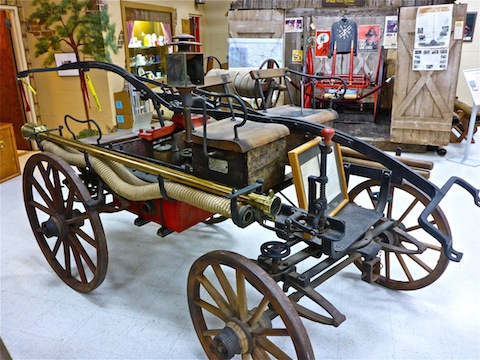 Another thing I found interesting was on the 1869 Braunert Tub Pumper, whose canvas hose was wrapped in rope: Even on the old hand pumps hose pressure was high enough that the hose needed to be reinforced.
The retired Yukon chief was at Murrah when it was blown up in 1995. There is a Murrah memorial in the lobby. There is an outdoor memorial to all Oklahoma firefighters, but we forgot to check it out.

It was tough shooting around lighting-caused glare, and busy backgrounds, while getting everything in frame at a decent size. Hopefully the video turned out okay.

---
* Engine 54, Ladder 4, Battalion 9 was the only F.D.N.Y. unit to lose an entire shift — all 15 firefighters — on 9/11.
---
Museum Video