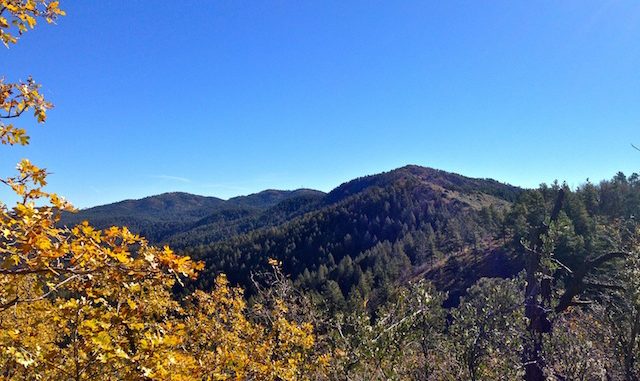 Tried this in June with trekkin gecko, but after Maverick Mountain, I just wasn't feeling it. Still, I don't like leaving unfinished business, so today @PrescottStyle and I had a go at it. He's done it many times, but I wanted to make sure I made it, so we took it slow & steady.

The climb up Trail #65 to what is optimistically referred to as Forest "Road" 9403C is quite steep. 65 felt steeper than 9403C looked. 9403C is much, much rockier through. It's a miracle anyone would be able to get a vehicle up it, but we did see ATV tracks just below the summit. The climb up 9403C is divided into three parts, which Paul referred to as "The Three Eigers".

Along the way we saw a small shelter, spotted a white arrow / rebar stake (but no other associated mark that we could find), a water-filled mine shaft and, just below the summit, the base for a radio tower ( W7GOP / K7EUR ). The shack at the summit is long gone, as is Preston the Yeti's summit log / geocache, which has been replaced by a half dozen cairns. We had lunch, a QT sandwich for me and chips and jalapeno salsa for Paul, at the summit — which, by the way, had great views of Mount Davis & Mount Union, all the way down to the pollution-obscured White Tank Mountains, across the Hassayampa River canyon, to Peeples Valley and Yarnell Hill. Plus northwest towards Prescott, Thumb Butte and Granite Mountain.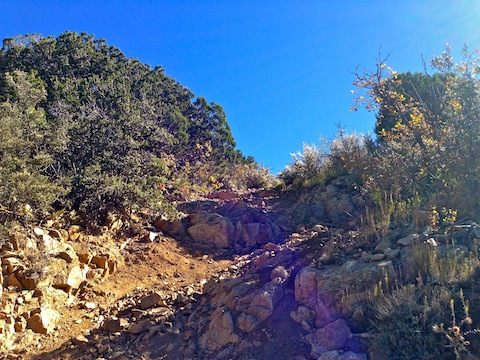 Despite being rocky and steep, the walk back down 9403C was not at all slippery. Trail 65, on the other hand, was quite slippery. Just like in June, I almost lost it a half dozen times.
Post-hike cag was ice cold Newcastle Brown Ales.

GPS File: Mount_Tritle
Distance: 7.02 mi.
AEG: 2.020 ft.
Time: 3h 40m
---
Panorama Video