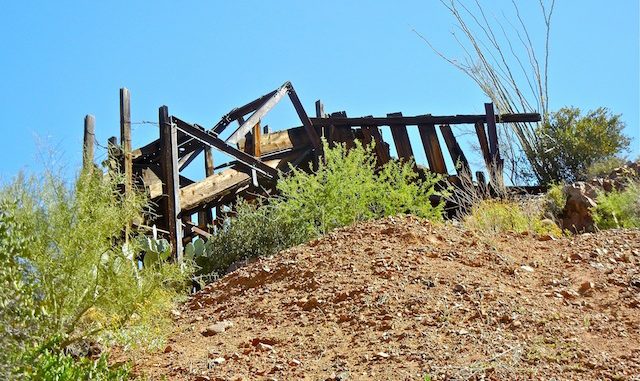 Had a Aravaipa Property Owners Association meeting on Sunday, so I decided to head down a few days early to relax with my wife (and hike

 ).
Mining Mountain – Vale School had been on my list for a couple of years. You can see the abandoned school from just below the ranger station, and Mining Mountain is the obviously landslide riddled mountain southeast of the station. While there is a jeep trail up Mining Mountain, and down to Vale School, there is no road access to either, as both cross Aravaipa Creek, and the school backs up to a ranch. So, I took the long way around to the school.
My hike started further downstream, but the meat of it started at the backhoe and gate you can see from Aravaipa Rd. (Note: Safety is important here, as several times I heard gravel sliding off of things my feet were nowhere near touching.)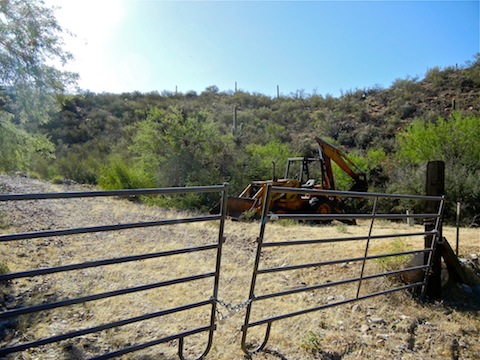 The climb up to the mine was really not that bad. The jeep trail had obviously not been used in many, many years. (Being overgrown with grass in several places.) There was lots of construction / mining equipment all along the road, perhaps the most interesting being at the 2nd overlook, where there was a generator and light set. The trail continued off the backside of the 2nd overlook, descending towards Holy Joe Canyon. It looks like it would make a safe, gradual, descent, despite the walls being rather steep. Some day, I'll have to check that out.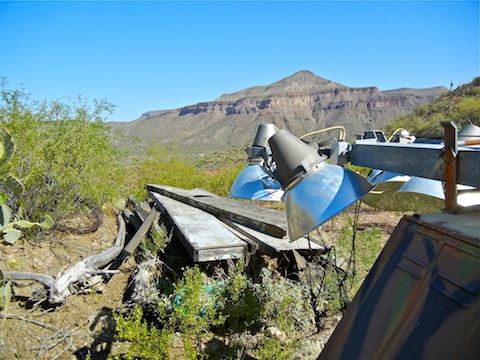 The trail dead ends just before the mine, which is misplaced on the topo. Unlike the modern equipment seen elsewhere, the mine is obviously quite old; I'd guess 80+ years. There are two main approaches to the mine, left and right. Left has initially good footing, but becomes loose and shaley just below the tunnel, where there is a rotten old railroad tie holding back many tons.

 Not wanting to get washed 300 feet feet down the hillside, I decided to try the gravelly right-hand approach — which was safe but infinitely slipperier. You've heard of two feet forward, one foot back? This was one foot forward, two feet back. I was running in place like Wile E. Coyote.

 Peaking Mining Mountain (which was not in my plans) from this direction would likely be a non-starter. Oh well, on to the school.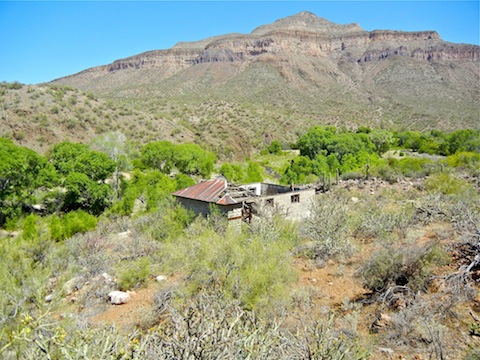 I should mention that all along the jeep trail, there were tons of beautiful blue, purple, pink, red, yellow and orange flowers growing out of weeds, rocks, bushes and cacti. The occotillo were especially beautiful.
I got to Vale School, and it was certainly interesting. The roof caved in, the floor rotted, and graffiti 43+ years old in evidence. I don't think anatomy was part of the lesson plan back then.

 It was a one-room school, with the lectern and coal/wood burning stove still inside. I enjoyed a warm Miller Lite before heading back.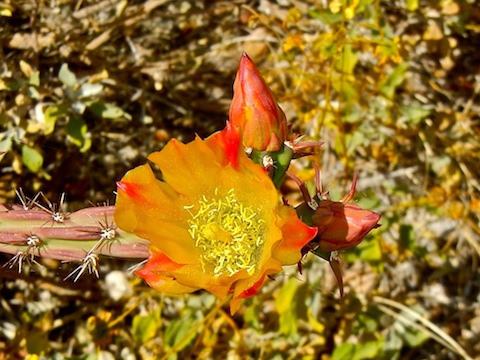 The only hard part of the hike was trudging from Vale School back up Mining Mountain. I was wishing I'd had another bottle of water, in place of the beer I'd had earlier. Then it was back down the jeep trail to my "trailhead".
GPS File: MIning_Mountain_Vale_School
Distance: 6.14 mi.
AEG: 1,489 ft.
Time: 2h 46m
---
Hike Video