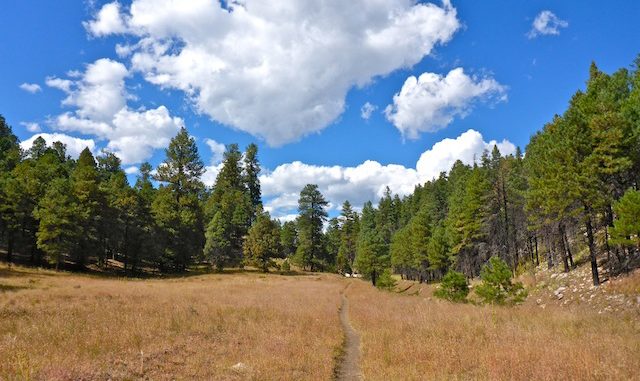 This was me & my wife's third annual Flagstaff fall colors romantic getaway weekend. The past two years, I've done a shorter hike the Thursday we arrive in in town. Last year, I hiked Colton Crater.
Then, on Friday, I do a longer hike, preferably with actual fall colors, like the Abineau-Bear Jaw Loop on the north side of the San Francisco Peaks.
So, this year, on Friday, I planned to hike Weatherford Canyon and Kachina Trail #102 from Schultz Pass to the Arizona Snowbowl. Thursday, was an open question.
I considered hiking Bill Williams Mountain, 32 miles west of Flagstaff, but thought that 2,500 ft. might be too much AEG for a warm up hike. I didn't feel like hiking a crater for three years in a row. (In 2015, my warmup was SP Crater.)
A month ago, hiking Sandy Canyon, I had skipped climbing to the top of Fisher Point — which overlooks the intersection of Sandy Canyon, Walnut Canyon and Skunk Canyon — due to being wore out from too much bushwhacking. Eventually, I settled on hiking from Marshall Lake to the Flagstaff Sam's Club, via Fisher Point, on Arizona Trail passage's #31 and #33. For some reason, I thought a twelve mile hike would be a good 'warmup'. 🙄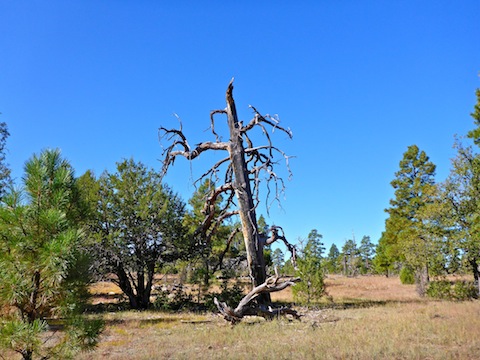 On the drive east on Lake Mary Rd., we stopped at the Lake Mary Country Store, so I could buy a murderwich for lunch. The walls were decorated with pictures of some huge fish, including massive walleye and pike, and a Arizona state record 33.36 lb., 39½ inch, channel catfish. According to the counter lady, Upper Lake Mary is not stocked: Those are home grown fish. Wow! 😳
At the Arizona Trail trailhead on the southwest 'shore' of dry Marshall Lake, my wife spotted several used tampons. Eww! 'Leave no trace' would never have been so appreciated. 🤢
The first 1.25 miles, west across Anderson Mesa, is flat, across grassland dotted with short evergreen and pine. There is a gate at .70 miles. Not sure what is being fenced there.
The Arizona Trail then descends towards Marshall Mesa Tank. The trees get denser and larger. (Including one that blocks the trail.) The tank has plenty of water, and is fenced off to prevent contamination by animal poo. The 'descent' to the tank is only 200 ft., and the 'climb' back out only 100 ft., so it seemed a bit fussy to me for it to have something like 10 switchbacks.
The odd number of switchbacks would be a theme all the next four miles to the rim of Sandy Canyon. The switchbacks add unnecessary, and unexpected, distance to Arizona Trail #31. (A trail sign at Marshall Lake says it is 5.7 miles to the base of Fisher Point: It is now actually 7.4 miles.) Nonetheless, it is a pleasant stroll. 🙂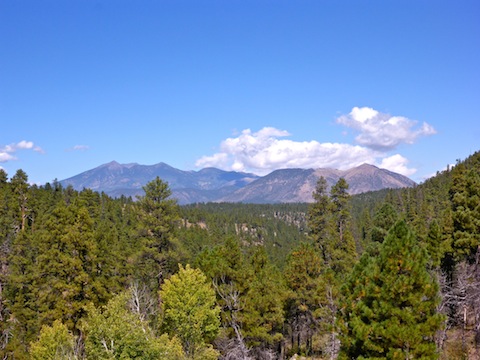 Just west of FR 128B, there is a final set of switchbacks, before the two stage descent to Sandy Canyon. The first stage was by far the rockiest section of my entire day. Care was in order to avoid ankle rolling. That was followed by the .75 mile long plateau, which tops The Pit climbing area. At the north end of the plateau, just off trail, there is an OP with a great view of Sandy Canyon, Mount Elden and the San Francisco Peaks. Then Arizona Trail #31 has some sensible switchbacks the final 200 ft. to the floor of Sandy Canyon. On the way down, I narrowly avoided squishing a tarantula. I hate spiders. They scare me. But for some reason, tarantulas don't bother me near as much. Maybe because they look like furry, eight-legged, puppies?
After reaching Sandy Canyon, it is only a mile to the base of Fisher Point. All the flowers I saw a month ago were gone. In fact, there are currently very few flowers anywhere on the hike.
From the base of Fisher Point, it was a one mile, 400 ft. climb to the top. Not steep, but a good blow, and the only real climb of my day. (And one where the switchbacks were actually necessary.) Halfway up, there is a sign that FR 9112C is 0.6 miles away. At the top of the climb, there is a sign on FR 301 that FR 303 is 6.4 miles away, which is the direction you would continue if you are completing Arizona Trail #31.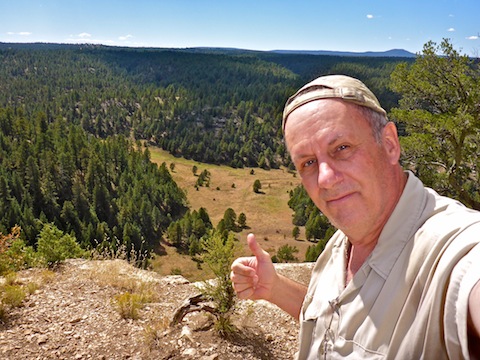 I couldn't see much to the north of Fisher Point, but could see for miles south, including Mormon Mountain. I took more photos & video at Fisher Point than anywhere else on my hike, but I never felt like I quite 'got' the feel of the area. After the photogasm, I took a twenty minute break for lunch, relaxing in the shade, enjoying the views.
Halfway back down to the base of Fisher Point, I thought about taking FR 9112C as a 'short cut' to Hoffman Tank, but decided against it. (Turns out, FR 9112C would have only saved a half mile and 100 AEG.)
Back at the base of Sandy Canyon and Walnut Canyon, I turned onto Arizona Trail #33, which starts up Skunk Canyon. (Arizona Trail #32 loops around the east end of Flagstaff, while Arizona Trail #33 eventually goes right through the middle of the city.)
Like Sandy Canyon — if you are not bushwhacking! 😉 — Skunk Canyon is a narrow, but grassy-bottomed terrain feature. Arizona Trail #33 very gradually heads up 1.75 miles to the Flagstaff Loop Trail. Only 200 yds. further, the trail turns east through an ungated fence unto an old forest road. Another couple of hundred yards later, before reaching Hoffman Tank, turn north.
The next 1.5 miles, to the Rio de Flag — yes, that is its name — wetlands, is also on old jeep trail, through the same grassy terrain with plenty of shade trees that typify the first 11.5 miles of the hike.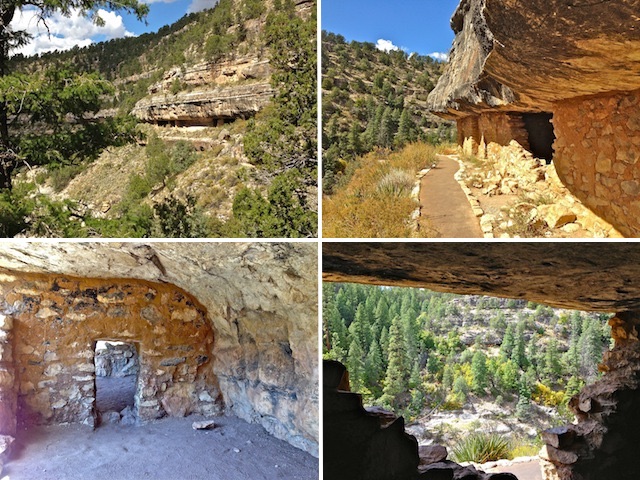 Just after my final break, with about 1.5 miles to go, I heard something over my shoulder. I looked back to see a toothless, woolen-capped, homeless guy riding a mountain bike out of a trailless draw. We exchanged greetings, and off he peddled towards town. I wouldn't be surprised if it was for supplies, and he was wild camping up that draw.
At the Rio de Flag wet lands, the Arizona Trail #33 turns to pavement, heading under I-40, past the Rio de Flag Reclamation Facility, to the Sam's Club parking lot.
---
After checking in at our usual place, the wonderful Inn at 410, we walked a few blocks to downtown for our one must have meal of the weekend at Na-D-Li Korean, . Kimchi Jjigae might not be a normal post-hike feast, but at Na-D-Li it is delicious and always steaming hot. (Literally!)
After that effort, I didn't much feel like another hike, no matter how long, the next day. Instead, on Friday, we visited the cliff dwellings at Walnut Canyon National Monument, took a scenic ride on the Arizona Snowbowl ski lift — I could clearly see the Grand Canyon 50 miles away! — then had a wonderful dinner at Pasto Cucina Italiana (👍👍) on Aspen Ave.

Marshall Lake Trailhead Directions: From Phoenix, head north on I-17 almost all the way to Flagstaff. When you see the signs for I-40 east, stay right. Take the Lake Mary Rd. exit, which is just before I-40. In 9.4 miles, at the south end of Lower Lake Mary, turn left onto FR 128. Drive 2.1 miles north. At Marshall Lake, turn left .25 miles to the trailhead. The final mile, past the research site, is potholed dirt. Car drivable, with caution.
Sam's Club Trailhead Directions: If you are doing a key exchange, shuttle hike, or arranging for a pickup — this is a long hike — instead of Lake Mary Rd., continue onto I-40 east. Take exit 198 onto Butler Ave. Turn left, heading west for 0.4 miles. At the screwed up intersection, turn left to continue on Butler Ave. In a quarter mile, turn left onto Babbitt Dr. Park between the Sam's Club gas station and Sunstate Equipment.
GPS File: AZT31_FisherPt_AZT33
Distance: 14.58 mi.
AEG: 1,220 ft.
Time: 5h 04m
---
Hiking Video