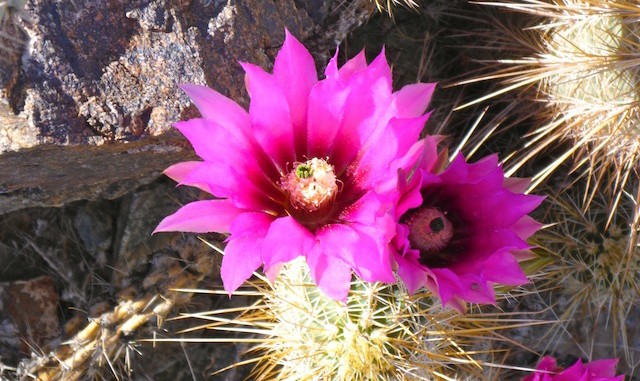 This hike gave me the idea to do my Loop 202 South Mountain Freeway series of hikes. (See the video, below.)
---
Wow, that was slower average speed (2.07 mph) than I thought!

Anyway, had meant to do this two days ago, but wasn't feeling right, so put it off to today. Still wasn't feeling right, plus with addition of a very stressful day yesterday, but went anyway. Front gate on Central closed for some kind of event.

 Whatever. Tell me "no", I'll find a way to do what I'm gonna do anyway. Drove west on Dobbins, which is one lane each way at that point, then south on 35th Ave., which curls west behind a small mountain. Turned left on 43rd St., then left on Estrella Rd. I was winging it, but I winged it right. Couple of other cars when I got there. Climbed over a saddle to the San Juan TH … no bathroom. Eventually forgot all about peeing until I got home five hours later.

Not too many people on the Alta Trail. Nice shade all the way up, as it is tucked tight to the north side of the ridge line. Couple of sketchy areas due to the heavy rains last August and September. Got off trail once. Dropped my pole, which slid 20 feet down a chute. Shoot. Dropped my pack, then butt scootched down to it, using my remaining pole to hook it. Would not have been a good day if I had slipped. Passed a dog walker. Looked a bit like Rowdy, but did not want to ask "Are you Larry?", so instead I asked his dog's name. It was "Mike".
The trail to Maricopa Peak is there, but not much used. Rather grassy, actually. Thanx to my new found scrambling confidence, had no problem getting from the notch up to the summit. Like black toes said, though, slipping would not be good. But no prob as long as you watch your hand and foot holds, and keep three points of contact.
1500 feet in 2.25 outbound miles is a good blow.
Great views, but even on a weekend morning the pollution was already turning pea green.

Once I got back down to the Alta saddle, decided to forgo my loop down into the Central basin. At that point it is 2.5 miles back to the Estrella Rd. TH, but looping would have been 7.5 miles. Granted, down hill or flat, but it was warming up quickly, there would be no shade, and I was going through my fluids quicker than normal. So, I headed back.
You might want to avoid speeding outside the barrio, as the MCSO patrols that area. (I saw a guy getting ticketed on my way back into town.)
Distance: 4.96 mi.
AEG: 1,650 ft.
Time: 2h 24m
---
Hike Video