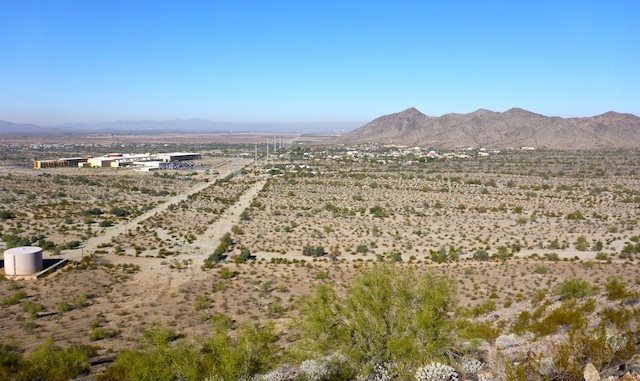 This is my second trip out here, the last being eight months ago. I was expecting prep work — positioning equipment & supplies, etc. — to have begun, even if actual construction had not. (Without knowing how the project manager plans to approach construction: South to north, north to south, whatever.) No matter what, some major earth moving will be involved. However … It appears that a judge has stayed construction, while ADOT claims the judge's decision will not affect the construction timeline. I missed all those developments while I was in Houston, the beginning of November.

I did not see evidence of any progress along the corridor through / adjacent to South Mountain Park, either in construction of Loop 202, or in development of the new luxury residential enclave between Main Ridge South and Main Ridge North. So, today's hike will provide a good comparative base for future hikes, in order to constitute a point-by-point timeline of progress.
I designed my hike to do some more exploring, south from Dusty Lane / Vee Quiva to Pecos Rd. Then I walked up the right off way all the way back to my start point. Approximately every .10 miles, I stopped to take a picture. Each picture was along an azimuth of 315°, or straight up the middle of the right of way. (There were a few exceptions.) I had waypointed where I would stop for photos, and so will be able to recreate, nearly exactly, the same photo sequence every six months or so. I didn't post all of them in the photoset; that would be boring. But I did put them all in the video, which with quick transitions should provide a flip book effect.

I did find a few new things, including some additional ruins (marked Ruins #5 on the track) and some wooden boxes that I think might have once been bee hives. In the past, between all the sets of ruins, there was between 12-20 buildings between Main Ridge South & Main Ridge North.
Unlike last April, the petroglyphs just north of Pecos Rd. were safe to approach. Not sure if the cold — it was 32° when I started at 0730 — suppressed bee activity, or if ADOT had slapped eminent domain on their hives.

In the Dusty Lane community, at least one house and shed have been bought & locked by ADOT, while a double wide trailer has vamoosed. Eventually, when construction gets into the area, I will park over at Alta TH or maybe along San Juan Rd. — is it allowed? — then continue to explore south, and right-of-way north.
GPS File: Loop_202_South_Mountain_Freeway
Distance: 8.17 mi.
AEG: 1,133 ft.
Time: 3h 38m
---
Hike Video