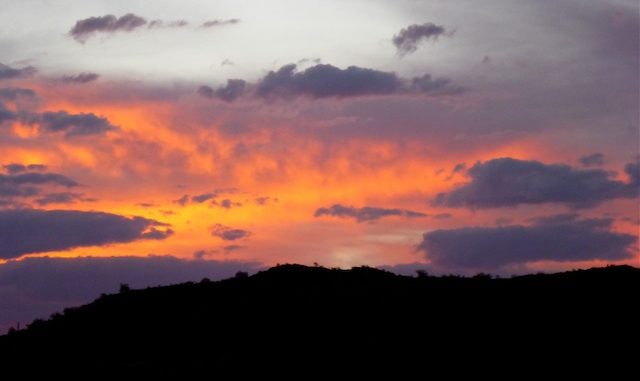 Today was the fourth of my biannual South Mountain Freeway / Loop 202 survey hikes, that I started in April, 2015. The basic concept is I explore south to the pump station at the west end of Pecos Rd., then follow the freeway's right of way northwest, back to Dusty Lane.
It was still mostly dark when I arrived at the off rez Dusty Lane community, behind the Vee Quiva Casino. On the way in, I noticed that a project sign had been erected: "Dusty Lane Demolition Project, B&C Contractors …" etc.
I checked out the graffitied ruins east of the R.A. Steele ruins. No new graffiti had been added. I was surprised to find several square nails, which means at least some of the ruins date to no later than 1890. (Round nails were invented in the late 19th Century.)
Work has begun on the gated luxury development in the valley between Main Ridge North and Main Ridge South. Extensive earth moving has occured, including putting in a dirt road from Pecos Rd. over the saddle on Main Ridge South. The development may be marketed as luxury, but the western edge of it will be no more than 200 yards from the freeway's north bound lanes. And it appears the washes have been covered over. Good luck with floods.

Marketing is the 5th Level of Hell.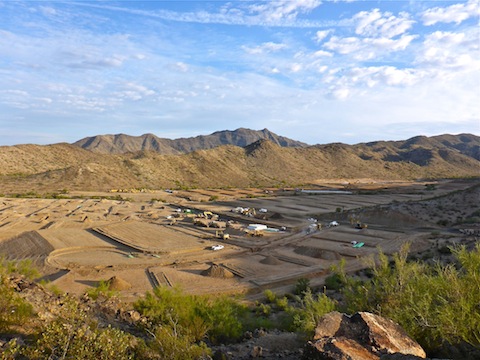 The earth moving to create the development's access road has wiped out last 25 yards of the upper end of the rough jeep trail to the top of Main Ridge South. As a result, I had to side slope a few hundred yards until I could find an easy way to get back on the jeep trail.
Whereas on my prior trip I was able to look around the "cactus farm", and other bits of the construction project near Pecos Rd., this time it had several "No Trespassing" signs. I was a good boy.

I saw a guy walking his dog, near Cedarwood Ln., so I said "Howdy!" He faced me. Asshole. Too bad it wasn't your house that got tore down, instead of someone decent.

As I've done before, and will continue to do the duration of this project, in the years ahead, I stopped every tenth of a mile, or so, to take a picture, or a few seconds of video, to document any changes that may have occured. Each stop I call a "WP", for waypoint. WP-1 is on the west end of Pecos Rd., when the South Mountain Freeway begins its turn northwest, towards Laveen. So, WP-2 is .10 miles north of Pecos Rd., WP-3 is .20 miles north, WP-4 is .30 miles north, etc. That holds true all the way north to WP-20 on Choppo Rd., at the south edge of the Dusty Lane community, where the waypoints spread out a bit more. So, my survey is about two miles, but my hiking distance a bit further as I use available trails to avoid heading straight up the steep ridges.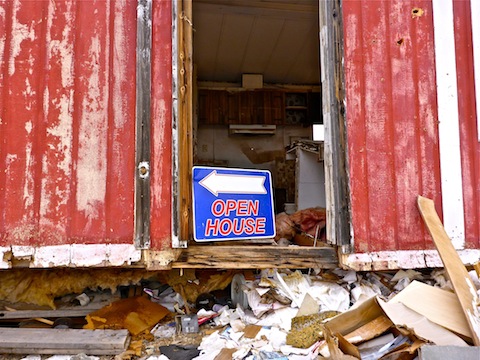 There were a number of new markers near WP-2 and WP-3. My guess is something to do with what the technical plan refers to as Multiuse Crossing #1. (The multiuse crossings are a way for hikers, bikers, OHVers, horse riders, wildlife and, yes, even dog walkers, to get safely from one side of the South Mountain Freeway to the other.)
The Scottish Saltire-like aerial survey marker that was near WP-6 on the southern finger of Main Ridge South is gone. Instead, I found a square pit, about six inches deep, with numbered pegs marking its corners. Any ideas what that might be? Check out the video, below, and let me know.

Multiuse Crossing #2 is just a few yards south of the small hill on which rests the R.A. Steele ruins, which, if I am correctly interpreting the technical plan, will lie just outside the freeway's support fill. (I graduated from Milwaukee School of Engineering, but I'm not an engineer; feel free to correct me in the comment section.)

I didn't see any other changes between there and Choppo Rd., though the unlocked, unsigned, house I entered on my prior trip, in April, now has a collapsed roof. Just north of Choppo Rd. and WP-20, the Sutton place on 43rd Ave. is gone. It does not appear like any demolition has yet occured on the condemned houses at waypoints 21-25.5 on Galveston St., 45th Ave., Ivanhoe St. and Sandy Ln.
GPS File: Loop_202_South_Mountain_Freeway
Distance: 6.05 mi.
AEG: 926 ft.
Time: 2h 32m
---
Hike Video