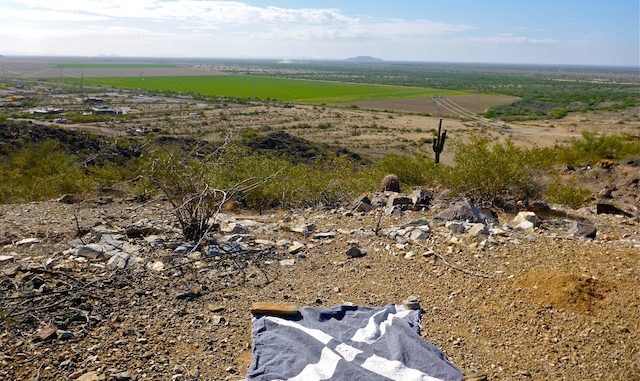 Though it's only been about four months since my last trek up the Loop 202 right-of-way, it has been a year since I first surveyed the area. My objective is to document the changes to the west end of South Mountain Park, and its communities.
I start out in the Dusty Lane community, next to the Vee Quiva Casino, explore my way south to Pecos Rd., then head north right up the middle of the freeway's path. I'll be doing that every six months for as long as I am able to safely, and legally, do so. Then I'll hike right up the side of it.

As I started doing last time, I stop approximately every .10 miles, then take a photo along an azimuth of 315°. Each place I stopped, is the place I stopped before, or within a few feet of it, so that each video is an apples-to-apples comparison to my previous video. The waypoints where I stopped are marked by a blue square symbol on the GPS route attached below. I did add a new waypoint, WP-25.5, halfway between WP-25 and WP-26, at a house that was not previously abandoned. The video also contains some additional observations.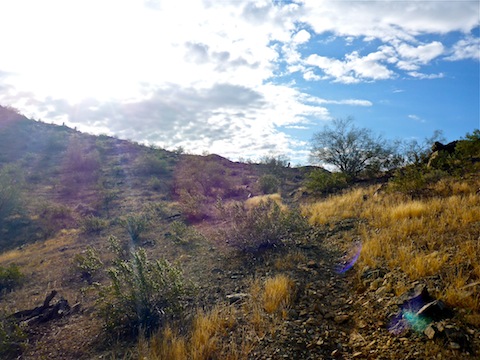 Not much changed the first eight months, between April and December, 2015, but there have been some changes since December.
The houses at the very end of Pecos Rd. have been disappeared, while the properties in the Dusty Lane community have been abandoned and (mostly) marked "No Trespassing" by the Arizona Department of Transportation (ADOT). There were quite a few surveyors working around Dusty Lane, and a security truck making the rounds.
No prep work has been done. By that, in my non-road engineering way, I mean there has been no terrain alterations, no culverts, no bridges, or anything similar, even begun. However, I did notice that they are stockpiling saguaro — some 20 ft. tall — and palo verde near Pecos Rd. I'm not sure if those are plants that have been relocated, or new ones to be planted after the freeway is completed.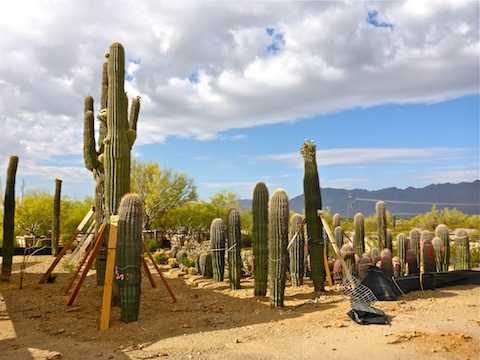 As I was leaving Dusty Lane, I was flagged down by a resident, who wanted to know what I was up to. I told him I was documenting the area before it all disappeared. We had a good chat. He mentioned that he thought the right-of-way was 1000 ft. wide, and he wondered what would happen to the power line. I said maybe it would be in the freeway's median? But now that I think about it, the freeway will be completely to the east of the power line, as that is what is shown on the fly-by animation. He said it would ruin the isolation he moved out there for 35 years ago, as his house would be right up against the north bound lanes. I shook his hand and wished him luck.
That's the thing: The area between Pecos Rd. and Dusty Lane is just waste area. No value at all. Just falling down shacks, garbage and undrivable jeep trails. The real harmful impact is to the people who lived, or will continue to live, there.
GPS File: Loop_202_South_Mountain_Freeway
Distance: 6.83 mi.
AEG: 872 ft.
Time: 3h 01m
---
Hike Video