By Joseph Owen
Stars & Stripes
Thu, 5/30/91
ZAKHO, Iraq – U.S. Army engineers overseeing the construction of latrines in northern Iraq have been faced with a unique problem: refugees turning the makeshift potties into bedrooms.
Operation Provide Comfort forces are paying a Turkish contractor $1.2 million to assemble more than 4,000 one-hole latrines of wood, sheet metal and small concrete basins for four refugee tent communities just east of Zakho, according to Capt. Gary A. Christian, and Army Corps of Engineers project engineer.
Because so many Kurdish refugees have returned home, the four communities never recived the 84,000 people they were designed to hold. So the latrines erected in anticipation of larger numbers have stood unused. That has lead to some creative alterations.
"They'll take the wood and use it for cooking fuel," said Pfc. John Dunn, 21, a carpentry and concrete specialist assigned to Hq Support Co, 94th Engr Bn, in Darmstadt, Germany.
Dunn's company, a part of the 18th Engr Brigade, makes the wooden base plates inserted between the latrines and the holes under them. He said some refugees have knocked the latrines over to use as living quarters. When he's ordered to correct the situation, "It's kind of hard to go and take it back from them," he said.
Col. Stephen A Windsor, the commander of the engineer brigade, said he has seen a few cases where two latrines were lying side by side with the doors propped against each other to form a roof.
"It's clearly not widespread," he said. "For the most part, these folks appreciate what we've been doing."
Christian came from Stuttgart, Germany, to Iraq to oversee several contracts and do surveying work in the camps. "It's like a running joke up there in Germany," said Christian, 33. "Everybody says, 'Yeah, yeah, you'll get down there and you'll be managing the latrine contract.'
"But you get here and it's a phenomenal effort to build 4,000 latrines."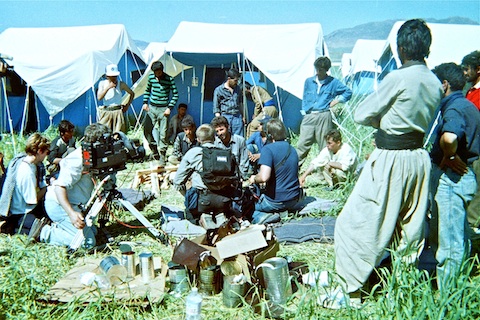 ---
McMurry's Notes
Not only did they strip wood from the shitters, but they also burned the tent stakes and poles we gave them (then complained that they had no stakes or poles); stole tents, rations and military fuel; and passed counterfeit money. They should have been grateful because most of them had it better in our camps then they ever did on the economy. But they knew they had a free ride, and knew they could work some scams on the relief agencies. I hated being used like that, but if the shoe was on the other foot I would have done the same thing.
---