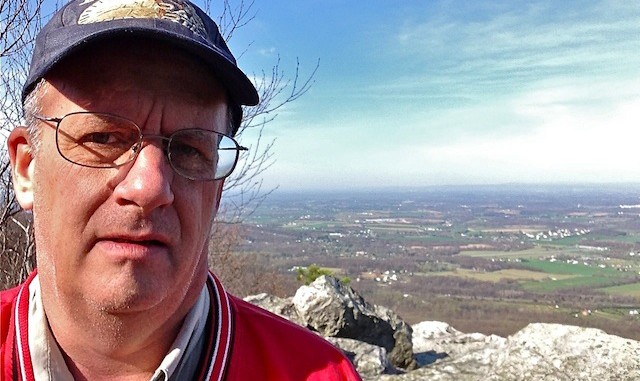 Our annual Easter trip to Hagerstown, to see our grandaughter and younger son. As the Appalachian Trail is only a few miles away, I've hiked a segment each year (I-70 to Turner's Gap in 2012 and Crampton Gap to Turner's Gap in 2013). The first two years were Battle of South Mountain segments, and the historical markers were the highlight. But hiking-wise, and view-wise, this was my favorite so far.
The climb up from I-70 was rocky, but after that the next 5.5 miles were smooth sailing. That initial climb was 400 feet, so the other 1200 AEG was basically rolling ups & downs for nine miles. With a smooth surface until about 6 miles in, it was a very pleasant stroll.
I was hacking up my lungs, and blowing my nose for much of the hike, like I brought my allergies with me. My audio notes are filled with sniffles and coughing.

Crappy Garmin 62S added some sort of light purple track on top of the actual track I had uploaded. Trying to get that straightened out mid-hike resulted in an f-bomb carpet bombing. 

There were great views west from Annapolis Rocks and Black Rock. If I had had more time, I would have climbed down them to the base of South Mountain. It would have been a fun scramble.
There was only one camper at Annapolis Rock, but a dozen tents at Black Rock Creek. I passed through the campsite about 10:00 a.m. The temperature was a perfect low 50s. The campers were huddled around a fire, in blankets. WTH!? Oh, and when I said "Hello", none of them waved or said hello back.

North of Black Rock Gap, the trail got extremely rocky for about 1.5 miles.
The north end of the segment is only a few miles from Camp David, but I could not spot any signal towers. Maybe from the next segment north? Frankly, I am surprised they even show it on the topo, let alone Google satellite view. (Serious: Check it out!)
After the hike, our car GPS tried to direct us onto I-70 back to Hagerstown, but blah, who wants to do that? Instead, we had a very pleasant drive along country roads back to town.

GPS File: AT_I70_to_Wolfsville_Rd
Distance: 10.48 miles
AEG: 1,649 ft.
Time: 3h 58m
---
Hike Video