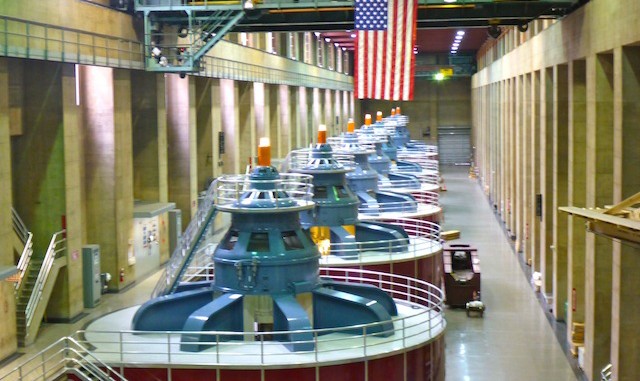 Nice bike, but too hard to figure out, so did the same thing as yesterday, manipulating the resistance every two minutes to simulate riding hills. Somehow managed to get a watts graph to display. (Despite riding the same yesterday and tomorrow, it did not do the other days.) No boxers today, despite a ring being in the hotel gym; probably resting up for tomorrow night.
Afterwards, headed out to Hoover Dam for the full $30 tour. The first time I had ever been inside was pretty cool. However, even though there was very low foot & vehicle traffic, the tour was still full at 20 people every 30 minutes. I definitely recommend doing it like we did, mid-week on a non-holiday.
On the way back on the I-215 it started to rain, and we passed two accidents in Henderson, one where a big black pickup had got turned around backwards against the median, and a separate second accident less than a mile away where a semi had punched a hole through the median. And I thought Arizonans had problems driving in the wet …

---
Stats are for the cardio I did at the hotel gym. The actual tour is so mild it would only be exercise if you have a Zimmer frame.

Distance: 12.50 mi.
AEG: 0 ft.
Time: 40m
---
Hike Video
(I combined this and my 2013 trip into one video.)