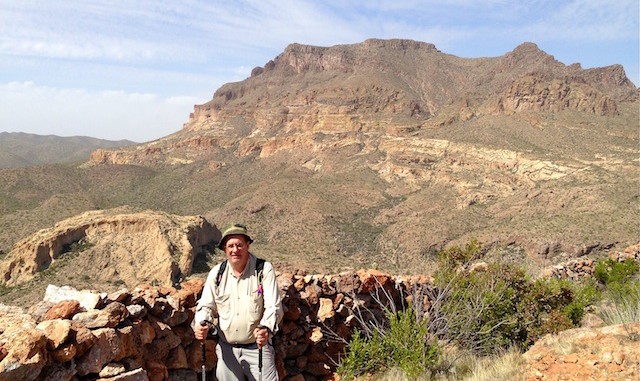 I was looking around Superior, using Route Manager's FS Topo and satellite view for something interesting to do, when I noticed a very obvious, very straight line on the satellite. I zoomed in, and it sure looked like a wall. So, I whipped together a route and posted it as an event to see if I could snare any victims … I mean partners. SpiderLegs fell for it … I mean responded.

SpiderLegs got held up on I-10 due to a rollover. He called at 0600, saying he had moved a mile in the last 15 minutes. I told him I was surprised as the daily rollover usually did not occur until 0700.

 Eventually, SpiderLegs got to our meetup at the Burton Barr Library, and we headed out to Superior. As we approached the town about 0730, I asked if anyone minded skipping breakfast. (I had forgotten, and scarfed a burrito on the way to the meetup.) No one objected, so we turned down Mary Rd. As we approached the quarry along FR 4 / Telegraph Rd., it quickly became apparent that proceeding further would not be a career-enhancing move. Strictly high-clearance / 4WD. I parked early, kissed my wife, and off James and I went.
The hardest part of the hike was the up & downs on FR 4. I was hoping to have a go at Hill 3012, as it would doubtless have a killer view of the wet & woodsy parts of the Picketpost Circumference hike, but it quickly became apparent that despite the white hill not being that tall, it was surrounded by sheer cliffs beyond our ability to climb.

 And we did not want to invest time searching for an easy route, as the main event was on the mesa to our left.
We got to Rock Tank in good time, despite me taking a bajillion pictures. (151, to be exact, of which I uploaded 112, and eventually settled on 63.

 ) Rock Tank looked just as full as it had over a month ago when I saw it from afar while on the Wood Canyon Rim hike. It was being fed by a small creek, with low, but regular flow. We picked up an obvious foot trail from the tank towards Filaria Spring. Never did spot the spring, but it must be pretty healthy to keep Rock Tank full. From there, it was only another 150 feet up to the saddle.
Where the obvious foot trail continued east to the Wood Canyon Rim trailhead, we instead turned north, ascending 300 ft. to the top of the mesa. Awesome view of Telegraph Canyon.

 (And Picketpost Mountain …) After a quick snack, we followed the mesa rim northeast. We spotted the apparent wall from a quarter mile away — it is that large. And a few minutes later, we arrived, and it was indeed a wall, not some satellite anomaly. Coolios! Better yet, we found at least two more wall segments.

 No pottery, or other signs of ancient civilization, but we certainly were not complaining.

Then it was a matter of finding the best way over the rim, back down to FR 4. SpiderLegs found us a real easy route over only two six foot boulders, and from there it was a steep, but otherwise easy stroll down to the road, and back to the trailhead.
Awesome hike: I plan on doing it again, exploring some other parts of the Hill 3464 mesa.
GPS File: Hill_3464_Telegraph_Canyon
Distance: 7.42 miles
AEG: 1,497 ft.
Time: 3h 32m
---
Hike Video