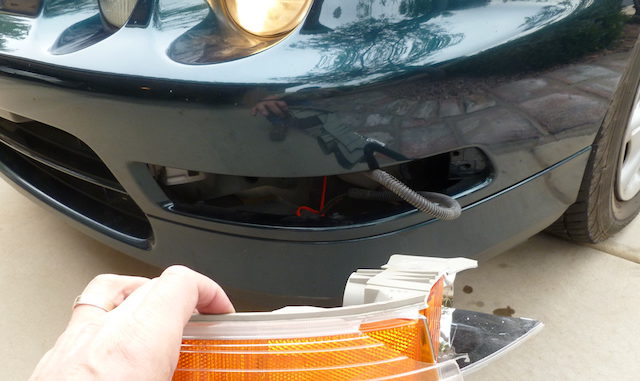 This was my second time out to First Water TH, and though I knew the road was gravel, I had forgotten how bumpy the ride was. (More on this later.) I don't get out Mesa-way too often as it is quite the haul from Sunnyslope. Last time I explored up First Water Upper Creek Loop with AZLumberjack; this time I did the Hackberry Spring Loop, with variations, solo. Passed through one or two miles of sprinkle about Val Vista Dr. while heading east on AZ.60. Got to the TH at 0700, but it was still dark because of the clouds.
Started walking about 0715, counter-clockwise. Was a bit confused at the Lost Dutchman #104 intersection, as it seemed I should head southeast, but the sign (and GPS) indicated I should head northeast. So, I headed northeast. Sun started breaking through the clouds just as I emerged onto Garden Valley. I was hoping for some good light to take some decent pictures. Alas, the clouds soon closed back in and it stayed overcast, and slightly breezy, the rest of the morning. 😕
The "main" trail is almost a jeep trail as it passes by the bump known as Hill 2474, then veers northeast as Second Water Trail. I backtracked a few hundred yards, then proceeded north up the more foottrailish Hackberry Loop. Not far past that intersection was a smaller foot trail heading towards the green hills along the First Water cliff. I had heard there was an arch there, and having never seen an arch before, wanted to check it out.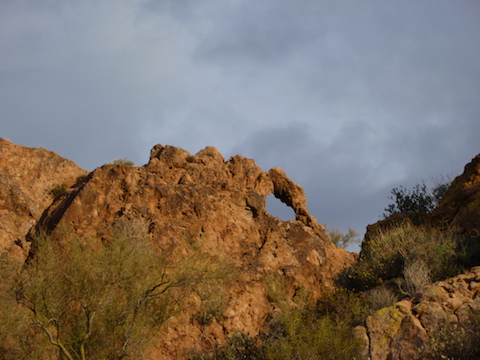 The side trail followed the south edge of a pair of small hills, then curled around the west of edge of it, where the arch on its northern neighbor became apparent. I then curled between the two small hills, and along the north edge of the arch hill, and a short climb up. It's a really small arch. Someone might have blown a hole in the hill with a shotgun. Still, it was pretty neat.
Got back on the trail and continued north. Found a flat area, overlooking the canyon, that looked like a former campsite. I also found a kleenex with what obviously dried urine on it. (My wife always complains about how nasty the ladies' room is …) I actually picked it up and bagged it. (Note: Looking back, I have no idea WTF I was thinking. 😳)
As you emerge from that side canyon, the trail splits: Left down to First Water Creek, right into Hackberry Spring.
Hackberry Spring was a very lush area, but it seems a number of people thought it was sufficient to (half) burn their garbage rather than pack it out. We should probably all be thankful they managed not to burn down the canyon. I was under the impression the spring itself was a vertical pipe, like a water gauge, so I missed it and had to double back a bit. Why is the grass all red around it? 🤔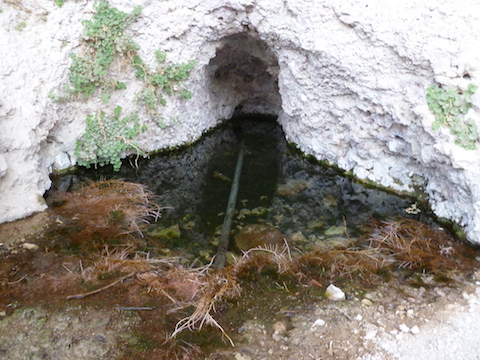 After the spring I turned west up to the Hill 2289 saddle, then back down the white slick rock east of Hill 2377, down to the old ranch. Took a picture of the windmill for my Dutch wife. 🇳🇱
Up the saddle to the horse lot, then down to the now filled to capacity TH. Hike complete, I drove back up towards Hwy 88. Slowly, 5-15 mph.
My car is 14 years old, and spent its first seven winters in Wisconsin, being rusted out by salted roads. The body is fine, engine still in good shape. (Acura!) But there's lots of rust underneath. So, I always joke that I avoid driving on gravel roads as I am likely to drop parts along the way. Sure enough, about a half mile from pavement, I heard a loud crunch as my car bumped over some previously unseen obstacle. Looked in the rearview and saw parts in the road, which I had obviously run over. I thought "How did I miss seeing that?" Stopped, got out, walked back and found a pile of plastic light parts. Rear of car looked fine. Checked the front. Where the left front turn signal assembly should be was a hole with a dangling wire. Picked up the parts, tossed them in the trunk, then zip tied the wire so I wouldn't drag it across Phoenix. Now the left signal (inside the car), blinks twice as fast. Go figure. Also the dashboard light is out. Roger Penske will be a couple hundred dollars richer.*
*
I bought an SUV, to avoid these sorts of problems, from Penske just over a year later.
😁
Oh well, it was a fun hike through some pretty scenery. 👍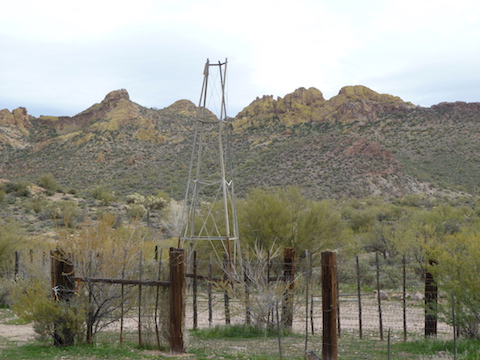 Directions: Depending on which part of the Valley you are travelling from, either take the Red Mountain Freeway / Loop 202 or US-60. If you are driving Loop 202 east, take exit 27. Go east on University Dr. for 5.5 miles, then turn left onto Apache Trail / AZ-88 for 5.0 miles. If you are driving US-60 east, take exit 196. Go north on Idaho Rd. for 2.3 miles, then turn right onto Apache Trail / AZ-88 for 5.2 miles. Regardless of which freeway you take, just past Lost Dutchman State Park, turn right onto First Water Rd. The trailhead is at the end of the road in 2.6 bumpy miles. If the First Water Trailhead is full, park a half mile back in the horse lot. Both have pit toilets.
GPS File: Garden_Valley_Hackberry_Springs_Loop
Distance: 7.25 mi.
AEG: 1,081 ft.
Time: 2h 44m