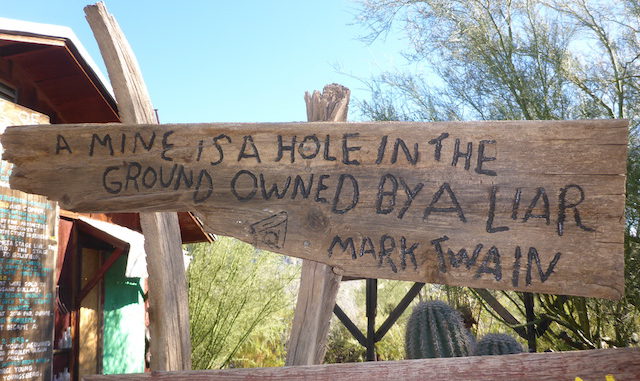 This was my second time out at Hackberry Spring this year.
Enjoyable day with nice people: AZLumberjack MinerMike and trekkin_gecko. 🙂
We checked out the Garden Valley arch, then Jack guided us to an adit about a quarter mile off trail. We spent about 30 minutes mine exploring.
Was stabbed a number of times by trail side grab & stabs, but the worst was the dead cholla ball I kicked up my calf. That one hurt. 😢
Directions: Depending on which part of the Valley you are travelling from, either take the Red Mountain Freeway / Loop 202 or US-60. If you are driving Loop 202 east, take exit 27. Go east on University Dr. for 5.5 miles, then turn left onto Apache Trail / AZ-88 for 5.0 miles. If you are driving US-60 east, take exit 196. Go north on Idaho Rd. for 2.3 miles, then turn right onto Apache Trail / AZ-88 for 5.2 miles. Regardless of which freeway you take, just past Lost Dutchman State Park, turn right onto First Water Rd. The trailhead is at the end of the road in 2.6 bumpy miles. If the First Water Trailhead is full, park a half mile back in the horse lot. Both have pit toilets.
GPS File: Garden_Valley_Hackberry_Springs_Loop
Distance: 7.79 mi.
AEG: 1,025 ft.
Time: 3h 47m