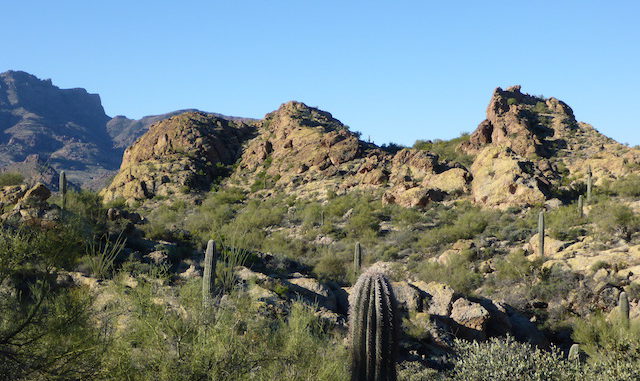 Another trip with Rockadoodledude. Only three cars in the lot when we started at 0715. Really nice light along the whole hike, but particularly in Garden Valley. Unfortunately, crappy new Panasonic Lumix DMC-TS5 camera was not dealing well with the light/dark contrast. On the other hand, crappy new Garmin 62S did not once attempt to get prison-friendly with me.
Mike felt pretty chilly the first half of the hike, but I was enjoying the temps. It was getting warm by the end. A few more weeks of this, and I am heading up north to do my hiking in towns beginning with the letter P.
After Hackberry Spring, took a right turn up to the saddle. It's steep, and slippery, but only a few hundred feet up. Same going down the south side of the saddle. The problem is not sand, nor rock, but sand over rock. No grip. And so I slipped, falling backwards, smashing my right forearm on a rock. Hurt like heck. Not broken; no blood. After yesterday's disasters, I did not want to add to the list.
No Haz stickers present in the main lot when we returned, but I did see a Minnesota plate, red Ford pickup. Jack that you?
Directions: Depending on which part of the Valley you are travelling from, either take the Red Mountain Freeway / Loop 202 or US-60. If you are driving Loop 202 east, take exit 27. Go east on University Dr. for 5.5 miles, then turn left onto Apache Trail / AZ-88 for 5.0 miles. If you are driving US-60 east, take exit 196. Go north on Idaho Rd. for 2.3 miles, then turn right onto Apache Trail / AZ-88 for 5.2 miles. Regardless of which freeway you take, just past Lost Dutchman State Park, turn right onto First Water Rd. The trailhead is at the end of the road in 2.6 bumpy miles. If the First Water Trailhead is full, park a half mile back in the horse lot. Both have pit toilets.
GPS File: Garden_Valley_Hackberry_Springs_Loop
Distance: 5.79 mi.
AEG: 813 ft.
Time: 2h 11m