Fri, 31 May 91
Camp "Bye-Bye" (Redeye)
Zakho, Iraq
Dear Donna,
I just got your 16 May letter. That means I got two good news letters after your 18 May bad news letter. And all thanx to the good ol' U.S. Snail.
Those suites look good — especially the Sherwood Forest and the Northern Lights. 

 Unfortunately, they have that 30 day reservation thingie. My tentmate had a good idea though: he suggested I play up the Desert Storm vet angle and try to get a room in fewer days.
… (next day) …
At this morning's formation I found out we weren't leaving tomorrow (something I hadn't heard in the first place), from the commander; rather, our departure date was being pushed back two days. That would make it Tuesday, which is still a day earlier than I expected. Then, this afternoon, I heard a rumor that we weren't leaving until Friday. It's wonderful how the lines of communication work in this unit.
Our mission, as of 0730 this morning, is complete. I spent the last three days helping transfer 7-8,000 Kurds from Camp 3 to Camp 2. I evicted a family from four tents in one ten-tent circle because they were squatters. I knew something was crooked, but after getting tired of seeing the head man pop-up eveywhere I appeared in camp, I finally drove him out to the circle (a "zozan" in our terminology) he had been properly registered for two weeks earlier. Surprise, surprise — where there used to be tents, there were only patches of dirt in the knee-high grass. I made the scumbag get out of the truck and walk back. 

Speaking of camps, here's yet two more Stars & Stripes articles (article #1 & article #2) that conveniently forget to mention it is the civil affairs (especially the 432nd) that actually runs the camps.
Btw, are you saving the newspaper articles too?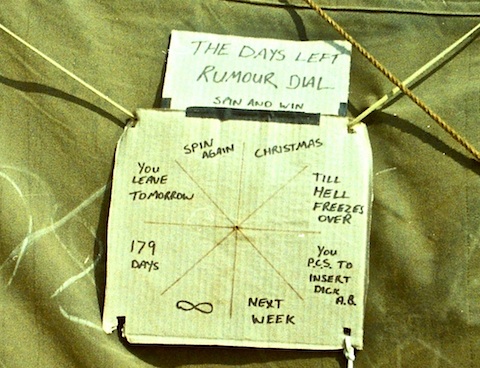 ---