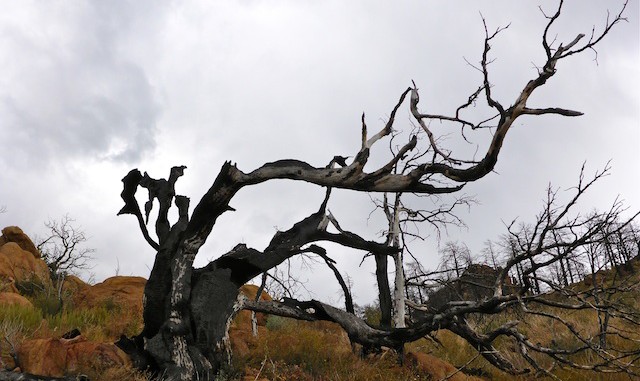 I've had this on my list for at least a year, and finally got around to it today. Despite blowing by the I-17 slow-pokes heading up to Sunset Point, my late start out of Phoenix meant Paul and I did not get on the trail until 0915.
WARNING: In the ranks of rank trailhead toilets, the one at Granite Lake's awfulness is only exceeded by that in Pine.

The two-mile stroll to Blair Pass was pleasant, and mostly still forested, until just below the 'summit' of the pass. Climbing the switchbacks up through the burn area reminded me of the Ballantine Trail, except the steps not being quite as high. It got steeper near the top, but for 900 AEG in a mile, was not that bad. The saddle at the top of the climb had a nice view north towards Williamson — where the Doce Fire was halted — and points north. It looked like there might be a trail down that way.
Instead, we headed east, along Granite Mountain's south face, soon entering a pleasant alpine area, where many of the pines had survived the burn. At the next trail intersection, we headed left on the informal summit trail. We were within a 1/3 mile bird flight distance of the summit, with a clear view of the right-to-left ascent route, when it began sprinkling. I wanted to continue, but Paul was all no way . So, we turned back in favor of the observation point.
The OP had particularly nice views towards Skull Valley. We noticed a 'cave' formed as result of tumbling boulders. As we started scrambling up towards the top of the OP, large, heavy drops began falling. We hurrily scrambled back down, making the cave just as the downpour began. It lasted about 15 minutes, before sunny skies returned. The cave would be a decent camp spot, and even had a small fire ring in one corner.
On the way down the switchbacks, we passed a solo rock climber headed up. Solo hiking is one thing, but solo climbing seems a whole lot riskier. Maybe he was setting up for a future group event? On the way down from Blair Pass, we passed a 4-person photographic crew headed up. They all likely got soaked.
15 minutes after we arrived back in Prescott, while eating dinner at the Gurley St. Grill, California's highway-obliterating deluge arrived. If we had continued to the summit, we would have still been on trail. Nice call Paul. Now, about picking my Power Ball numbers …

Distance: 9.61 miles
AEG: 1,762 ft.
Time: 4h 13m
---
Hike Video