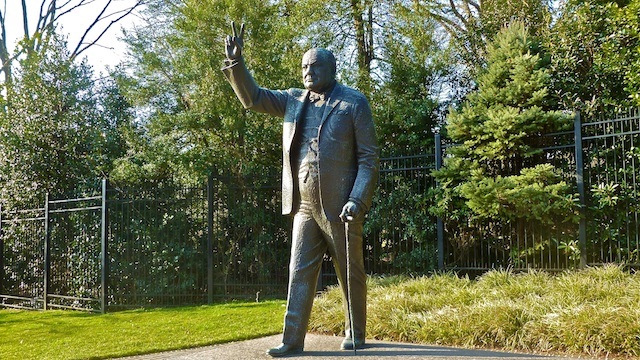 M Street NW and Wisconsin Avenue NW are the main streets in Georgetown, and their intersection is ground zero for this hike. Both are extremely traffic choked, so it is recommended that you only cross them at crosswalks with a light. (And that you take public transportation when not walking.) Otherwise you will discover Georgetown's favorite passtime (other than jogging and biking): Beeping. They beep like most people breath.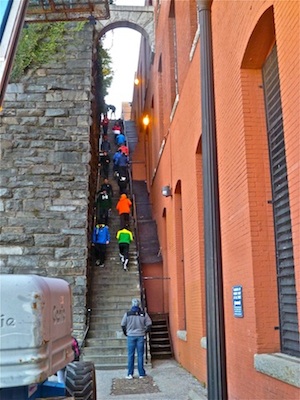 Note that all streets in the District are designated NW, NE, SW and SE, and when referring to location it is important to indicate quadrant. This walk occured entirely in Northwest.
I started off heading west on M St. West of Wisconsin Ave., it is mostly shops; east of Wisconsin Ave. has more restaurants. Where the Key Bridge empties onto M St., I turned north up the Exorcist Steps. (The opposite direction travelled by Father Karras.

) At the top of the Exorcist Steps, I turned left onto Prospect St., then the next right onto 37th St., proceeding in front of Georgetown University's Healy Hall — site of another Exorcist movie scene. I went north across campus, seemingly passing a hand cleanser station every 100 ft., to Reservoir Rd. I went west on Reservoir Rd., past the gated French Embassy, to the corner of 44th St., where I turned north into the woods of Archibald Parkway.
The path was dirt, but smooth and wide. The city sounds quickly faded to silence. About a half mile later, I turned right onto the signed Whitehaven Trail. After a short, steep, climb, I passed the Whitehaven Community Garden, crossed 37th St., went up another short, steep climb, then continued east past Holy Rood Cemetery to Wisconsin Ave.
I went straight across Wisconsin Ave. Just past a few office buildings, I turned south onto the dirt paths of Dumbarton Oaks Park. At a small wood bridge, I turned left, back north, behind the Danish Embassy, to the US Naval Observatory (USNO). Not sure where to go next, legally, I turned right onto Whitehaven St, proceeding past a number of smaller embassies (Sri Lanka, Poland, etc.). At Massachusetts Ave., I turned left proceeding up Embassy Row, past some bigger embassies, and the statue of Winston Churchill. At the entrance to the USNO, I crossed the street, returning southeast along the opposite side of the street, past the Khalil Gibran memorial, to the foot of Massachusetts Ave., at the Rock Creek Parkway bridge.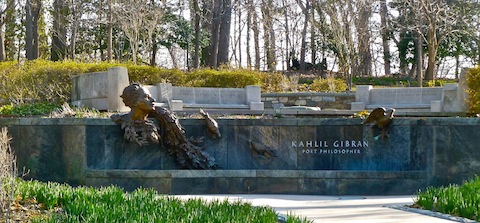 I'm not sure where the best way to get down to the Rock Creek Parkway path is: I went south down Waterside Dr. I follow the paved foot/bike path until I saw the Watergate Hotel. Incredible eye candy along Rock Creek Parkway!

.
I crossed Rock Creek, proceeding west along the Potomac River walk. There are a number of historical markers, consisting of photos etched in granite, to enjoy. I spent a few minutes watching crew races on the river. Just short of the Key Bridge, I turned right up a small side street, diverting across a pedestrian bridge to the Francis Scott Key memorial. After crossing back over the bridge, I proceeded east along the C&O Canal tow path to the next pedestrian bridge at 33rd St. From there, it was just a few minutes back to our hotel, the Georgetown Inn.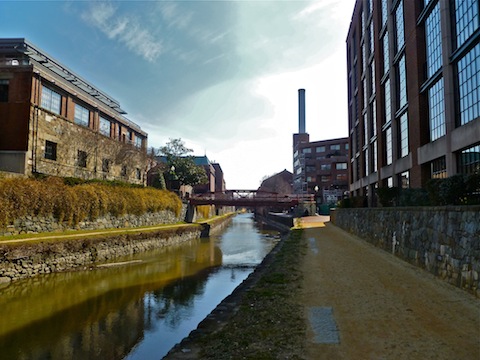 Things that stood out to me:
Georgetown is like a combination of 1860s border-south and San Francisco in many ways: Architecture; cost; traffic; restaurants; hills; attractive, athletic, professional members of the opposite sex, etc. (If you are single, move there!)
Lots of people ride bikes (there is a bike share), jog, or walk dogs — noticeably more so than in Phoenix.
They love beeping their car horns, often for no apparent reason.
There are cops everywhere, even well away from the White House. (I didn't take as many embassy photos as I planned, because I got paranoid someone would freak out.)
Once you get into the parks, you don't hear traffic noise like you would on, say, Trail 100 in the Phoenix Mountains Preserve. (Probably because the trees abosorb it.)
People wait in line, all day long for cupcakes.
GPS File: Georgetown_Loop
Distance: 8.14 mi.
AEG: 872 ft.
Time: 2h 35m