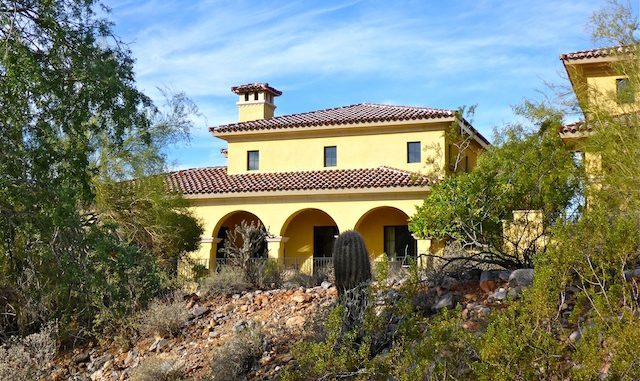 With a short week due to being in Las Vegas last week, and Mission Viejo for Christmas, and working on the subsequent Valley of Fire video, I didn't have time to plan a big rural hike. Plus, with two huge games on Saturday — Celtic vs a team masquerading as "Rangers" early in the morning, then Ohio State vs. Clemson in the evening, plus the annual HikeArizona New Year's hike on Sunday, I knew I wouldn't have time to produce a hike video even if I did a big rural hike on Friday!
So, I decided to head out to McDowell Mountains for the first time in almost six years. I've only ever done two hikes in the McDowells: Sunrise Peak with my company hiking club in 2008, and Scenic Trail in 2011.
I put together a loop similar in length and elevation profile to Shaw Butte, which is basically my backyard, and which I've done too many times to repeat as my "big" hike of the week: From the trailhead on Thompson Peak Parkway, head counterclockwise, north on Desert Park Trail for 3.1 miles, then south on Windgate Pass Trail for .70 miles, then south on Gateway Loop Trail, past Gateway Saddle, 2.3 miles back to the trailhead.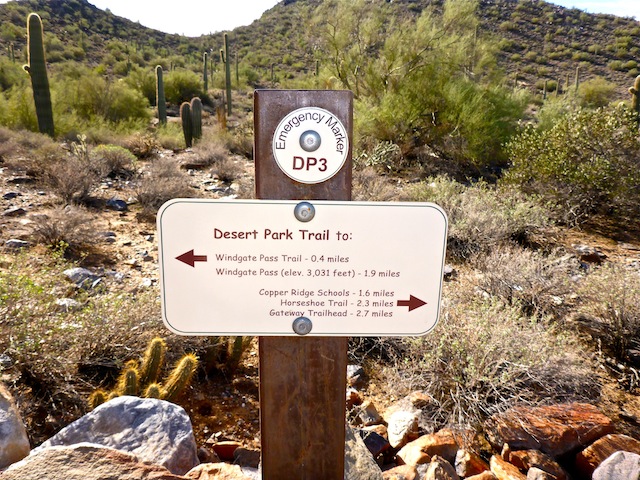 I didn't have to drive far, so I left after rush hour, rather than before. There were dozens and dozens of cars at the trailhead. I started hiking at 0945, (politely) blowing past several older walkers, including a couple of Ohio State fans. (Go Bucks!)
Desert Park Trail follows a narrow, shallow, brushy wash, north through DC Ranch for 1.5 miles to a big golf pond. Kinda like following Trail #100 east from the Tatum Blvd. trailhead. Mansions loom over both sides of the trail. The trail passes under a street bridge and crosses a golf cart path. The trail then turns northeast, getting a bit rockier, crossing another golf cart path and going under a golf cart bridge, before finally starting to climb away from what are now genuine mega mansions. After the first half mile, I did not encounter any other people. At 3.1 miles, Desert Park Trail intersects with Windgate Pass Trail at "emergency marker" WP3. (The McDowell Mountains are so thoroughly signed you would have to put serious effort into getting lost.)
Windgate Pass Trail is wider & smoother than Desert Park Trail, but you will only be on it for .70 miles. Windgate Pass Trail descends about 150 ft. to marker WP1, where it intersects with Gateway Loop Trail. There were a few more people on this short segment, including one trail runner who was too good to return my greeting. Break a leg, asshole.
Gateway Loop Trail has a short, moderately steep, ascent to Gateway Saddle. There are tons of people on Gateway Loop Trail. Like Piestewa Peak-level hordes. I chugged up to the saddle, where I took a break to check my twitter feed, eat some gorp, and rehydrate with a Cerveza Negra Modelo. I did my best to ignore a dozen screeching 8-year olds who shared the saddle, but not my beer. Maybe that would have quieted them? From Gateway Saddle it is all downhill, 2.3 miles back to the trailhead. The trail is still crowded, and gets fairly rocky in spots, gradually getting wider and smoother the closer you get to the trailhead. Only one person passed me, and a pleasant sight it was.

GPS File: Desert_Park_Windgate_Gateway_Loop
Distance: 6.80 mi.
AEG: 863 ft.
Time: 2h 13m