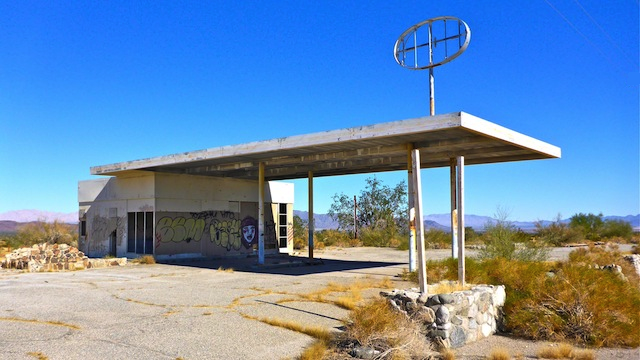 On our way west to Xmas in Mission Viejo, I noticed this place just below Chiriaco Summit. I swear I could remember when it was occupied, but it must be faulty memory, as it appears to have died out in the mid-70s. I saw some graffiti that I wanted to photograph, so on the way back we exited at Eagle Mountain Rd. There was a military monument there, to the 36th Evac Hospital, but a few minutes spent exploring did not reveal any other traces of the unit's presence. (The base was part of the World War II Desert Training Center, as was Camp Bouse, which we explored in February.)
A bit further on was an abandoned gas station, with several good graffiti samples. (I ended up with enough material to make a graffiti video, below.)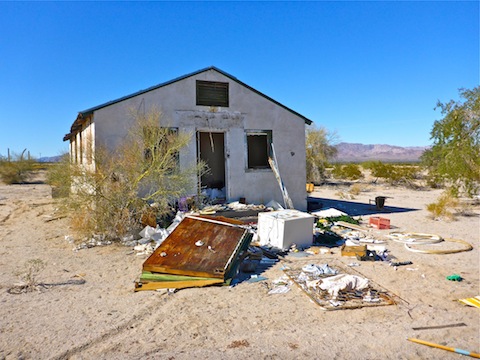 The first part of Desert Center we checked out was a cluster of abandoned houses on the west edge of town. Each house had the same floor plan: Living room across the front third. Back, to the right, walk through kitchen in the middle third, with walk through pantry and rear door in the back third. Back, in the middle, a corridor, with two bedrooms to the left, and bathroom straight back. All the houses were seriously decayed, and full of rat poop and garbage. One looked like a drug den of recent vintage. Another had a jar of peanut butter that was so old, the food in the sealed jar had shrunk to a hard ball. It was real Andromeda Strain stuff.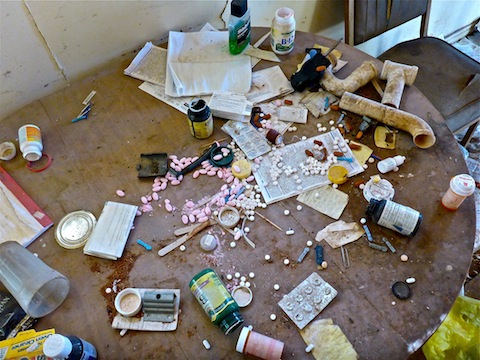 The only businesses in town are a Cal Trans highway yard and, for some reason, a post office. The cafe is abandoned, as is the adjacent gas station, which was last open in 1973. (As evidenced by the 39 cent price on the pumps.)
It's kind of odd that there isn't a functional gas station / convenience store in town, as there is tons of traffic on I-10, and it is another 40 miles to Blythe. Plus there is a fair amount of traffic travelling up CA-177 either towards Chuckwalla Valley Raceway or, further on, to the Colorado River / Parker.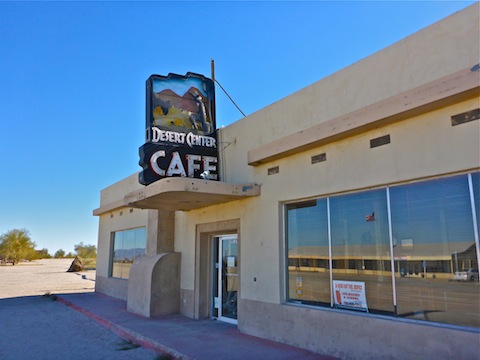 ---
Graffiti Video