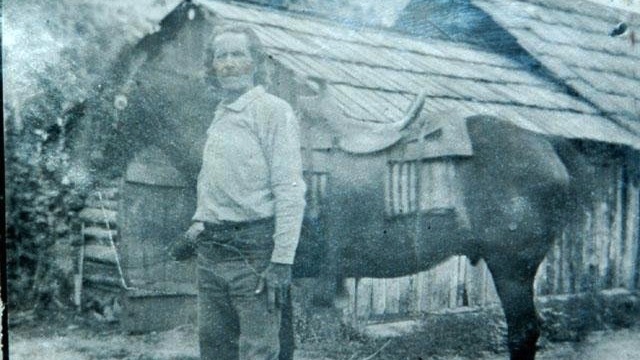 Davey Gowan was a Scottish immigrant to the American Southwest. While prospecting in 1877, seeking refuge from Apache, he became the first white man to discover Tonto Natural Bridge — the largest travertine arch in the world. Born in Bervie, Kincardineshire, Scotland, in 1840, he was found dead of old age, along Deer Creek, in 1926. Davey was buried near where he was found. Another lifetime on, the grave had fallen into disrepair, so local resident Wild Bill put together a crew to restore it.
---
I headed out with the "William" part of of WilliamnWendi about 0800. Wild Bill had pre-positioned, via a nearby jeep trail, painted cedar posts at the old windmill, about a mile into the hike. Each was about six feet long, and I'm guessing weighed 5-8 pounds. Not bad. Other Bill — as opposed to Wild Bill — carried his three underarm, while I tried to carry mine cross shoulder. That did not work at all, so I put them up on one shoulder, parallel to my direction of travel, switching shoulders every 10 minutes or so. The trail is well-defined, smooth, and barely uphill from the trailhead all the way to — and past

 — Davey Gowan's grave site. Further, faster, with less chance of imminent scalping than one ridge over on South Fork. (Watch out for the white & orange tape which mark's trail side bee hives.) Some time in the past someone had actually lugged a now-rusted metal bed frame up there. We got to the grave at 0930 and were done by 1100, mainly thanx to the mad post-digging skillz of Jeremy and his friend from Payson. Unfortunately, Wild Bill broke one of the retaining "teeth" (?) on his antique, hand-cranked, drill, so we settled for tying the posts in place after they were planted. I bapped my head several times on branches. (And again this morning on a shelf in the garage.

 ) We hiked back, arriving at the trailhead about 1230, or three hours earlier than expected thanx to the big crew we had.

Distance: 6.55 mi.
AEG: 788 ft.
Time: 2h 28m