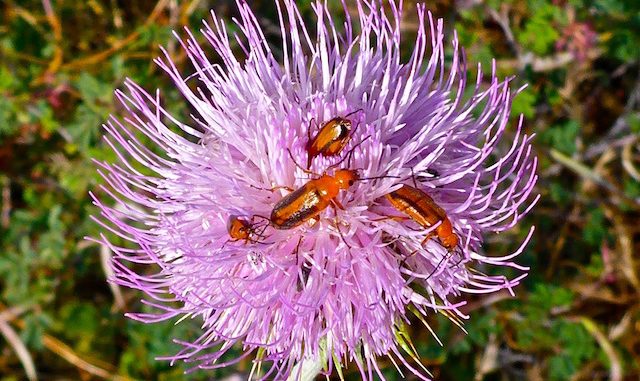 I define Black Canyon Trail segments by the car-accessible roads on which they terminate. Each is 6-8 miles long. So, segment #6 begins at the Rock Springs trailhead and ends ~5.8 miles later at Soap Creek Rd., above the old greyhound track. Segment #7 begins there, and ends ~7.2 miles later at Crown King Rd. Northbound, it is about 1700 AEG, while southbound is roughly 1100 AEG. I did it southbound, so I could end my hike with Rock Springs Cafe pie.

I started hiking just after 0700. It was chilly on the slope of Black Mesa, so early on many of the flowers were closed up to protect themselves. There were a few Englemann's Hedgehog, and a scattering of other flower species, at the beginning, transitioning into buckhorn cholla and prickly pear as I headed south. (One of the buckhorn ripped my knuckle good.) I did not see the large variety of species I found in Spur Cross, but I did spot some species I did not see last week — enough to include more #flowerporn in my hike video.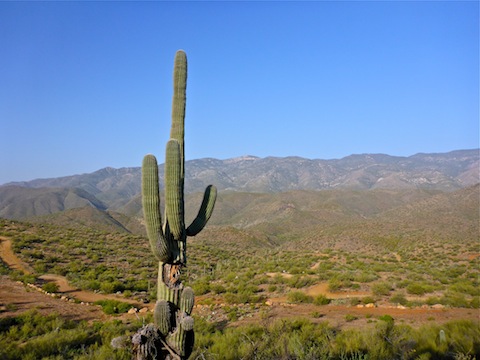 I shot 135 photos and 20 video segments. Most of the photos were flower photos, as the terrain is not all that exciting, despite nice views of the Bradshaw Mountains west of Black Canyon, and the many mesas east of it. Long distance photography was made more difficult by the Phoenix scuz, which had extended its way well north.
No idea why, but somehow the Hank Williams Jr. song "Family Tradition" snuck into my brain, and wouldn't leave for most of the hike. Every few minutes I'd sing "Hank why do you drink? Why do you roll smoke? Why do you live out the songs that you wrote? La-la-la-la …" because I couldn't remember any of the other words.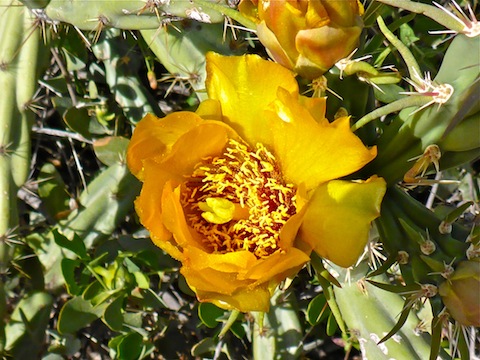 I more or less live-tweeted my hike, sending out four or five photo tweets, Verizon service permitting. Finding a decent cell tower is not always a sure thing in Arizona's many canyons. (I had tried last week, quickly giving up.) For that reason, if you do remote hikes, carry a SPOT or PLB.
The first three miles are usually within site of Maggie Mine Rd., which is a smooth dirt road that runs from Crown King Rd. south into Black Canyon City. (Which is about where I first laid eyes on the town.) I was occasionally within sight of, and mostly within earshot of, I-17, the Black Canyon Freeway. As on other BCT segments, there are tons of switchbacks, as the trail seems to be optimized for MTBs and trail runners. (Rather than shortening distance in exchange for steeper grades.) The first several miles of trail surface are pristine, while it often got rockier as I neared the Agua Fria River. (In addition, the Black Canyon Creek, Slate Creek and Soap Creek crossings all had ankle breaker rocks.)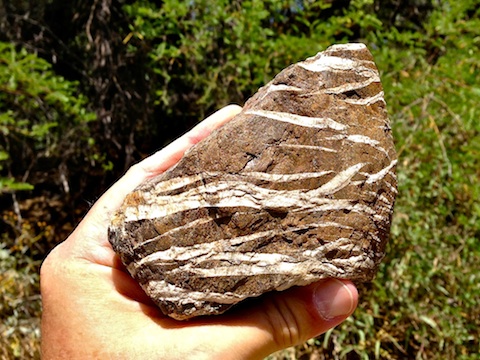 Segment #7 was a pleasant stroll. (Indeed, a famous Arizona travel writer tweeted me that he often stops for a stretch-my-legs hike on his way back into Phoenix.) Of the eight Black Canyon Trail segments I have so far done, segment #7 is my favorite. Segment #6 was more of a locals trail, akin to Phoenix's Charles Christiansen Trail #100. I saw no shooting trash, and heard no shooting, so that alone makes both segments better than any of the five further south.
I should read other people's triplogs, or watch their videos, before I hike, but I don't. My research tends to a map / satellite recon, waymarking any points of interest or exploration. That's why when I reached the Agua Fria River, I was unaware that between Black Canyon City and Horseshoe Bend, it is often a true river, wide and of unknown depth. Five years ago, north of Table Mesa Rd., it was bone dry; six weeks ago, a mile north, I had no problem rock-hopping a flowing section. I could have forded the river — indeed, last May, I actually hiked in the much deeper, stronger current, Gila River, near Thatcher — but I did not want to ruin my shoes, nor risk broken glass if I did it barefoot. A cursory search did not reveal any dry-crossing prospects, so I backtracked up the BCT to Slate Creek.
I followed Slate Creek southeast to its confluence with the Agua Fria, then followed the Agua Fria north, always looking for a dry crossing — which I eventually found at a mellow, sand-barred, narrowing bridged by two logs, below Kay Mine. Once on the east bank, it took me awhile to bushwhack my way into town. When I did, I found myself in a neighborhood of single-wide trailers and prefab homes, on paved Kings Way, which curls clockwise towards Old Black Canyon Highway — the main drag — and the Rock Springs trailhead. The highlight of my hike was finding a brown rock, with multiple wavy white veins in it.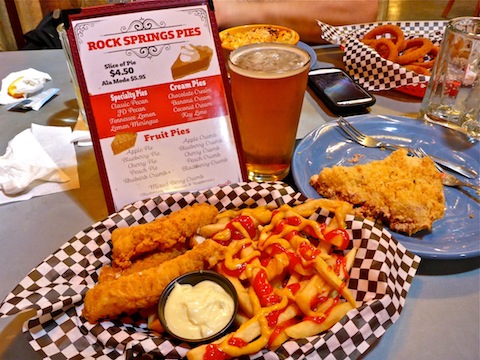 If brunch is a late breakfast / early lunch, what is a late lunch / early dinner? Linner? Dunch? Well, that's what my wife and I had at the considerably less crowded Rock Springs Cafe. (No biker bull ball eating contest this week.) She, accompanied by a Shock Top, me by several mugs of equally icy Rock Springs Wheat Ale … and a rhubarb crumble pie. 

GPS File: Black_Canyon_Trail_6_7
Distance: 14.82 mi. (1.5 miles less for you, if go straight across the river)
AEG: 1,245 ft.
Time: 5h 22m
---
Hike Video