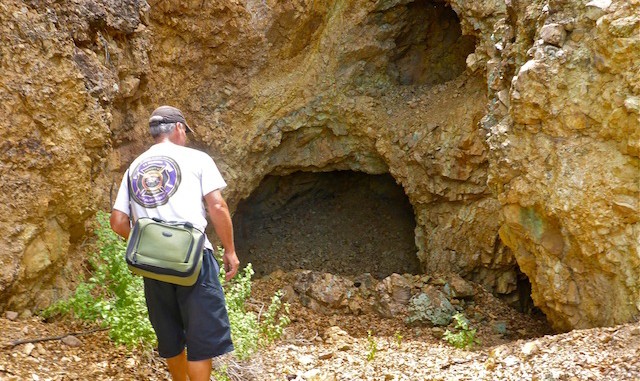 I've had it on my list for nearly two years to check out some mines near Copper Creek. Other than the Climax Mine, everything else I've found in the area has restricted access, either due to being unsafe to enter, fenced off, or being actively worked. The plan was to hike down FR 53 to the Hassayampa River, check out some mines a little bit up the east slope, then double back and check out some mines just off Copper Creek.
Precipitation was very patchy on the drive up: Some places, just overcast, with obvious localized showers at various places in the distance, drizzly or even fairly heavy rain. Supposedly, according to radar, it was passing south of Prescott. No prizes for guessing where the heaviest rain was.

After picking up prescottstyle, we headed down to Copper Creek, where we sat for about 15 minutes, waiting for the rain to subside.
There was some new graffiti in the FR 53 tunnel under AZ 89. Copper Creek was flowing all the way down to the Hassayampa, where our path was blocked by dense brush on one hand, and a landslide on the other. So, we skipped the far side, doubling back to check out the mines we meant to hit later in the day. Good call. We hit the jackpot.
The mines we found were extensive and safely penetrable. So much so, that we did not have enough time to thoroughly explore them all. Also, a flashlight would have helped.

 And some spider repellant.

 We'll be back. Despite the spiders.
After dropping prescottstyle back off, and successfully detouring around the rodeo hordes in Courthouse Square, on the way home, we picked up some to go wood-fired pizza at the T-Bird Cafe in Peeples Valley. (Best pizza in Arizona!)
Distance: 8.53 mi.
AEG: 1,254 ft.
Time: 3h 25m
---
Hike Video