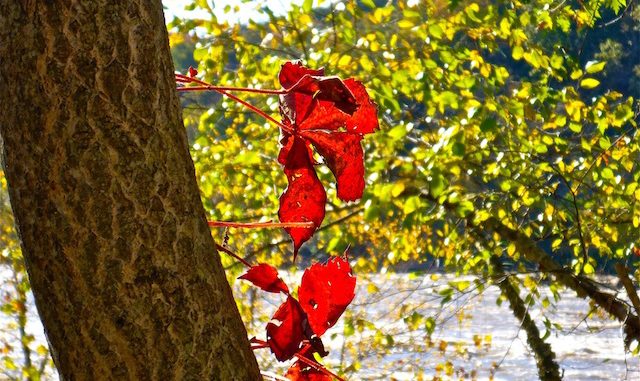 Our son & his family live in Hagerstown, Maryland. We've visited every spring, since our grandaughter Boo was born. Usually for Easter, because what is more fun than watching kids hunt for Easter eggs?
Halloween, that's what.
So, now that Boo is seven, I figured we ought to visit for some trick-or-treating as well.
And, as you are no doubt getting tired of hearing, I make it a point to get in at least one hike every place I visit.
On previous Easter visits, I've hiked Antietam National Battlefield and completed the Maryland segments of the Appalchian Trail.
I have roughed out some ideas for hiking the Appalachian Trail south of Harpers Ferry, and also in Pennsylvania, but the drives to those hikes are getting longer than I'd prefer. I want to keep the driving to a minimum, so my wife & I have time to do what we actually visit Maryland to do: Visit family.
So, in order to avoid burning out the nearby A.T. segments, I've decided to do those during our Easter visits, while doing some other hike during our Halloween visits. The historical Chesapeake & Ohio Canal Towpath fit the bill.
Today's walk — I don't think you could really call it a 'hike' — from the Maryland Heights parking lot, across the Potomac River from Harpers Ferry (milepost 61) to the Antietam Aqueduct over Antietam Creek (MP 69) is actually not the first bit of the C&O Canal that I've done: The Appalchian Trail actually follows the C&O Canal for three miles from the base of the Weverton Cliffs to Harpers Ferry. But prior to that, I also did the bit in Georgetown, and before that biked a segment near Hancock. 🚴🏻
---
Despite it being early rush hour when we arrived at BWI, the drive west on I-70 was relative smooth. It was rainy, but not bad, until we hit Catoctin Mountain on the west side of Fredricksburg. From there to South Mountain, the visibility dropped so precipitously, that we got off on MD-66, then took National Pike US-40 into Hagerstown. The storm ended up dumping 2.5″ on Washington County.
The next morning, Monday, was supposed to be hike day, but it was overcast, drizzly, windy and so cold I chucked it in favor of an all-day "Cops" marathon. 👮🏻
Tuesday was only partly cloudy, less breezy, no precipitation and 'warm' (45°). Off we went.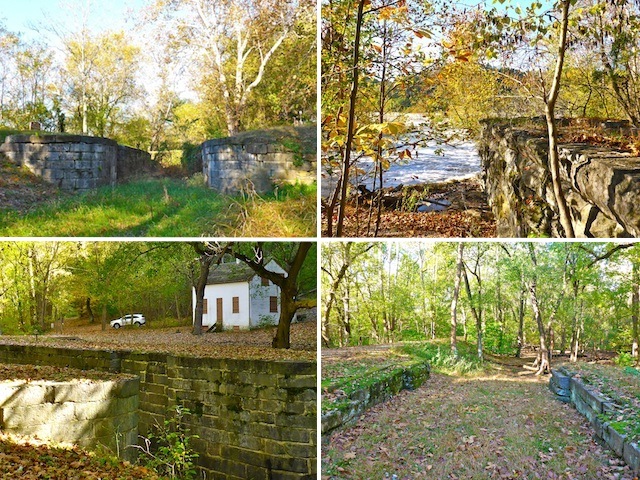 The hike begins by taking the small wood bridge, from the Maryland Heights trailhead at milepost 61, across the C&O Canal to the towpath, which this hike follows the next eight miles, and change. Lock 34, at MP 61.5, is a quarter mile northwest.
The towpath is hard packed gravel & sand. It can be a bit bumpy in spots, but nothing major, though you'd probably want to avoid riding a street bike on it. It can be muddy where ruts have formed, but despite the previous 24 hours of heavy rain, drains well and was mostly dry.
The towpath, which oxen, mules and the like used to tow 100+ ton capacity canal boats, is within yards of the C&O Canal. The distance from the towpath to the Potomac River ranges from a few yards up to a quarter mile. Views of the Potomac River are often obscured by trees, so you may need to beat brush down a muddy incline to get a better view.
Most of the folks on the towpath are dog walkers or day bikers, though I did see one chap on a touring bike with panniers. Not a whole lot of joggers or day hikers, at least on this segment.
The C&O canal itself, is now mostly dry or swampy, with many fallen trees, and only scattered pools. For the most part, bluffs & small cliffs line the side of the canal oppposite the towpath and Potomac River. In the old days, when the canal was still in operation (1834-1924), the space between the towpath and canal would have been free of obstacles, so boats could actually be towed, now there are many trees in that narrow strip of land.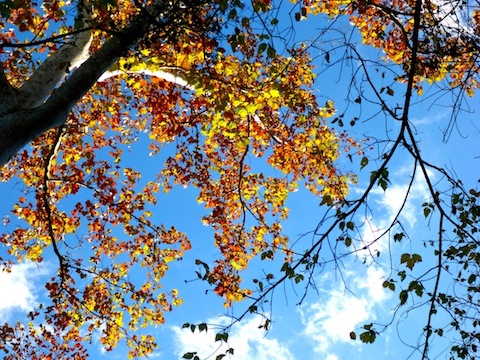 After crossing the footbridge at Maryland Heights, the towpath parallels the final set of Potomac River 'falls' (really more like rapids) to a cluster of points of interest: Inlet Lock 3, Lock 35, the ruins of Dam 3, and Lock 36, at MP 62. Dam 3 was first built in 1799, to provide power to the Harpers Ferry Armory. I'm not sure if it went all the way across the Potomac River, because that really would have been some engineering feat 220 years ago! The only obvious remains are an abutment, but if you look close at the water's flow, you can trace where the dam's old edifice lies.
Above Dam 3, the Potomac River gets considerably smoother. The opposite bluff, in West Virginia has many large, wooded, properties. Unfortunately, some folks stripped their lots nearly bare. Despite it being Halloween, the bluffs with trees still had great fall color.
The Huckleberry Hill Campground, at MP 63, is 1.6 miles into the hike. There are a number of camping spots, grills, picnic tables, a well hand pump and, most importantly, a portapotty. (Note: Camping on the C&O Canal is only allowed at designated sites.) The Dargan Bend Boat Ramp is 3.6 miles into the hike and has a pit toilet. Those are the only designated pee stops from MP 61-69 (inclusive). Regardless of whether you are hiking northwest from Maryland Heights, or southeast from the Antietam Aqueduct, the Dargan Bend Boat Ramp would make a good turn around point if you don't have a shuttle driver like I did.
A third of a mile past the boat ramp, at MP 65, is an old lime kiln, on the bluff side of the canal. It consists of an old coal bin, on the verge of collapse, and two ovens. The ovens are faced in stone, and lined with red brick.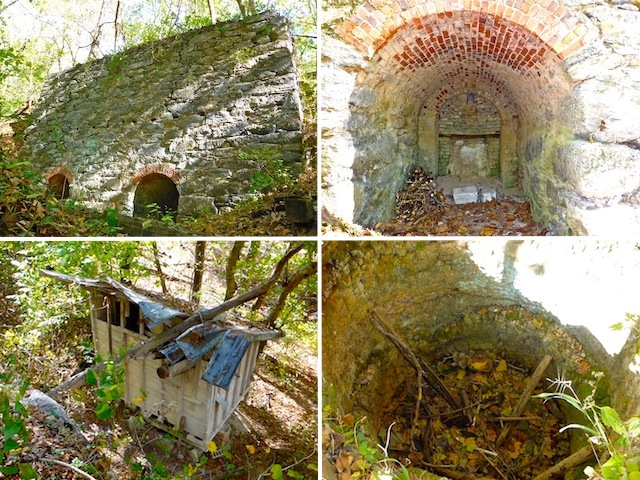 The ovens were a cool find, but just a few hundred yards past them was the even cooler quarry from which the limestone was extracted. The quarry includes a tunnel that is about 60 ft. deep. ⚒
After rounding Dargan Bend, Lock 37 and its lockhouse, are located at MP 67. Unfortunately, the lockhouse is not only boarded up, but screened, making it impossible to peer into, or take zoomed photos of the interior. I peed on the chimney instead. 😁
The final two miles, from the lockhouse to the Antietam Aqueduct, at milepost 69, there are no points of interest to speak of. Just mellow trail walking.
The Antietam Aqueduct was a water bridge over water. In other words, a way from the canal to cross Antietam Creek without interfering with the creek's flow, or the passage of boat traffic on the C&O Canal. Now, the Antietam Aqueduct is crossable on the tow path, or 'in' the canal itself, where it is a jeep trail. I didn't realize it at the time, but there is another lime kiln, just up Antietam Creek, which was where an ironworks was built in 1764. Antietam Creek, itself, gave its name to the Civil War battle, which remains the bloodiest day in American history (22,700 casualties in only 12 hours of fighting). 😳
It was 55° when I finished hiking. After my wife picked me up at Antietam Aqueduct, we headed back to our hotel for a shower, post-hike libation, and catching the Celtic-Bayern Champions League match, before heading off to trick-or-treat with Boo. (Appropriate nickname, no? 👻)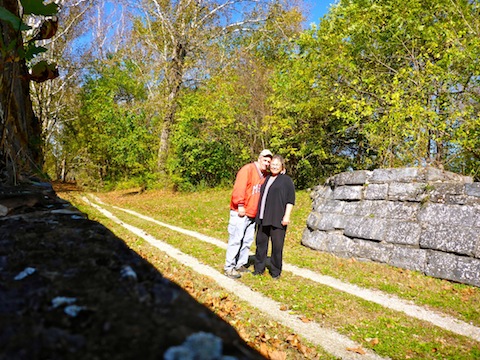 Friday, we went to see "Only The Brave", the movie about the Granite Mountain Hotshots, 19 of whom died during the Yarnell Hill Fire, in June, 2013. I really wanted to love the movie, but it was only okay. Standout performances, though, from Miles Teller as Brendan McDonough and Taylor Kitsch as Christopher MacKenzie. The first time they showed Granite Mountain, I choked up. By the time the movie reached the burnover scene I was crying. Words do their heroism no justice.
---
Directions: From Hagerstown, or points east, take exit 29 off I-70 at Sharpsburg Pike MD-65. Head 10.5 miles south to Sharpsburg. Turn right on Main St. then second left onto Mechanic St., which becomes Harpers Ferry Rd. Stay on Harpers Ferry Rd. for 10.5 miles to the Maryland Heights trailhead at C&O Canal Towpath milepost 61. The Maryland Heights trailhead is narrow, and between two blind curves: Be cautious pulling in or out. Alternately, three miles south of Sharpsburg, turn right onto Canal Rd. The Antietam Aqueduct trailhead at C&O Canal Towpath milepost 69 is 200 yds. ahead on the left.
GPS File: CO_Canal_MP61_to_MP69
Distance: 10.02 mi.
AEG: 233 ft.
Time: 3h 10m
---
Hike Video